These trails are easily accessible and give visitors the chance to explore more of Puerto Rico.
The perfect trails for a family adventure or a leisurely walk.
Hiking is a popular family activity in Puerto Rico so there are plenty of options for easy, relaxed hikes all around the island. Explore the salt flats and dry forest around Cabo Rojo. Stroll around the palm tree-lined lagoons of Humacao. Visit a "forest school" in the coffee-growing region of Adjuntas. Or make your way through subtropical forest to a hidden cave in Isabela.
Just because the route is easy doesn't mean it won't be one of the most memorable parts of your trip!
Humacao Nature Reserve
The recreational area of the Humacao Nature Reserve, also known as the Punta Santiago Natural Reserve, has six acres of flat, well-marked trails winding their way through a palm tree forest, mangroves, around lagoons, and onto the beach. Off the main trail there is one hill with a short steep climb called El Morrillo which offers a stunning view of the coast. At the reserve there are gazebos for picnics, bathroom facilities, free parking, you can go fishing, and you can rent bikes, paddleboards, or kayaks.
Cabo Rojo National Wildlife Refuge and Salt Flats
The Cabo Rojo National Wildlife Refuge is managed by US Fish and Wildlife Service and has a variety of hiking and biking trails. These are mostly flat, surrounded by a wide variety of dry forest plant life and native birds, with observation towers along the route. There are also trails around the bright pink salt flats, which create a stunning and surreal landscape. If you want to challenge yourself, follow the trails all the way to the jagged cliffs of Los Morrillos Lighthouse and beautiful Playuela beach.
The visitor's center for the Wildlife Refuge is open Monday through Saturday, while the Cabo Rojo Salt Flats visitor's center is open Thursday to Sunday. Make sure to have sturdy footwear with thick soles and clothing that's appropriate for hot weather, wear sunscreen and a hat, and bring plenty of water and food since most of the trail is very exposed.
Hacienda La Esperanza Nature Reserve
This extremely varied natural reserve has half a dozen different ecosystems within it: wetland, grassland, karst hills, mangroves, an estuary, and beaches. The property at Hacienda La Esperanza, which includes a historic and very well-maintained sugar mill, is managed by conservation organization Para La Naturaleza. Their visitor's center is a manor house which is part museum and part education center. To visit the hacienda, reserve a tour with Para La Naturaleza, most of which involve a guided hike through the property.
If you'd rather do your own hike, follow the road where the visitors center is located to the end. There will be a gate and a trailhead. You can park on the side of the street (at your own risk!) and hike the trail all the way to Esperanza Beach, a lovely secluded beach with shallow waters and large volcanic rock formations. If you continue down that trail, you'll reach a second beach with black sand. These hikes are easy and the trails are well-marked, just be sure to bring water and food, sunscreen, hats, and a bathing suit.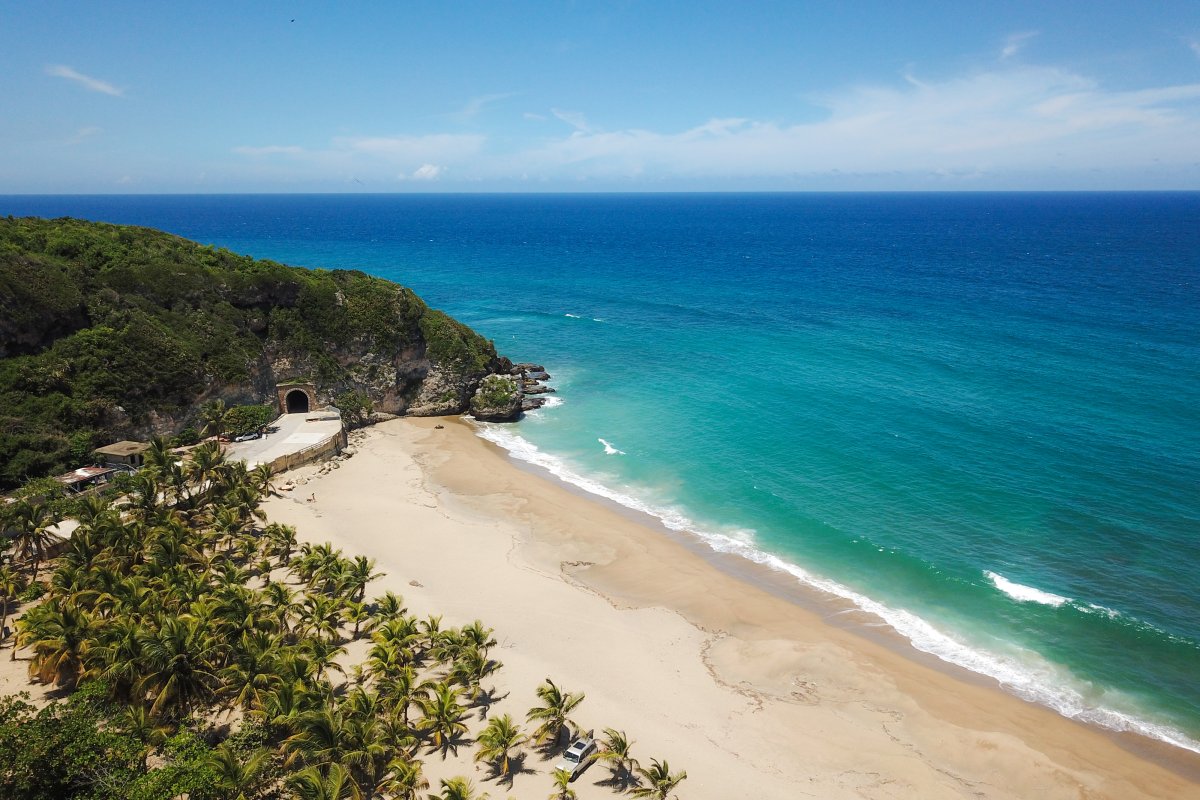 Guajataca State Forest and Tunnel
Isabela
The Guajataca State Forest is over 2,000 acres of subtropical wet forest, located in the Karst region of Puerto Rico. There are two well-known trails leading from the parking area and ranger station at KM 9 on Route 446 in Isabela. One is the Interpretative Trail, which is a two-mile loop, with a side trail leading to an observation tower. The second trail leads to the Cueva del Viento (Cave of the Wind), a limestone cave with beautiful stalactite and stalagmite formations and many, many bats. There are steps leading into the cave but no illumination or guardrails, so bring sturdy footwear and powerful flashlights if you want to explore it. Also, bring plenty of water and snacks for the hike.
For a beautiful, easy coastal hike visit the nearby Guajataca Tunnel, an old railway tunnel carved into the side of the mountain. There is a park built around it, with a trail that follows a former railroad route along the coast through the tunnel and several rock cuts before arriving at Guajataca beach.
Parque Julio Enrique Monagas
Bayamón
Located just a few miles outside of San Juan, Parque Julio Enrique Monagas is a 200-acre urban park with wide easy trails that cross dense forests dotted with old abandoned army bunkers (next door is army base Fort Buchannan). You'll also find single-track mountain biking trails that range from easy to difficult (these can get very muddy if it's been raining). From the parking lot there is a trail up to an observation tower overlooking the mountainous terrain near the metro area. The park has parking and bathroom facilities. Along with hiking, the park is popular among rock climbers, birdwatchers, mountain bikers, and has horseback riding facilities.
Bosque Escuela La Olimpia
Adjuntas
Casa Pueblo, a community-based nonprofit organization in the mountainous town of Adjuntas, turned 150 acres of subtropical wet forest into an outdoor school which they named Bosque Escuela La Olimpia "Ariel Massol Deyá" (in English, Forest School La Olimpia). Their mission is to conserve the land and also "humanize" nature by bringing educational experiences into the forest. The trail begins with several outdoor "classrooms" and leads to a river with waterfalls and areas for swimming. To visit to the forest school, coordinate with Casa Pueblo beforehand 787-829-4842. There is also a tour company called Puerto Rico al Sur which organizes excursions and interpretative hikes to different places in the southern region of Puerto Rico, including Bosque Escuela La Olimpia.
Cayo de Tierra
Vieques
The island municipality Vieques has several cays around it, many of which are only accessible via boat or kayaking. The exception is Cayo de Tierra (Earth Cay), located between the town of Esperanza and Playa Sun Bay, which is connected to Vieques by an isthmus of sand and rock. You can hike the isthmus to the cay where the trail leads up to the a lagoon and a small hill with a view of the cliffs and beaches of the main island.
Need to rehydrate after your hike? Sip a healthy, cold-pressed juice.