Some of the best art on the island is found on the streets.
Puerto Rico is filled with nature's beauty and exhilarating adventures, but that's not all. For more than a decade the street art scene has been blossoming across the island. The rise of art-centric festivals like Santurce es Ley and Murales para Pensar has expanded the movement beyond just a trend and made Puerto Rico an ever-changing canvas for artists from the island and around the world. 
For local artists like Alexis Bousquet, Vero Rivera, Celso González, and Bob Snow, urban art is not about just painting a mural, but the experiences that surround the work. It is the conversation with a neighbor, the food you savor, the beaches you admire, the stories you hear while bar-hopping, and the rhythms that captivate you.
Enjoying street art in Puerto Rico can be as easy as walking down the street or as intensive as a dedicated road trip around the island on the hunt for murals and installations. Whether it is casually bumping into an impressive work of art on the side of a building or purposely scouting out internationally recognized artists, there's no wrong way to enjoy the island during your visit. 
Here's a selection of some of the most popular works by local artists and where to find them: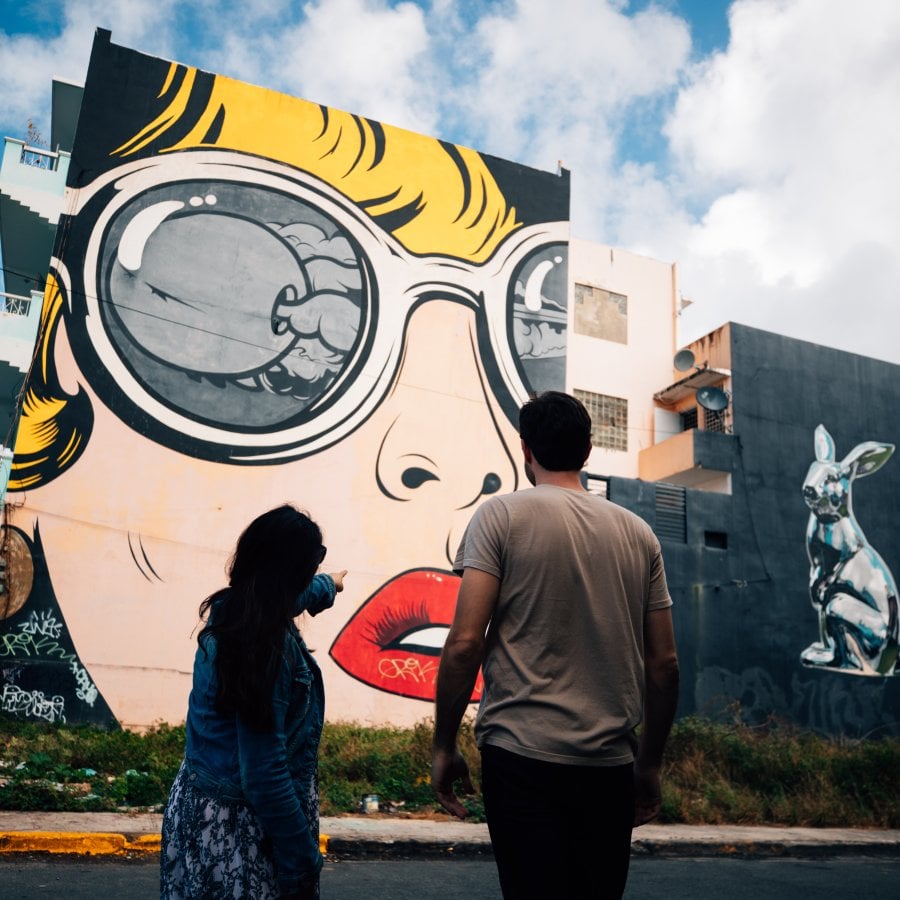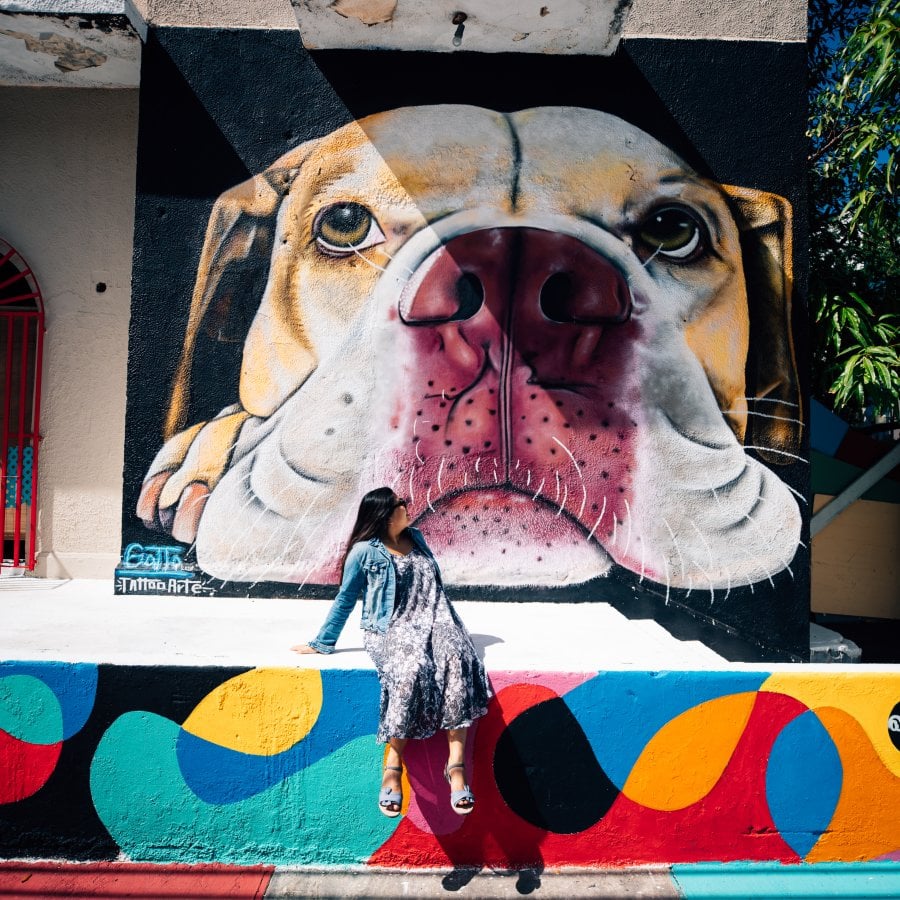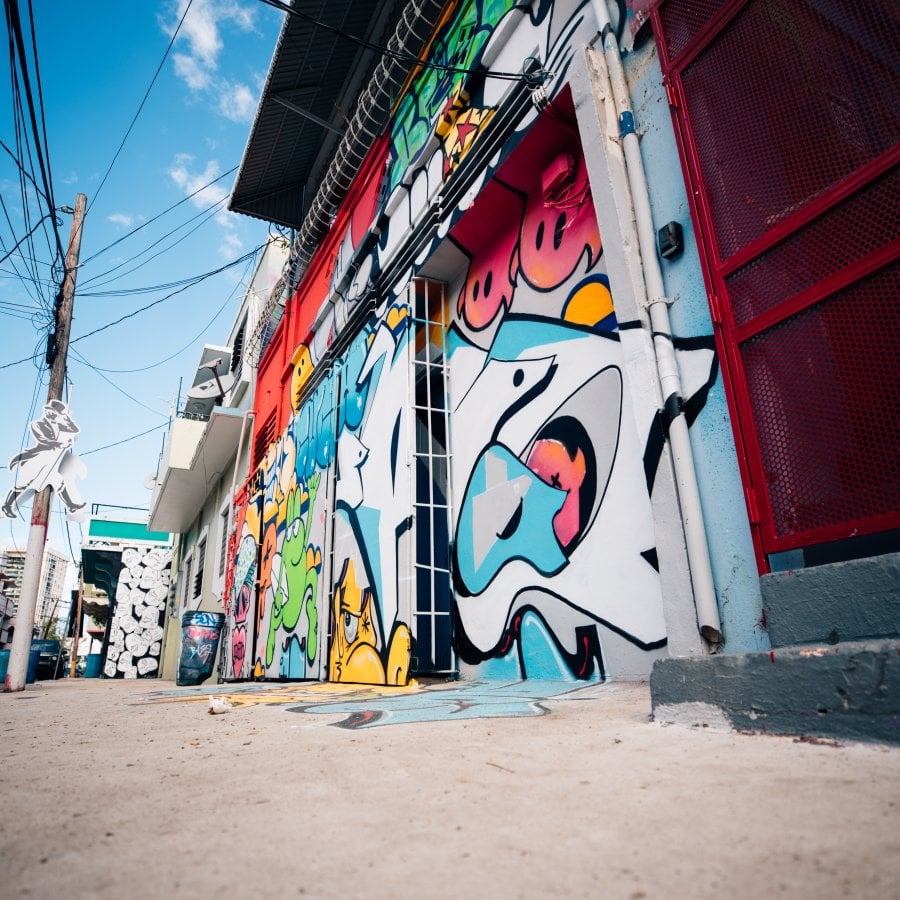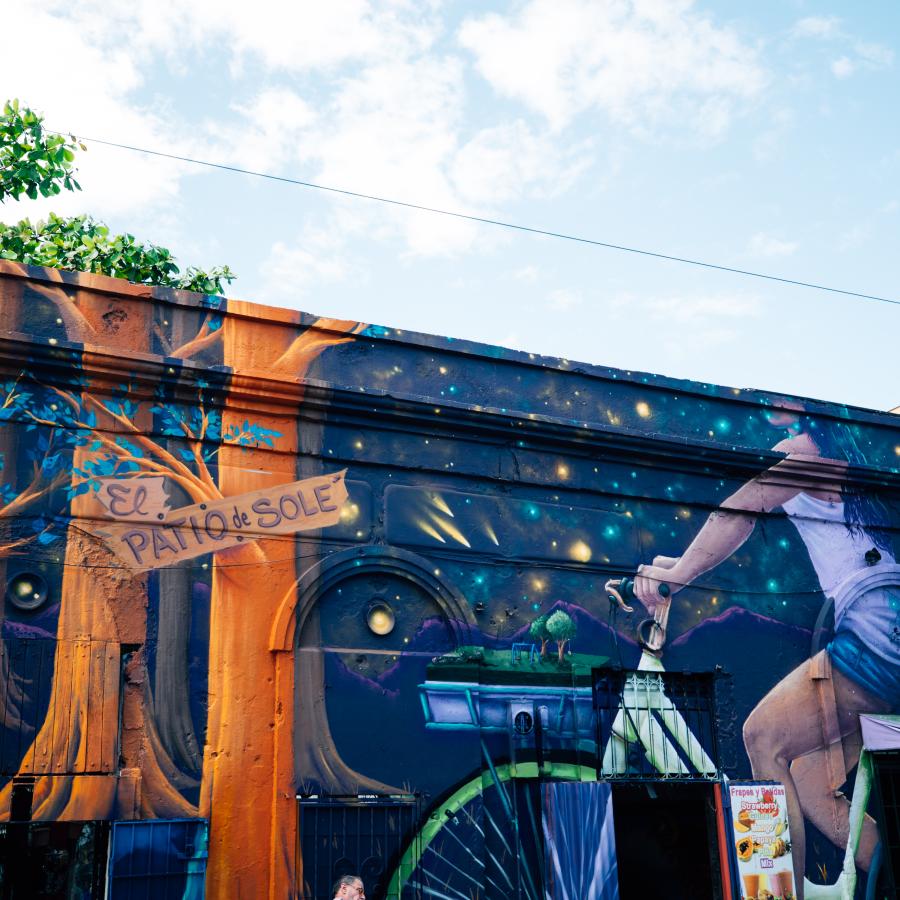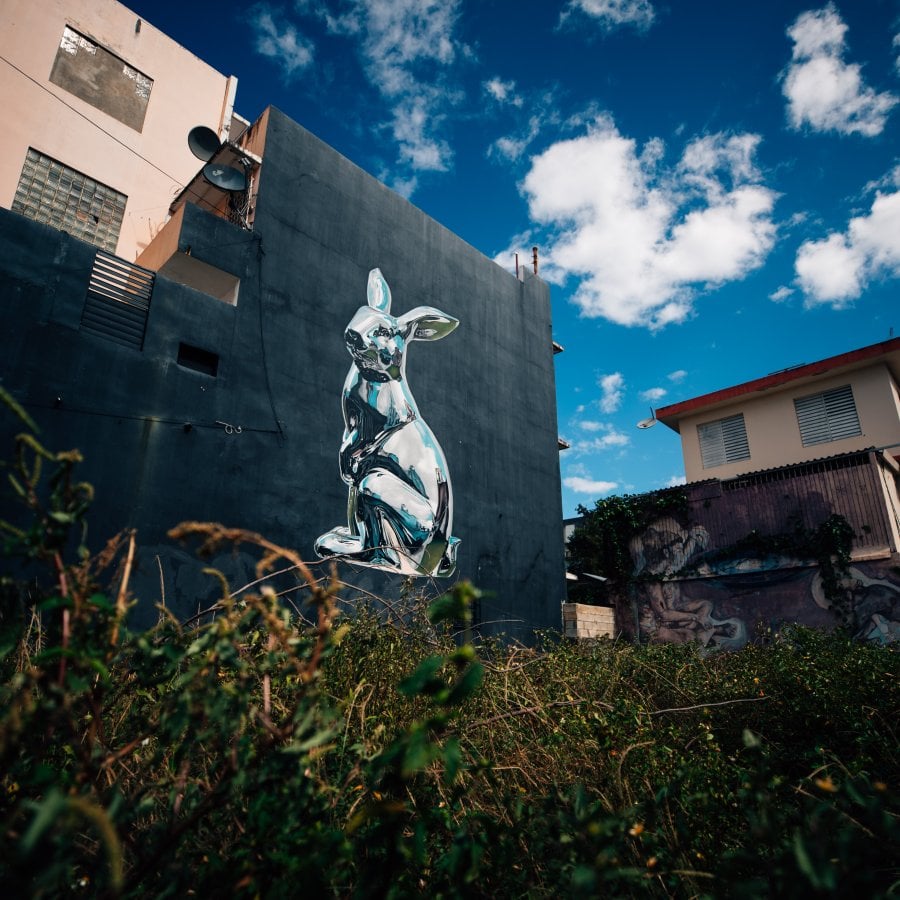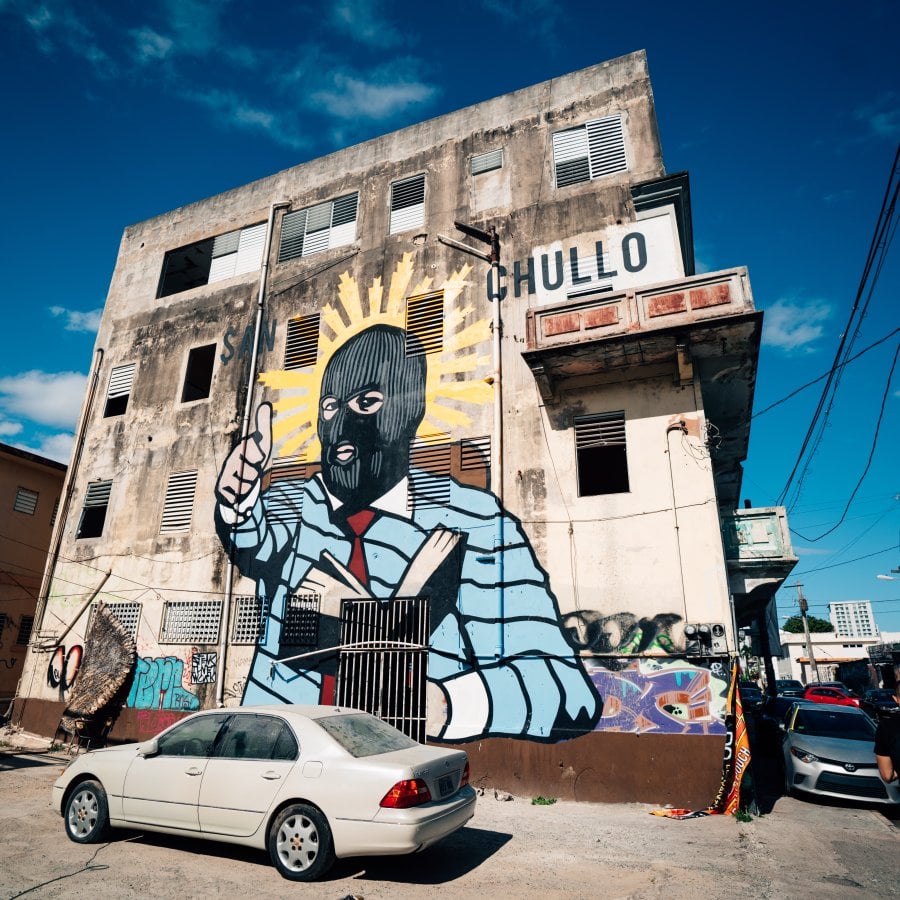 "La joya" by Bik Ismo 
Known for his use of shining metallics, Bik Ismo's latest works have attracted the attention of art lovers around the world. Recognized as one of the top 25 muralists in the world, Joshua Santos Rivera (his real name) frequently makes things that glitter the focus of his paintings. If you go salsa dancing at El Boricua in Río Piedras, you'll see one of his collaborations with Spanish artists Belin called "La joya," which features a cubist-inspired portrait of a woman holding a chrome-plated skull. If you like that, check out another chromed-out piece by Bik Ismo outside the Museo de Arte de Ponce on the south side of the island.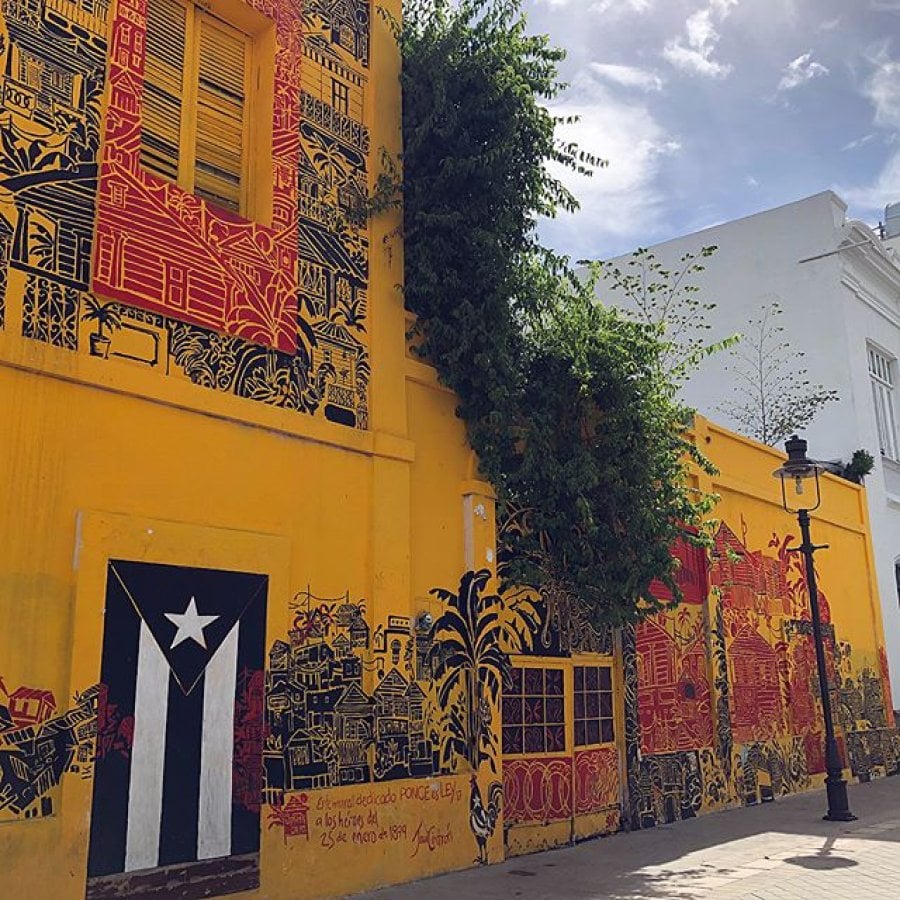 "Sangre y resistencia" by Vecino Cintrón
Lined up at Paseo Amor in Ponce is an eye-catching mural composed of red, black, and yellow. "Sangre y resistencia," (blood and resistance) by Javi "Vecino" Cintrón. The mural is dedicated to "los héroes del 25 de enero," a group of firefighters jailed for disobedience after fighting one of the most historic fires in the town of Ponce. Cintrón's art concentrates on recreating historic images, and the mural captures both his signature style and the town's history. 
"Renacer" by Dama Lola
Scattered around the town of Dorado are the works of Damaris Cruz, better known as Dama Lola. Cruz makes use of mixed media in her murals, including elements of photography, painting, and decoupage. You can find most of her work scattered around Dorado and Yauco, where she makes use of abandoned old houses to recreate picturesque memories of Puerto Rico's rural life. You'll also find her work near Dorado beach, where she also hosts workshops for students who want to learn about muralism. 
"Unusual Girls" by Bianca Montoya
The streets of Puerto Rico are not the only place where you'll find urban art. You can go shopping at Plaza Carolina to find a spot where local artist Bianca Montoya left her mark. With neon colors and cloth materials, Montoya aims to represent the diversity of women on the island. So, shop 'till you drop but don't miss the atrium for a selfie before you leave. 
"Banderas" by Héctor PR
With his project "78 municipios, una bandera" (78 towns, one flag), this young artist is taking Puerto Rico's flag to higher levels. With more than half of the towns adopting Héctor's initiative, you can find buildings – just like the one in Miami – with the Puerto Rican flag painted across the facade. From Luquillo to San Juan, Orocovis, Ciales, and Maunabo, where you can easily spot the Puerto Rican red, white, and blue flag!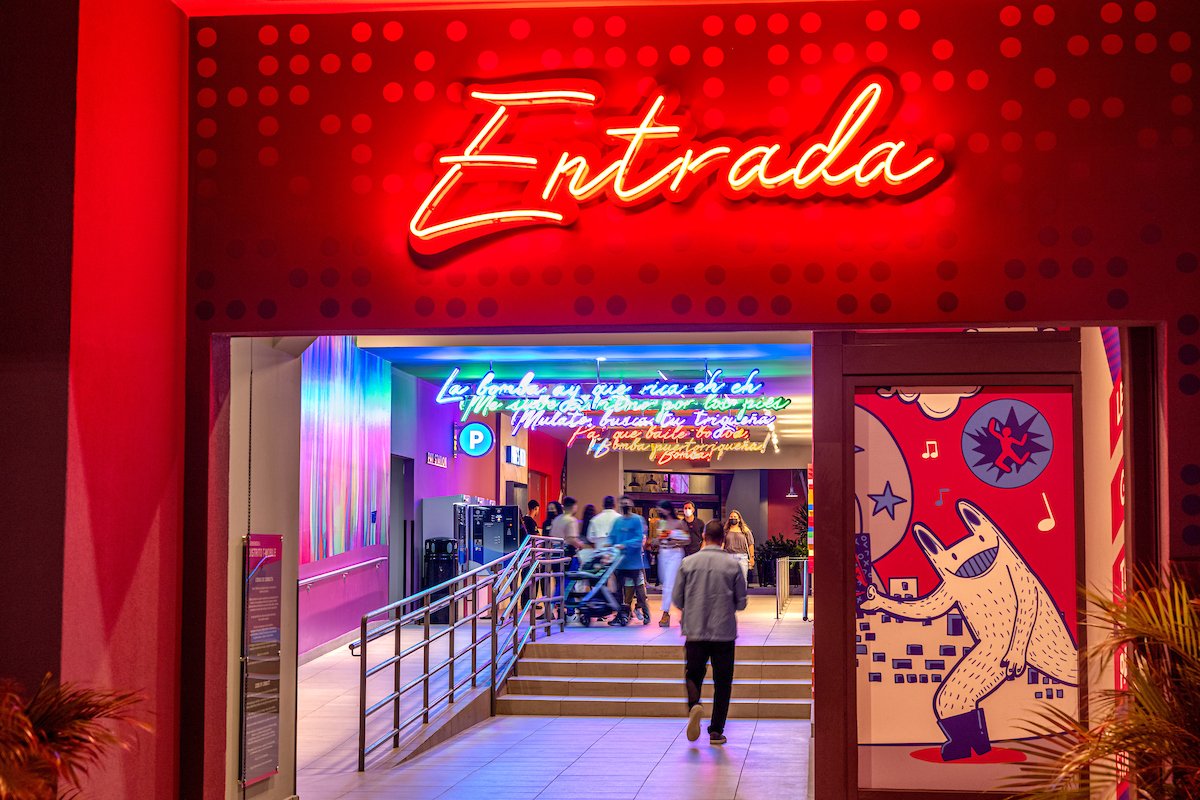 Murals of Distrito T-Mobile
Murals, mosaics, and three-dimensional installations are literally everywhere you look at Distrito T-Mobile in San Juan, so choosing just one would be difficult. While you're exploring this bustling entertainment and dining hub, keep your camera ready to capture dozens of large-scale artworks, including a series of neon signs titled "¡ay que rica es!"; life-size mosaics of legendary performers Rita Moreno and Tito Puente by Celso González and Roberto Biaggi; and a gargantuan Puerto Rican parrot by Jaime Rodríguez Crespo that is perched on the side of the building.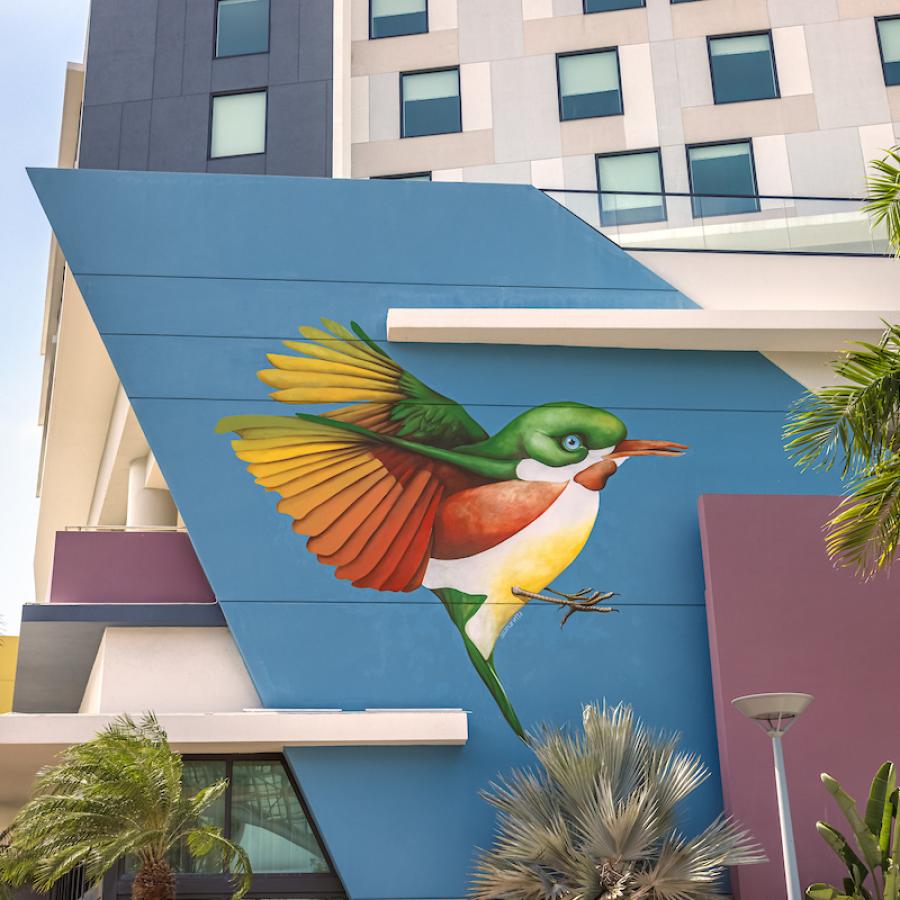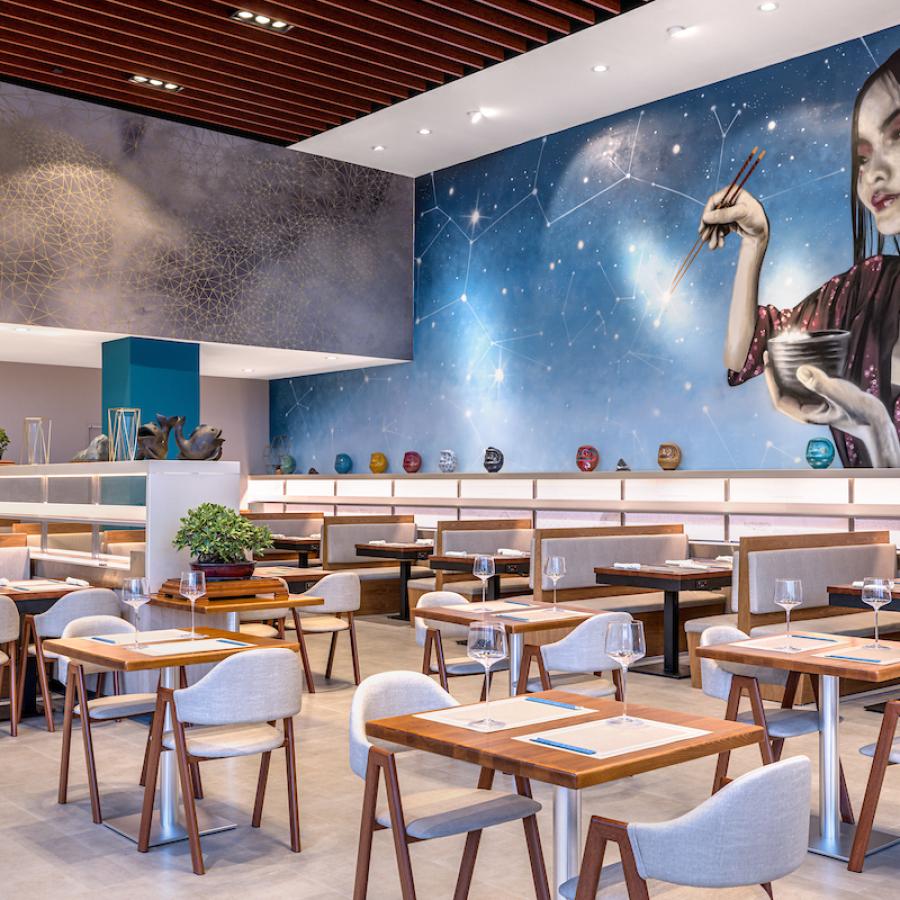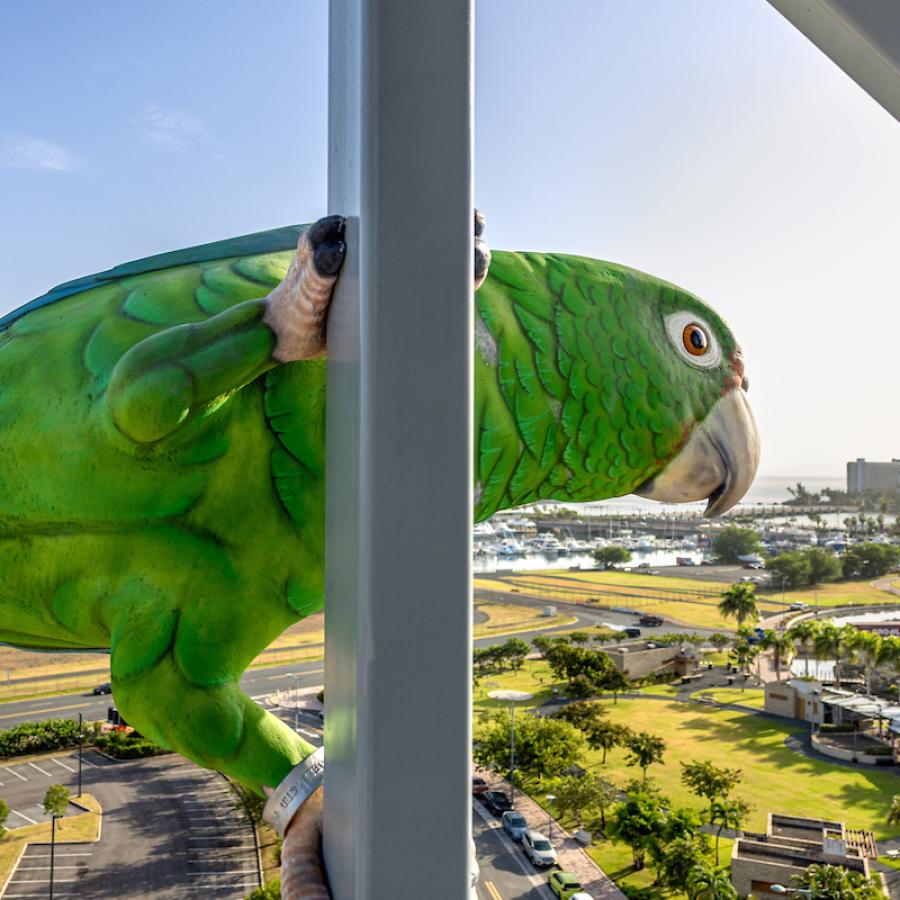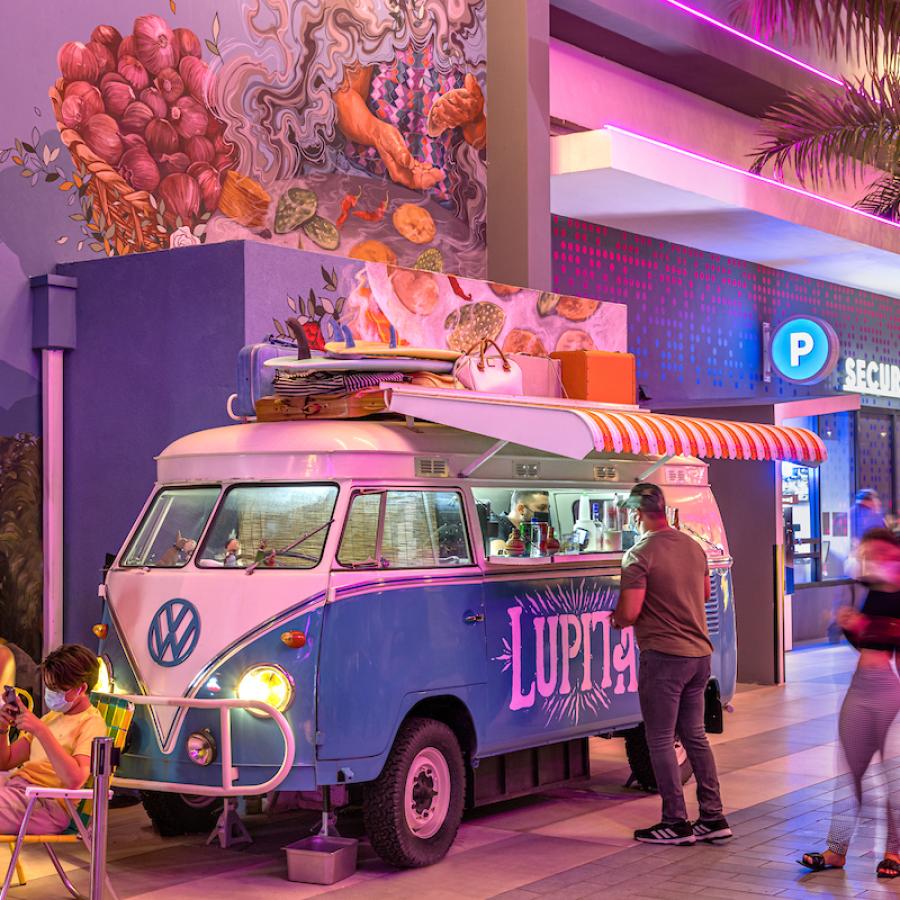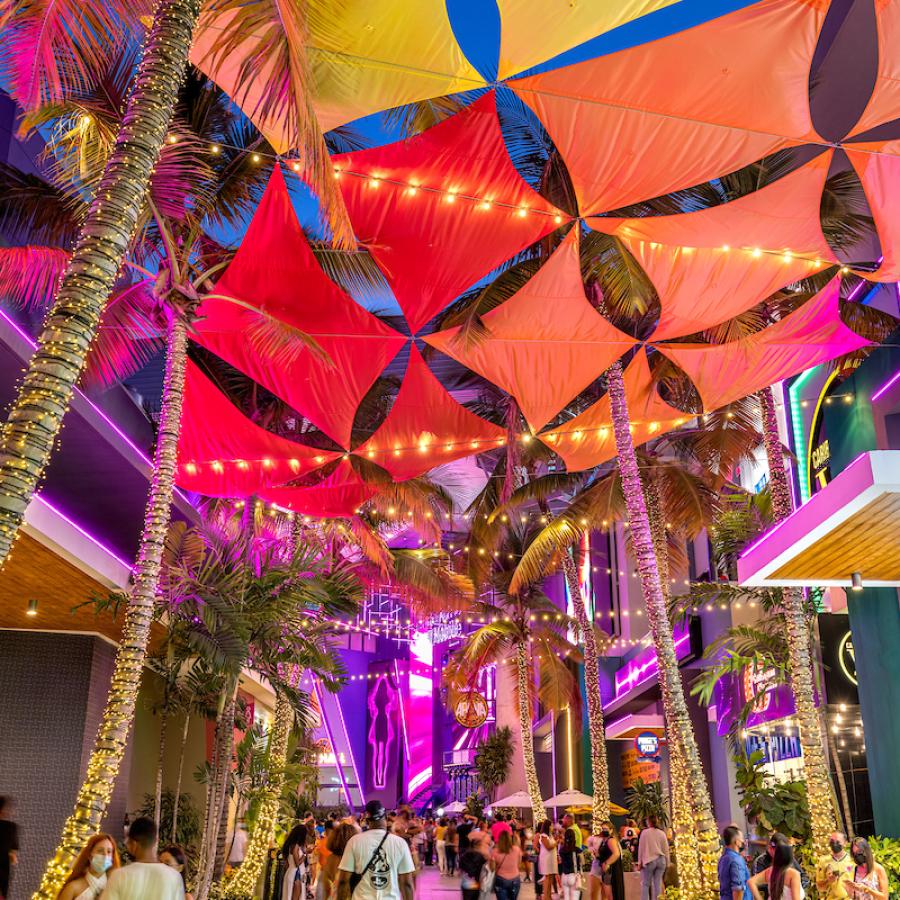 "Sembrado de esperanzas" by Bob Snow
You can spot currents of everyday life mixed with a dash of cynicism in the work of Roberto Hernández, better known as Bob Snow. Conveyed with sharp detail and bright, eye-catching colors, Snow's murals are both attention-grabbing and provocative. One of his most recent works on the island, located in Yauco, is "Sembrado de esperanzas" (Seeded in hope), a mural that was part of the Yaucromatic festival. This piece features an innocent-looking boy taping a tree back together as a call for greater environmental awareness. 
"La Niké de Atenas" by David Zayas
David Zayas is an artista del patio that has made a name for himself beyond the island. You'll find one of his most recent works in the parking lot of the medical office Gastro Atenas in the town of Manatí. His painting "La Niké de Atenas" is a reference to the town's slogan "The Athens of Puerto Rico" and appearances of Greek mythology woven into the town's daily life. The mural reinterprets the image of goddess Niké, whose temple in Athens' famed Acropolis epitomizes triumph in the face of adversity. 
"Cocobana" by Lucindo Fidalgo
For Lucindo Fidalgo graffiti is much more than vandalism. It is a form of expression that creates art in unused spaces. Fidalgo combines spray paint, pop culture references, and "boring" walls to create an end product that is utterly fantastic. You can find some of his most famous works at restaurants like Monalisa in Río Piedras or Cocobana at Calle Loíza. The latter showcases an explosion of color splashed across the restaurant's walls that reinforce the tropical vibes of the place. 
Discover Puerto Rico's E-Newsletter
Paradise for Your Inbox
Get travel inspiration, news, tips and more delivered monthly.