Music is at the heart of Puerto Rican culture.
From the minute you get off the plane, music fills the air. It's a keystone of Puerto Rican culture and entertainment — whether you're walking the streets of San Juan, celebrating at a small-town festival, or spending a day at the beach. So here's a quick primer on what you'll be listening to during your stay in Puerto Rico.
These are five of the main styles of music you'll hear while you're on the island. There are other genres you might hear, especially if you venture out to rural towns for a festival, or visit during the holidays, include boleros, trova, guaracha, cumbia, and Latin pop (yes, like Ricky Martin), but these five are probably the most frequently played.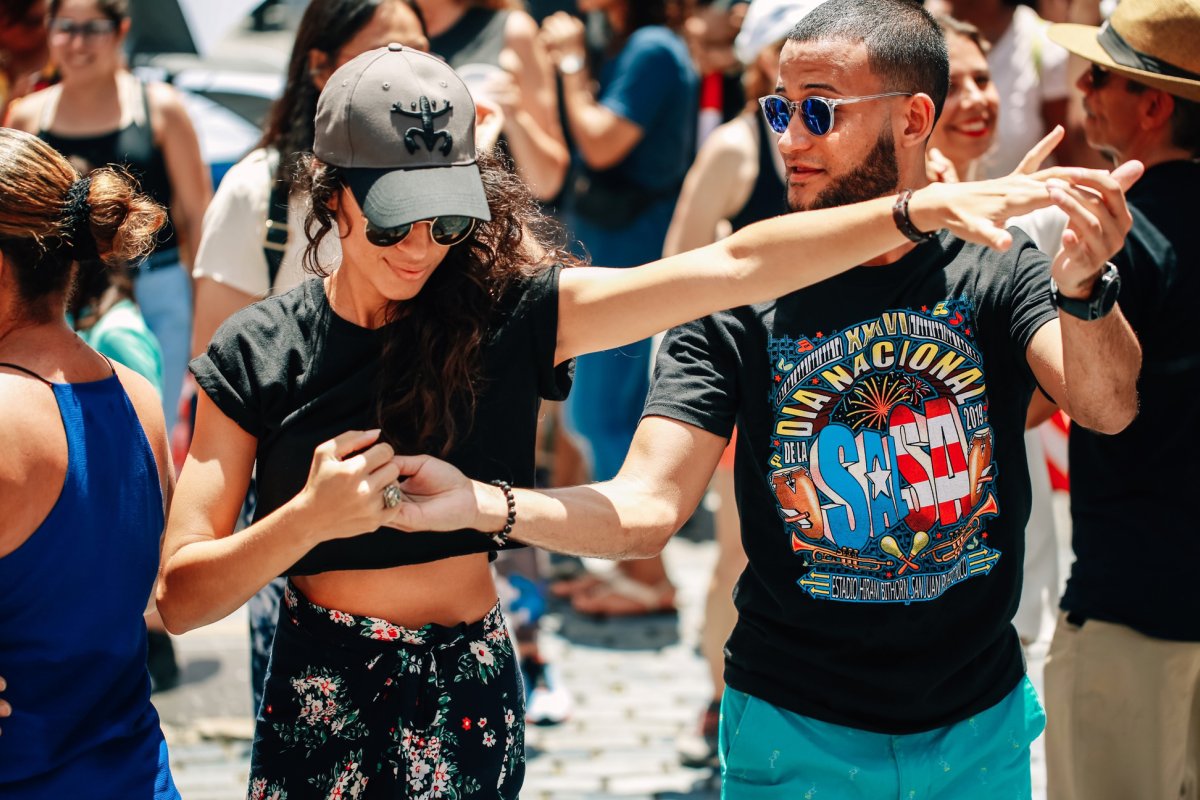 Salsa
This is a style of dance music popularized in New York City during the 1960s by Cuban and Puerto Rican musicians. The base of salsa is Cuban son, a style of music that combines Spanish popular songs with Afro-Cuban percussion. It has sub-genres like salsa romántica (romantic salsa), which has a slower, softer sound, and salsa gorda or dura, a style which has a fast, driving beat and long instrumental segments. Some of the best-known salsa performers and composers from Puerto Rico or of Puerto Rican descent include Tite Curet Alonso, Ray Barretto, Héctor Lavoe, Cheo Feliciano, Willie Colón, Gilberto Santa Rosa, Ismael Rivera, Andy Montañez, Roberto Roena, Richie Ray and Bobby Cruz, El Gran Combo de Puerto Rico, La Sonora Ponceña, and many others.
Merengue
A style of danceable music that originated in the Dominican Republic and spread throughout Latin America and the United States, including Puerto Rico. Merengue típico or perico ripiao, is the traditional style that uses string instruments like guitars and bass, accordion, conga, and other drums, and can be either fast-paced with a marching dance step (known as merengue derecho) or slower-paced with syncopated rhythm (known as pambiche). There's also merengue de orquesta or big band merengue which is also a popular style to dance to and incorporates more instruments. Popular merengue performers from Puerto Rico include Elvis Crespo, Olga Tañón, Gisselle, Manny Manuel, Grupomanía, Limi-T 21, and more.
Bomba
Bomba is a traditional style of Puerto Rican music and dance that reflects the African heritage of the island. The musicians use three instruments: maracas, cuá (two wooden sticks), and the bomba barrel, which is a large drum played with the hands. There is an active interaction between the dancer, the percussionists, and the singer. The drums have a hierarchy, with one being the Primo Barrel which marks the rhythm that the dancer is stepping to, and the Buleador drum which follows that rhythm. The dancer provides piquetes, or improvised bomba steps, using her body and skirt (or just his body if the dancer is male) which challenge the Primo Barrell to keep up with her. The singer marks the length of the song and plays the maracas. The performance is a dialogue between musicians and dancers.
Plena
Plena is another genre of music that originated in Puerto Rico with African, Spanish, and Caribbean influences. The traditional instruments include panderos (hand drums of different sizes), guitar, cuatro (a small guitar), accordion, and often brass instruments like trumpet and saxophone. For decades, this was considered folk music and in rural communities it was called the "sung newspaper" since the songs would tell about recent news or gossip in the town. Like bomba, the style nearly died out in the mid-twentieth century, but was kept going by folk music groups that would perform during the holidays. Bomba and plena had a resurgence recently and many contemporary Latin music artists have recorded plena songs. There are even modern plena bands which can often be heard at town festivals and events like Plenéalo, Plena Libre, Viento de Agua, Pleneros del Más Allá, Pura Plena, and others.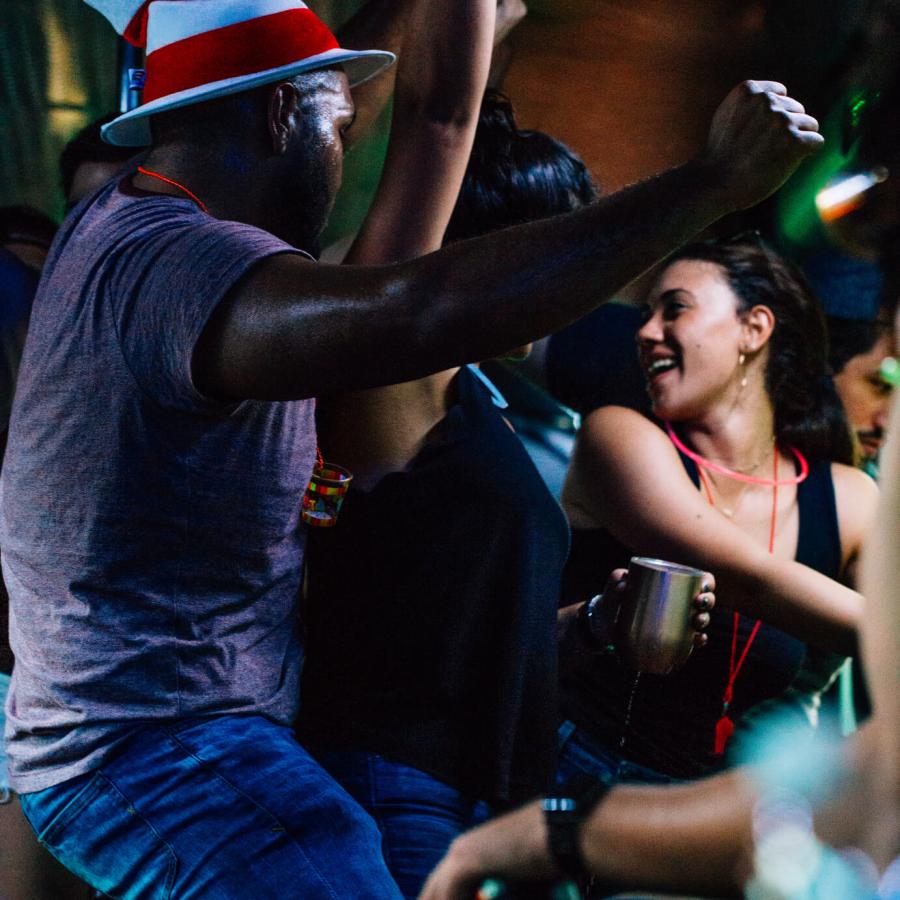 Reggaetón
Reggaetón is an urban music genre that fuses hip hop with Latin American and Caribbean styles of music and which originated in Puerto Rico in the 1990s. Songs include both rapping and singing with a driving, pulsing beat. Some more experimental tracks incorporate musical styles like reggae, bachata, merengue, and cumbia. The contents of the song are often a source of controversy, focusing on sex, drugs, violence, and love. Famous reggaetón artists include Daddy Yankee, Wisin y Yandel, Don Omar, Ivy Queen, Calle 13, Tito El Bambino, Nicky Jam, Tego Calderón, Alexis y Fido, Luny Tunes, and many others.
Reggaetón also influenced the development of Latin Trap music, led by Bad Bunny, Ozuna, De la Ghetto, and Anuel AA, which fuses mainstream trap with reggaetón beats and lyrics in Spanish.
Latin Jazz 
You may not think of jazz when you think of Puerto Rico, but Boricua musicians played a major role in the evolution of Latin Jazz. This highly energetic and vibrant subgenre originated by Cuban, Puerto Rican, and Latin American musicians who moved to New York City in the early 20th century. They began merging the Caribbean and Latin American more upbeat structures and rhythms with classic jazz and blues sounds. Besides the typical instruments used in jazz, like trumpets, saxophones, drum kits, and basses – Latin jazz emphasizes percussion instruments, including timbales, congas, and bongos, as well as claves, güiros, and other instruments that reflect the Latin influences. The distinctive style of Latin Jazz can be quickly recognized by its lively sound and a more dance-friendly feel. Tito Puente, Juan Tizol, Ray Barreto, Eddie Gómez, Miguel Zenón, David Sánchez, John Benítez, and Jerry González are some of the most notable Latin Jazz musicians from Puerto Rico or of Puerto Rican descent.  
Discover Puerto Rico's E-Newsletter
Paradise for Your Inbox
Get travel inspiration, news, tips and more delivered monthly.