Villalba is the perfect place to escape the bustle and stress of city life.
Drive along the panoramic roads that snake their way up and down the southern half of the Central Mountain Range and enjoy stunning views of the Island's majestic rolling hills.
Villalba is known as the city of the lakes, because within its borders are two enormous reservoirs: Toa Vaca and Guayabal Lakes. These are popular spots for recreational fishing and birdwatching. Be warned, though, GPS is famously unreliable in this region of Puerto Rico, which just adds to the adventure.
Toro Negro State Forest
The nearly 7,000 acres of Toro Negro State Forest include four types of forests: tabonuco, palm, Micropholis Buchenavia, and a cloud forest, spread over six municipalities. This a great destination for those looking to camp and hike. The most popular trails are El Bolo, which leads to a stone tower on the top of a mountain, and Charco La Confesora, originating at the Toro Negro camping grounds and ending in a large natural swimming hole. Both trailheads are located close to the ranger station on Route 143 in Villalba.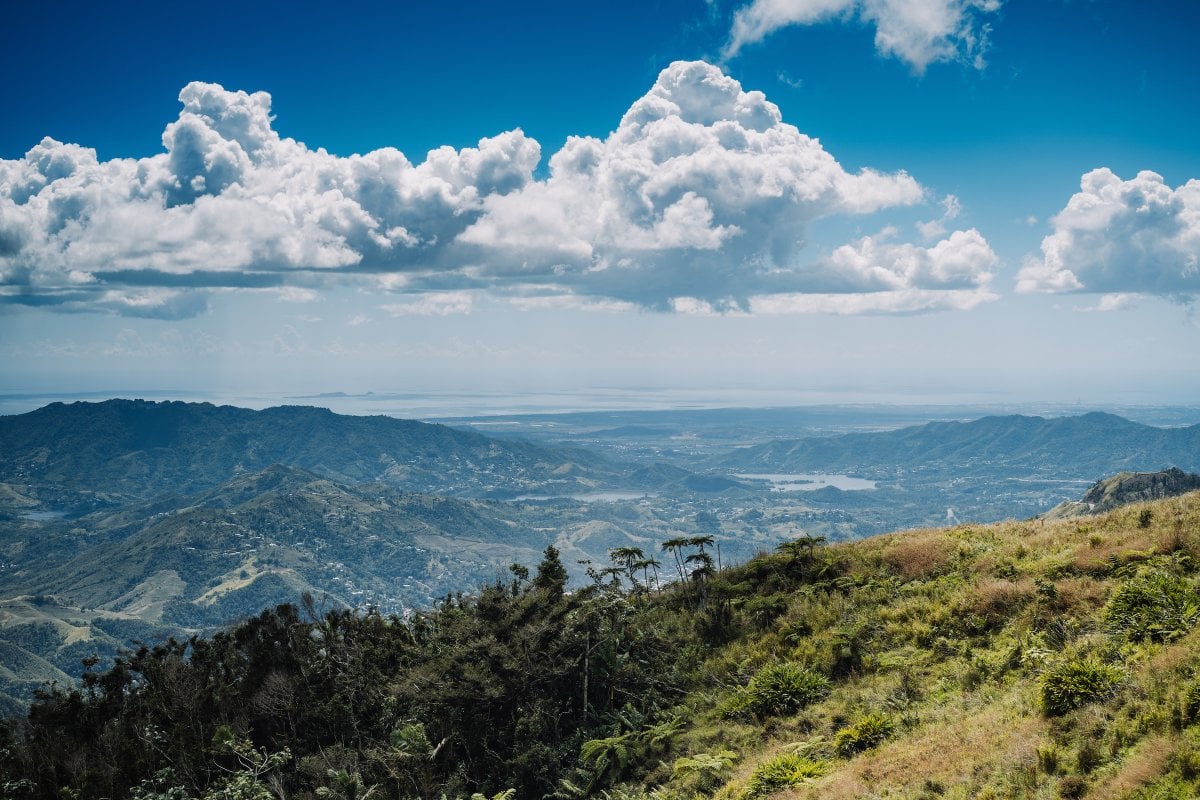 Las Cabañas de Doña Juana
As you drive along Route 143, which winds its way along the Orocovis and Villalba border, you'll eventually reach a rustic open-air restaurant called Las Cabañas de Doña Juana (technically on the Orocovis side of the road). This is the place for a family-style Puerto Rican feast. Their menu is simple: ribs, pork shoulder, or chicken, with big starchy side dishes like tostones (fried green plantains) or amarillos (fried sweet plantains), rice and beans or rice with pigeon peas, or root vegetables like yuca or ñame. Only open on weekends and holidays.
Miradero Villalba-Orocovis
Located 4,000 feet above sea level, the Miradero Villalba-Orocovis (miradero means lookout point in Spanish) offers visitors a panoramic view of the Island's Central Mountain Range, spanning all the way from the Atlantic Ocean on the north to the Caribbean Sea on the south. There are telescopes and gazebos with picnic tables around the boardwalk and decks.
Puerto Rico Half Marathon in Villalba
One of the toughest and longest-running half marathons on the Island, the Puerto Rico Half Marathon in Villalba is a qualifying event for Puerto Rican athletes looking to compete in international events like the Panamerican Games. In 2017, this race celebrated its 50th anniversary and it's considered the 21K National Championship. What makes it particularly difficult is that it's held in mid-July when the temperatures soar into the 90s and humidity is at an all-time high.
Discover Puerto Rico's E-Newsletter
Paradise for Your Inbox
Get travel inspiration, news, tips and more delivered monthly.