From Chi-Chi Rodríguez to the Puerto Rico Open, Island golf history and modern courses shine.
PGA Tour professionals tee it up during Puerto Rico Open each February, competing for $3.7 million in prize money on the Championship Course at Hyatt Regency Grand Reserve. The Championship Course is one of two 18-hole layouts designed by Tom Kite at the luxury resort. The International Course is the other. Both are open to the public and are as popular with the pros as amateurs.
The Tour members love playing in Puerto Rico, and who can blame them? Tropical weather, ocean and rainforest views, friendly people, great food, and easy access for U.S. citizens, given the Island is an American territory and air hub of the Caribbean. The modern-day pros who have won or finished high up in Puerto Rico include Bryson DeChambeau, Tony Finau, Jordan Speith, Jason Day, and the 2020 champion, Viktor Hovland.
It's not just today's players who have excelled while playing in Puerto Rico. Chi-Chi Rodríguez is the Island's most famous golfer. An 8-time winner on the PGA Tour – and 22 more times on the Champions Tour – he was a shot-making marvel, seemingly able to create masterful shots when it mattered most. He's also arguably the most entertaining golfer ever to play at the game's highest level. His sense of humor and common-sense approach to the game are traits that all players should emulate.
"If you buy a book on golf instruction, buy the thinnest book you can find," he said. "The thinner the book, the chances are the easier and more elementary the instruction."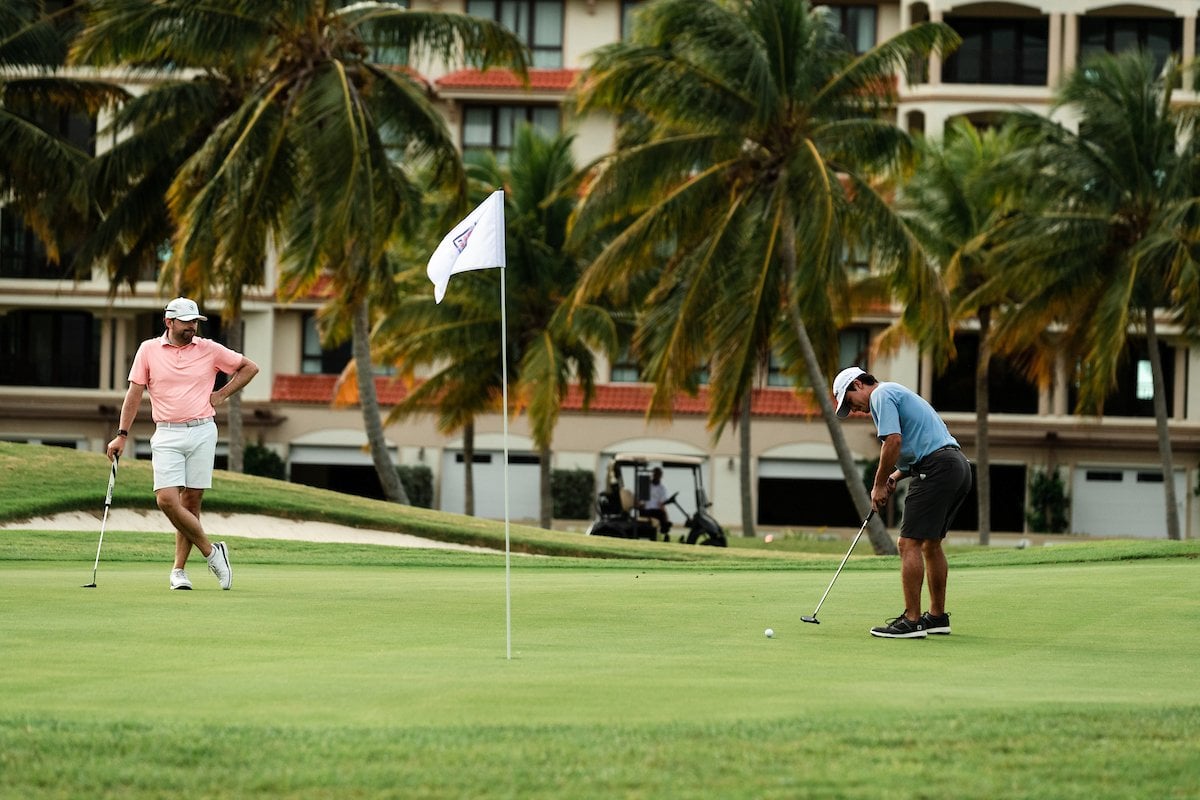 Born in Río Piedras, Puerto Rico, he grew up poor and carved his first golf club from a tree branch, striking rocks and crumpled tin cans instead of golf balls. Rodríguez eventually began working at Dorado Beach Resort (now TPC Dorado Beach), coming under the tutelage of a former PGA Tour pro who mentored him. With financial backing from resort investor Laurence Rockefeller, Rodríguez began playing the PGA Tour.
He quickly became a fan favorite with his great ball-striking and imaginative shot-shaping, and certainly because of his showmanship. Rodríguez dazzled with his famous "sword dance" or "toreador dance," waving his putter like a sword after making a birdie. He also would drop his straw hat over the hole – to "keep the ball from escaping," he said.
Rodríguez's greatness helped shine the light on Puerto Rico and its golf. After retiring from tournament golf, he designed El Legado, a popular 18-hole course in Guayama near the Island's south coast. El Legado is one of Puerto Rico's 18 golf courses, all of which are open to the public. Four of them are ranked among the finest courses in the Caribbean, Mexico, Central America, and the Atlantic Islands. Those courses are at TPC Dorado Beach (East Course), St. Regis Bahia Beach, Royal Isabela (Links Course), and Hyatt Regency Grand Reserve (Championship Course).
Rafael Campos plays in the Puerto Rico Open each year. He's spent the past few years playing on the PGA Tour and the Korn Ferry Tour. An Island native, Campos almost won the 2021 Puerto Rico Open. Leading after three rounds, he eventually finished in third place. He would love to become the Island's second-ever winner on the game's grandest stage, joining Rodríguez in letting the world witness their golf greatness. 
Discover Puerto Rico's E-Newsletter
Paradise for Your Inbox
Get travel inspiration, news, tips and more delivered monthly. 
View Places Mentioned on a Map
Tags
Golf