The Island's community and municipal playing options add flavor to the game.
Puerto Rico's 18 golf courses offer a spectrum of choices ranging from high-end resorts to community "muni's." While the Island's luxury courses are superb and award-winning in many cases, the more modest playing options provide many appealing attributes. These include value and authentic cultural experiences while maintaining delightful golf experiences.  
Pro Shop: 787-740-1419
Located in Bayamón, a college town that is an easy and short drive from San Juan, the Río Bayamon Golf Course is a municipal venue through and through. The town-owned property has both golf and non-golf components, from course, driving range, pro shop, restaurant, bar, and event space.
The course is accessible for amateurs and professionals. It began as an environmental initiative geared toward reforestation and erosion control in the river basin as a bonus. With 18 holes that measure 5,020 yards, what Río Bayamón lacks in length, it makes up for by requiring accurate shots. Narrow fairways, constant wind, river, lake, and stream crossings make this course both attractive and challenging.
A putting green, chipping green, and driving range enable players to warm up well and practice to their heart's content. Because of its convenient location, many visiting golfers like to play Río Bayamón on their way to or from San Juan's International Airport or during a cruise ship port of call.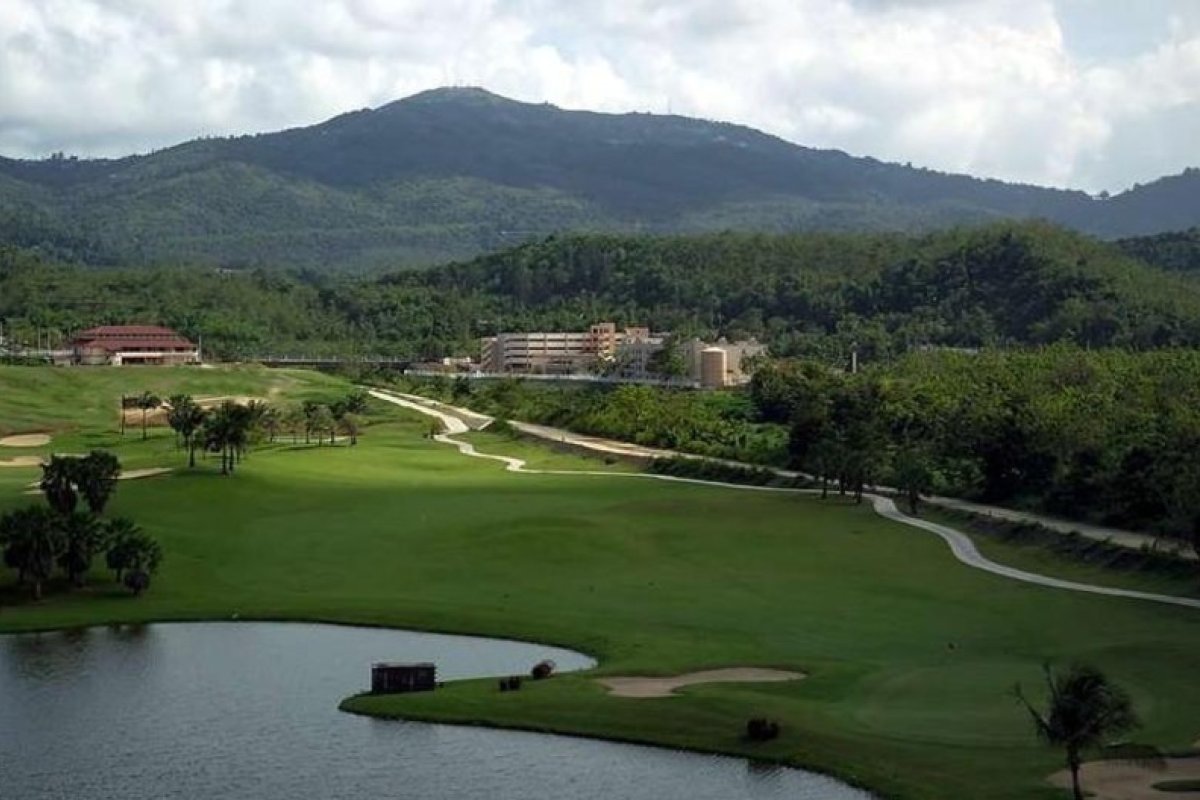 787-890-2987
If you're a fan of American military history and golf courses with ocean views, Punta Borinquen is for you. Built around 1940 and located in Aguadilla, it was a favorite of then-General Dwight D. Eisenhower. "Ike" became president of the United States, while Punta Borinquen continues to be many players' favorite course. Set atop a cliffside promontory, the par-72 layout – which was initially built on a now-closed Air Force Base – offers sweeping views of the point where the Atlantic Ocean meets the Caribbean Sea. The course design is parkland style with virtually no forced carries. Swaying palm trees, greens with hard-to-read breaks, and ocean views from all 18 holes ensure you will experience a memorable round. 
After golf, visit the nearby beaches and enjoy the surfside vibe. Puerto Rico's west coast has hosted multiple world surfing championships.
Club Deportivo del Oeste
Pro Shop: 787-254-3748
Puerto Rico's west coast is known for many things, not the least of which is its surfing, its regional beauty, and its three golf courses (Punta Borinquen and Royal Isabela are the others). Club Deportivo is located in Cabo Rojo, near Mayagüez, with a golf course, marina, and other club amenities. A par-71, 18-hole design, Club Deportivo Golf Course is hilly in places and measures 6,221 yards. Architect Jack Bender designed it. For those who like to spend time honing their game, not just playing rounds, the club's teaching professional, Dennis Cabán Jr., is a well-regarded instructor with a skillful touch. The club's practice area and putting green provide all needed for Caban to help guests work on their game. All that golf works up an appetite, and Club Deportivo's Hoyo 19 Restaurant offers à la carte dishes, a bar, snacks, breakfasts, and lunches.
Other community or municipal-style courses in Puerto Rico include Caguas Real, El Legado (designed by Puerto Rico and PGA Tour legend Chi-Chi Rodríguez), and the 9-hole layout on Fort Buchanan, the Army base near San Juan. All have unique attributes, with the common denominator of value at their essence.