Saying Puerto Rico golf courses are beautiful is like saying a vacation is good for the soul — it goes without saying. While choosing one course here to be the most beautiful is impossible, you'll find plenty of contenders for that title around the island. Play them all and judge for yourself!
Links Course at Royal Isabela
If golf courses were paintings, Links Course at Royal Isabela would be like Michelangelo's work at the Sistine Chapel. Created seemingly in the heavens, this glorious course is perched more than 100 feet above crashing surf. Though only 90 minutes from San Juan, it seems like another world — one where conservation meets inspiration, a golf resort and course that elevates guests from the ordinary to the sublime as they set foot on the tranquil property.
Near Punta Borinquen Golf Club on the island's northwestern tip, Royal Isabela shares the same terrain and coastal cornucopia that marks this special place on Earth. Stand on any one of several greens at the Links Course that hug the horizon and drink in ocean views that stretch as far as the eye can see. Then pinch yourself. It's your shot.
Punta Borinquen Golf Club
Built on now-closed Ramey Air Force Base on the island's northwestern coast and opened in 1940, the magnificent historic design of Punta Borinquen Golf Club was a favorite of General Dwight D. Eisenhower. That's high praise considering "Ike" also loved Augusta National.
Set atop a cliff side promontory, this par 72 course offers a sweeping view of the point where the Atlantic Ocean and Caribbean Sea meet in a glorious turquoise confluence. Spectacular sunsets and ocean views are the norm on the golf course where mild, ever present westerly cross winds blow, and a special species of palm found only in this coastal region of northwest Puerto Rico graces fairway corridors. Punta Borinquen is a no-frills golf club, approximately two hours from San Juan, but the welcoming staff and course make golfers feel like pampered royalty amid the majestic setting.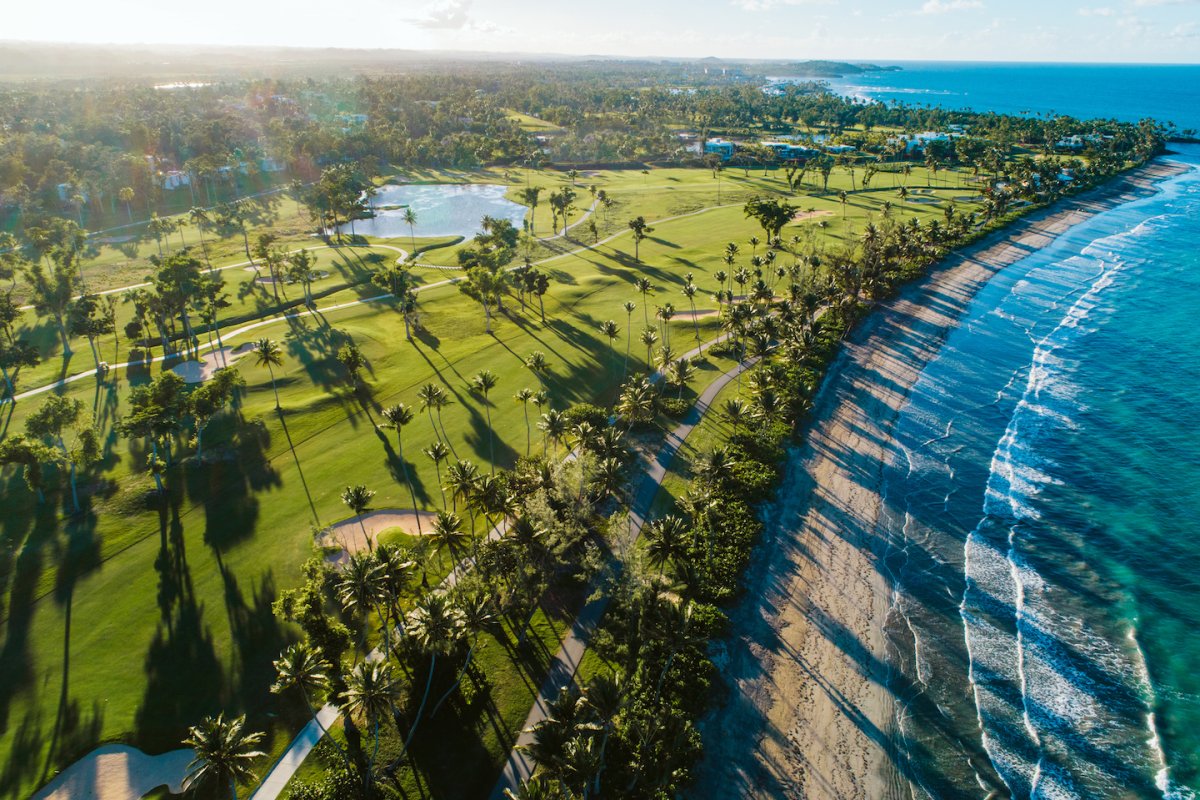 TPC Dorado Beach Resort and Club
Located on the north coast of the island in Dorado, around 25 minutes from San Juan, TPC Dorado Beach is home to two 18-hole courses designed by Robert Trent Jones Sr. The East Course ranks as one of the best courses in not only the Caribbean, but globally. Photo opportunities begin on the first hole as it unwinds alongside turquoise ocean waves, sandy beach, and palm trees. Sugarcane Course, a 7,119-yard sinewy jewel, includes water, grand bunkers, and a tropical vibe accented by breathtaking flora and fauna.
The tradition of golf at Dorado Beach is as rich as this magnificent estate's history. Thanks to the courses' excellence and charismatic beauty — manicured lawns, flower gardens, and foliage create a relaxing vibe property wide — they've played host to celebrities, world leaders, golf legends, and professional tournaments. Today's resort beckons with first-class dining, aquatics, fitness center, spa, elegant clubhouse, award-winning golf shop, and more.
Costa Caribe Golf & Country Club
With three 9-hole courses – Tarpon, Island, and Osprey – nestled between the Caribbean Ocean on one side and lush mountains on the other, picturesque scenery is everywhere the eye turns at Costa Caribe Golf Resort, located on Puerto Rico's south-central coast. Several oceanfront holes, 14 shimmering lakes, hundreds of towering palm trees, and Puerto Rico's first island-green make this amenity-rich property an ideal destination. Located adjacent to the Hilton Ponce Golf & Casino Resort, Costa Caribe features a 32,000-square-foot modern beachfront Clubhouse, with alluring panoramic views and indoor and outdoor seating overlooking the private beach and resort pool.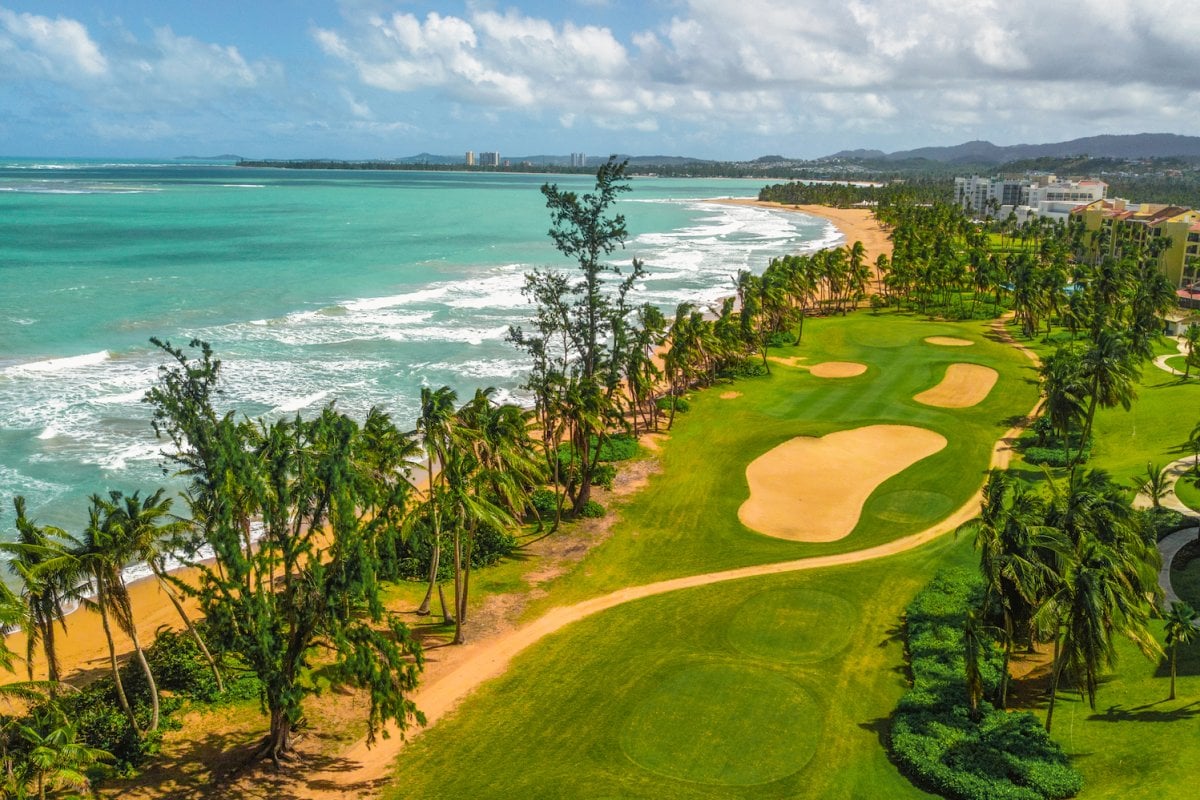 The St. Regis Bahia Beach Resort & Golf Club
Designed by Robert Trent Jones Jr., the golf course at Bahia Beach Resort and Golf Club is designated a Silver Signature Sanctuary by Audubon International, and located only 35 minutes from San Juan. Framed by scintillating views, the collection of strikingly attractive holes exudes peaceful harmony with nature. Indicative of the immaculate landscape found in the preceding 17 holes, the 18th and "home" hole at Bahia Beach is remarkably distinctive and dramatically beautiful. The Atlantic Ocean parallels the hole's right side, while views of the El Yunque National Forest on the left set a memorable scene. A favorable wind coming off the ocean makes the final hole at Bahia Beach one to remember.
Discover Puerto Rico's Golf E-Newsletter
A Hole-In-One for Your Inbox
Receive golf news, course updates, and other important information in your inbox.