Join Discover Puerto Rico in these vibrant celebrations.
Be a part of the historic, first-ever Spanish countdown on Dick Clark's New Year's Rockin' Eve from the heart and soul of the Caribbean to the world!
Fuel in your engines and pump some gasolina into your New Year's Eve celebration as we ring in 2022 with worldwide reggaetón sensation Daddy Yankee and award-winning actress Roselyn Sánchez. As San Juan is celebrating its 500th anniversary, the capital city continues to make history with a full-blown fiesta to welcome 2022, where you can join, dance, and start the new year in paradise, sharing its vibrant spirit.
Daddy Yankee
---
Performer

Global music icon Daddy Yankee is known as the "King of Reggaeton" by music critics and fans alike. In addition, he's an influence on other Latin urban performers. In 2004, he released his international hit single "Gasolina," which introduced Reggaeton to audiences worldwide and made the music genre global. Since then, he has sold around 30 million records, making him one of the best-selling Latin music artists. Daddy Yankee became the most listened to artist worldwide on the streaming service Spotify in June 2017, the first Latin artist to do so. The Puerto Rican star has won 102 awards and 310 nominations. He has been named one of the "Most Influential Hispanics" by Time Magazine Magazine. He was recently awarded Songwriter Of The Year for the third time at the 2021 ASCAP Latin Music Awards. He was bestowed with the Billboard Hall of Fame Award, becoming the first urban Latino artist to enter. Other global hits by Daddy Yankee include "Despacito" (with Luis Fonsi), "Con Calma" (Ft Snow ), "Dura" & most recently, "Problema."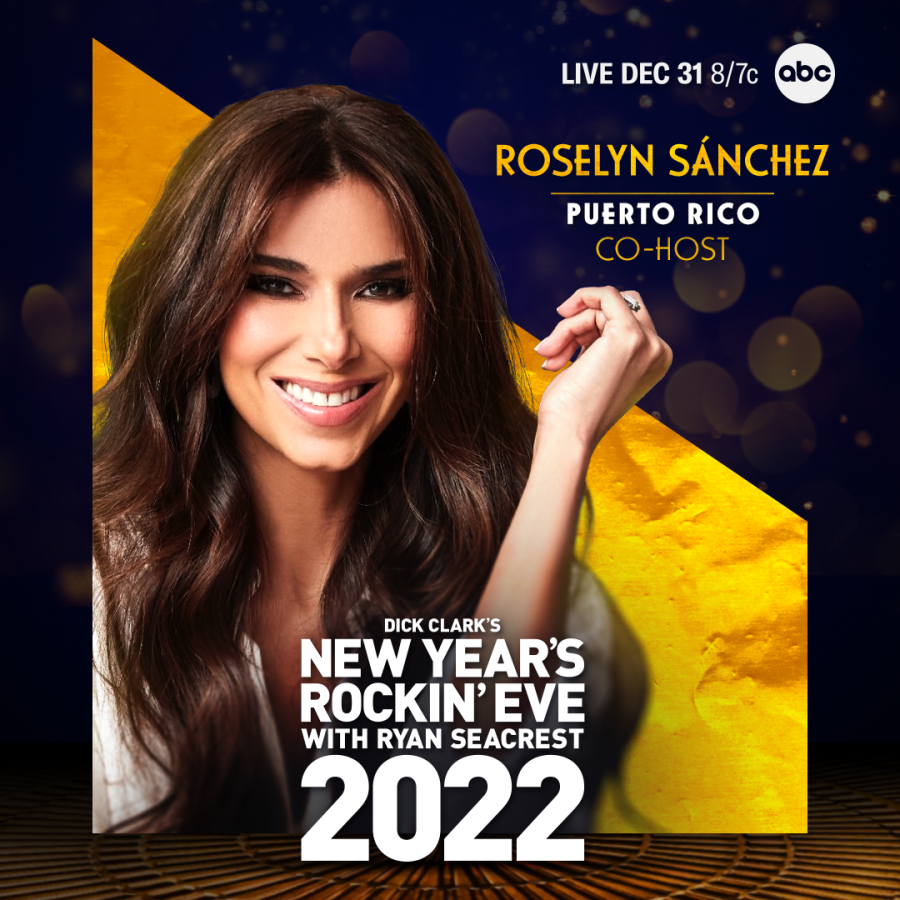 Roselyn Sánchez
---
Co-host

Roselyn Sanchez stars as "Elena Roarke" in the Fox series "Fantasy Island," taking on the iconic character in the reboot of the classic series. She previously starred in the ABC drama "Grand Hotel," the highest-rated summertime drama series to debut in 4 years on the network, and the hit series "Devious Maids" by creator Marc Cherry. She will make her feature-length directorial debut on "Diario, Mujer y Café" and made her directorial debut with the award-winning short film "Satos." Other credits include the New Line Cinema blockbuster "Rush Hour 2", the action thriller "Act of Valor" that opened at #1, the Dwayne Johnson starred "The Game Plan" for Disney, and in the hit CBS television series "Without a Trace" that led to her first ALMA award. She also co-hosts the iHeart Radio podcast "He Said, Ella Dijo" with her husband actor Eric Winter and hosted the 2021 Latin Grammys.
A Q&A with Roselyn Sánchez Before Historic Dick Clark's New Year's Rockin' Eve
From Puerto Rico, The "Big Boss" and Roselyn Sánchez will be joining the production's 50th edition alongside a star-studded lineup of hosts and performers. Across the United States, the lineup includes 17-time host and executive producer Ryan Seacrest from Times Square, first-time co-host YouTube sensation and comedian Liza Koshy, singer Ciara co-hosting from Los Ángeles, actor and author Billy Porter from New Orleans, and POWERBALL correspondent Jessie James Decker. In addition, Decker will announce the "POWERBALL First Millionaire of the Year" live from New York. You can catch the live broadcast through ABC with Daddy Yankee and Roselyn Sánchez.
Just outside Distrito T-Mobile, another fiesta will be simultaneously taking place, and you can watch the broadcast through Telemundo Puerto Rico. Local hosts and TV personalities Raymond Arrieta and Lourdes Collazo will have you ready to get down as the music turns up with iconic and legendary artists from Puerto Rico like salsa pioneers El Gran Combo de Puerto Rico and Gilberto Santarosa, popular merengue group Límite 21, salsa and timba singer Pirulo, plena band Plenéalo, plena and bomba fusion orchestra La Tribu de Abrante, singer and troubadour Victoria Sanabria, and DJ King Arthur. 
Broadcasting through ABC will begin at 10:00 p.m. and through Telemundo at 9:00 p.m. 
Discover Puerto Rico's E-Newsletter
Paradise for Your Inbox
Get travel inspiration, news, tips and more delivered monthly.