From kids to grownups, these activities will surely put a smile on your face.
Enjoying a family day outdoors in Puerto Rico comes in many ways. With 36 nature reserves and 19 state forests, nearly 300 beaches and three bioluminescent bays, imposing mountains, and caves, it is effortless to enjoy the great outdoors on the island. 
Your family can choose from several great activities that include biking in the city, kayaking in the lagoon, canyoning in the mountains, ziplining through the forest, and more.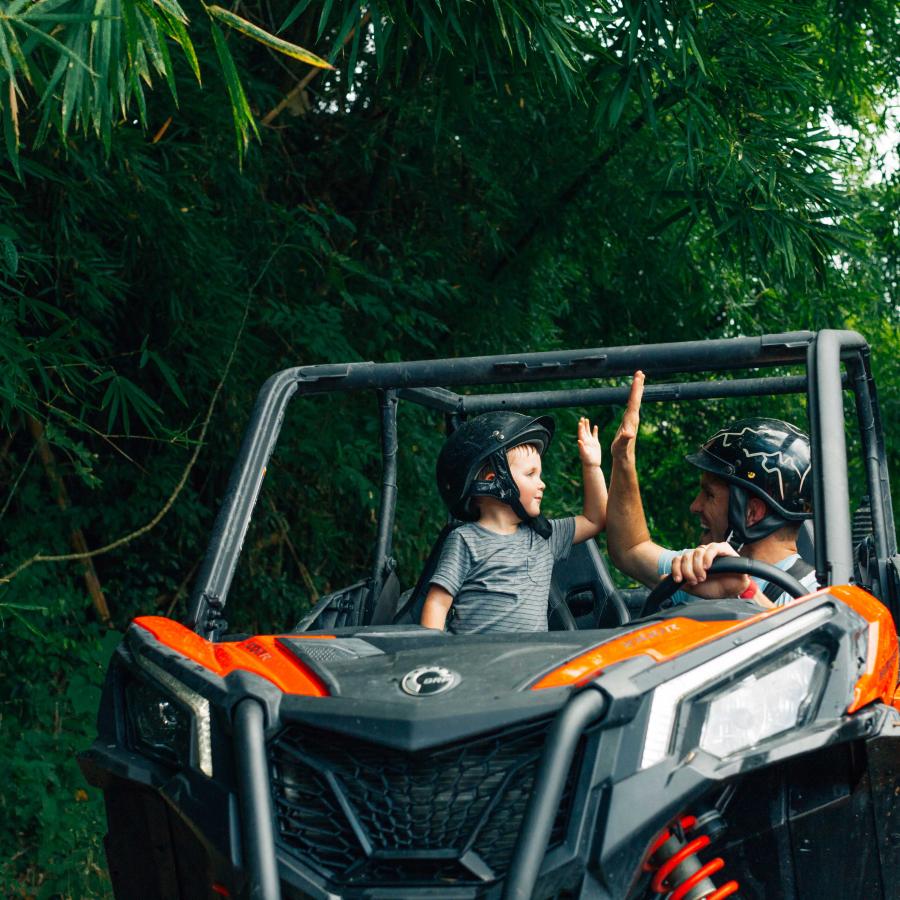 Get down and muddy! 
Near El Yunque National Forest, where you can spend the day hiking and bask under waterfalls, is Carabalí Rainforest Park, a 600- acre, action-packed ranch waiting for an energy-filled group. Discover endemic flora and fauna as you set out on a horseback riding tour at the foothills of El Yunque, make a splash and take a swimming break at the Mameyes river, or ride along with the breathtaking views of the Atlantic Ocean. You can also explore the rainforest in an exhilarating ATV or UTV ride as you meander through lush vegetation, cross rivers, and take in the scenery. Also, go-karts are available so you can race your friends and family, and open-wagon hayrides are available for those seeking a more peaceful way to enjoy the rainforest. 
Carabalí has an on-site restaurant where you can enjoy a traditional Puerto Rican lunch (or dinner) or feast on their Southern BBQ dishes.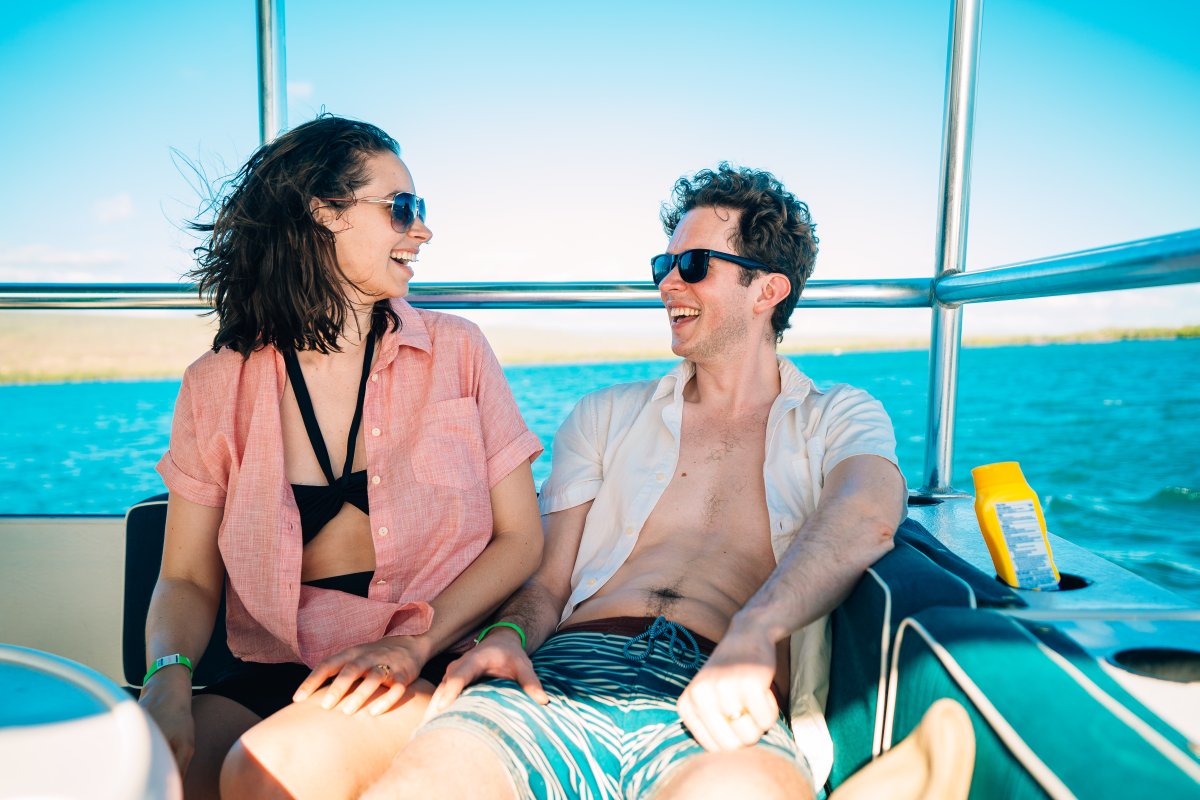 Ready, set, sail!
Surrounded by many cays and islets, Puerto Rico is full of unique locales to enjoy a day under the sun with family and friends. Many companies like East Island Excursions, Traveler Catamaran, Salty Dog, Sail Getaways, and more take you to Icacos Island or Culebrita on the east side of Puerto Rico. In contrast, others like Island Venture Water Excursions and Vámonos Tours sail off to Caja de Muertos on the south. Not only will you relish the ocean's stunning views, but you'll discover Puerto Rico's diverse marine life while snorkeling around some of the most colorful coral reefs in the Caribbean. If diving in the water is not for you, you can enjoy your day on the boat and work on your tan lines. Regardless of the activity, you'll relax with the island's sounds as you embark on an unparalleled adventure. 
Soar like a bird
One of the most popular recreational outdoor activities in Puerto Rico is ziplining. With steep mountains and exuberant scenery, you can practice the adrenaline-rushed trend in different locations across the island, from the second-longest zip line in the world at Toro Verde (which Jimmy Fallon conquered) to the highest rainforest in Puerto Rico at Toro Negro. There are also shorter rails at El Yunque National Forest, where you'll find zip lines for all types of travelers. Take the family out for an adventure in the mountains and embrace nature through a bird's eye.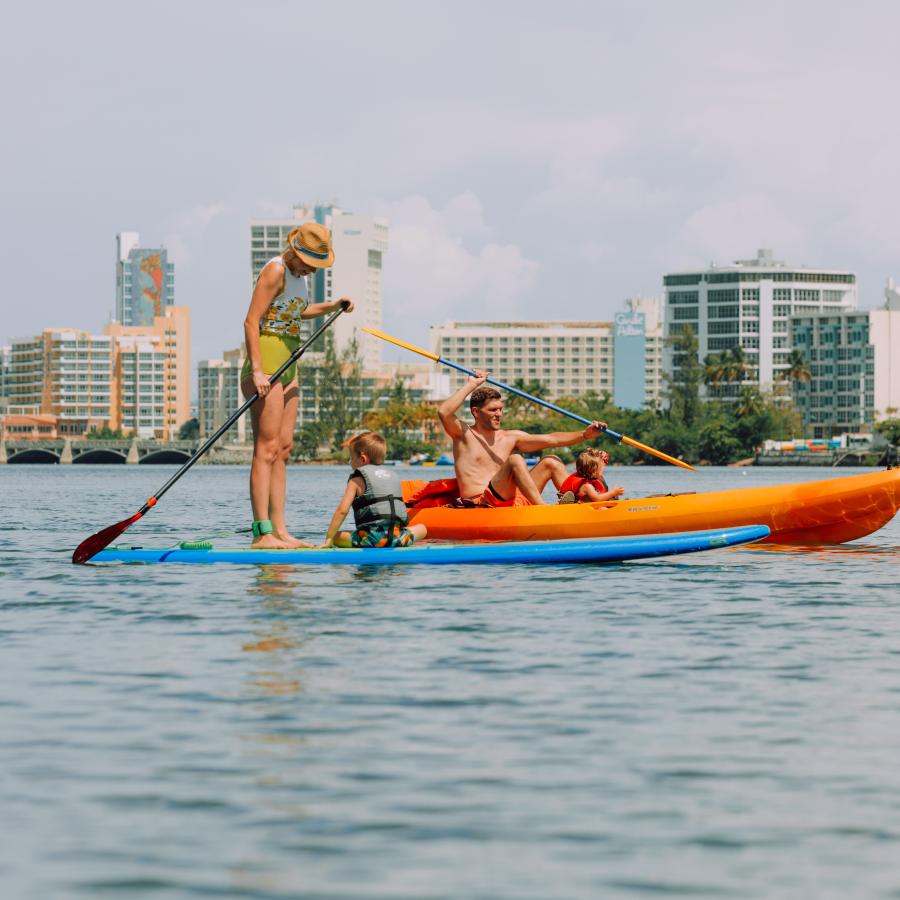 Paddle away!
There are nearly 300 miles of coastline for you and your family to take advantage of. Several guided tours are offered, including sunset and night paddles, to enjoy the city's skyline. Night Kayak Tours, Castillo Tours, and San Juan Paddle Boarding offer city-side bay kayaking and SUP (stand up paddle boarding) around the lagoon and turquoise water beaches. You can book a lesson for your group or rent out the equipment from these companies. Whether your family wants to paddle alongside the city or explore the glow-in-the-dark bays, you'll have aquatic opportunities for everyone. All you must do is choose your vessel and backdrop!
Bike rentals 
There are hundreds of miles to be explored and plenty of trails where you can mountain bike or cycle with your loved ones. There are many bicycle rentals around the area – for those who don't travel with their own, so you can enjoy a full day, morning or afternoon roaming around. 
From leisurely city roads like Ocean Park and Condado in San Juan to more advanced wildlife trails in the Guánica State Forest, the Corredor Ecológico del Noreste, and the Aguadilla Coast Trail (the longest route in the island) don't miss out on the scenic views while exercising.