You deserve a stay that is good for your mind, body, and soul.  
Being in Puerto Rico is a wellness experience in and of itself – it has warm tropical weather all year round, stunning natural landscapes, and a laid-back lifestyle. But you can take your restorative getaway one step further with a visit to some of Puerto Rico's top resorts that deliver more than just spectacular accommodations and first-class services.  
From yoga flows and fitness classes to morning meditations and massage treatments inspired by ancient healing rituals, there are several hotels around the Island that offer unique wellness experiences for travelers to recharge and rebalance.
Dorado Beach, a Ritz-Carlton Reserve 
Restore your senses at Dorado Beach, a Ritz-Carlton Reserve. This 1950s plantation-turned-resort is infused with the healing power of nature, providing a premier holistic experience.  
Find serenity in the hotel's Spa Botánico, a sanctuary spread across five acres designed to enhance the well-being of all who visit by pairing local botanicals with the indigenous healing traditions of the Island. Upon arrival, you will be greeted with a refreshing homemade herbal tea made with plants cultivated on the premises – the perfect way to start a healing journey.
There, you can consult a Mano Santa (the name given to traditional Puerto Rican healers, which translates to "Holy Hand") to design a custom blend of botanical massage oils for your specific needs. Sway in a hammock while you receive a rhythmic compression massage or experience an unforgettable treatment atop the breezy treehouse while listening to magical tropical sounds. You can also discover and learn about local herbs used for health and beauty when you visit the Apothecary. Complete your spa day with a stroll through the Purification Gardens, which feature waterfall showers and steam pavilions, or along the 11-mile Rockefeller Nature Trail.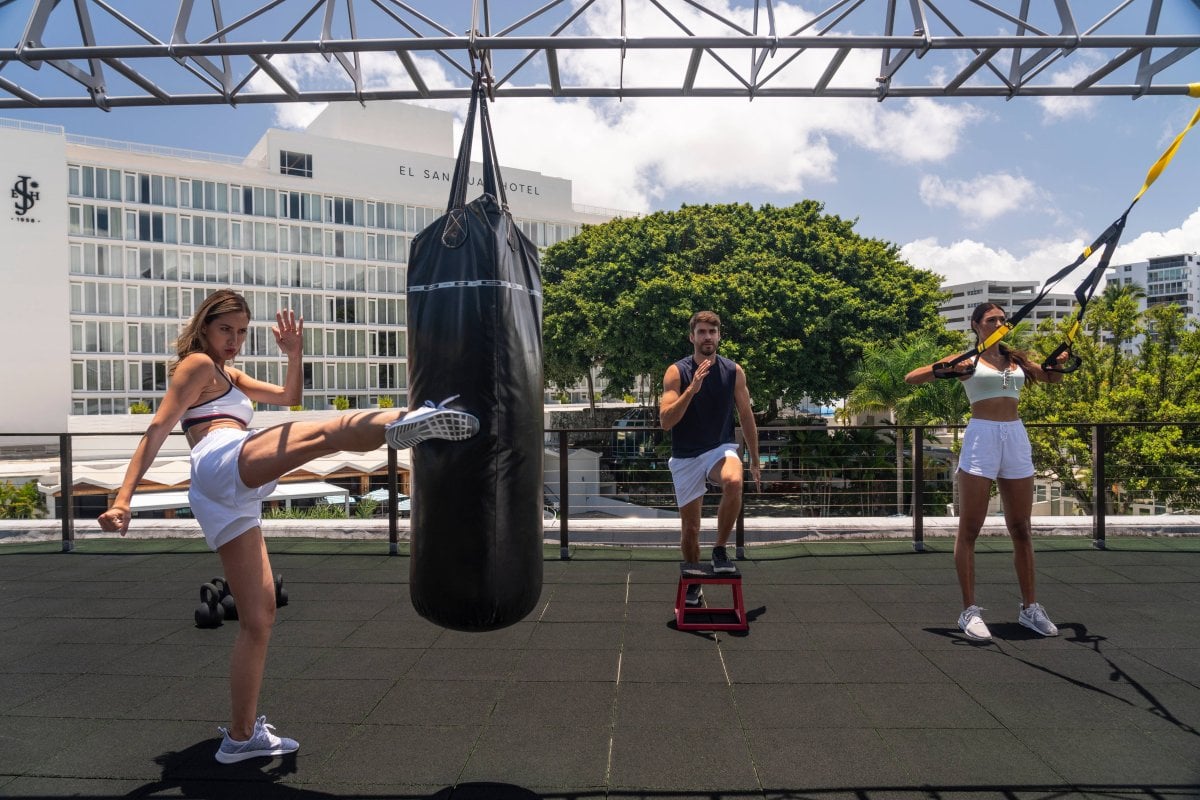 Fairmont El San Juan Hotel
Known for its stunning design and easy beach access, the Fairmont El San Juan Hotel offers various services and experiences for you to recharge. Their award-winning Well & Being Spa is the ideal luxury setting for unwinding as you experience customized facials, deep-relaxing massages, and even create your personalized body scrub.
In addition, the hotel offers a variety of unique fitness classes, like FloatFIT. This low-impact class takes place in the water on inflatable boards that resemble yoga mats. You could also book a Vertical Wall Yoga class, where you'll be flipping upside down for a deeper stretch.
Take your exercises to new heights at the Functional Fitness Skylab - a rooftop fitness facility where you can partake in TRX, boot camp sessions, and sunset yoga downtown San Juan. Other hotel fitness offerings including morning and sunset meditations as well as Latin Beats dance classes.
Guests can also book an integrated balancing session and sound bath at the Banyan Tree for the ultimate mind-body experience. Then, fuel up for the rest of your day with a fresh smooth from the Live it Well Juice Bar.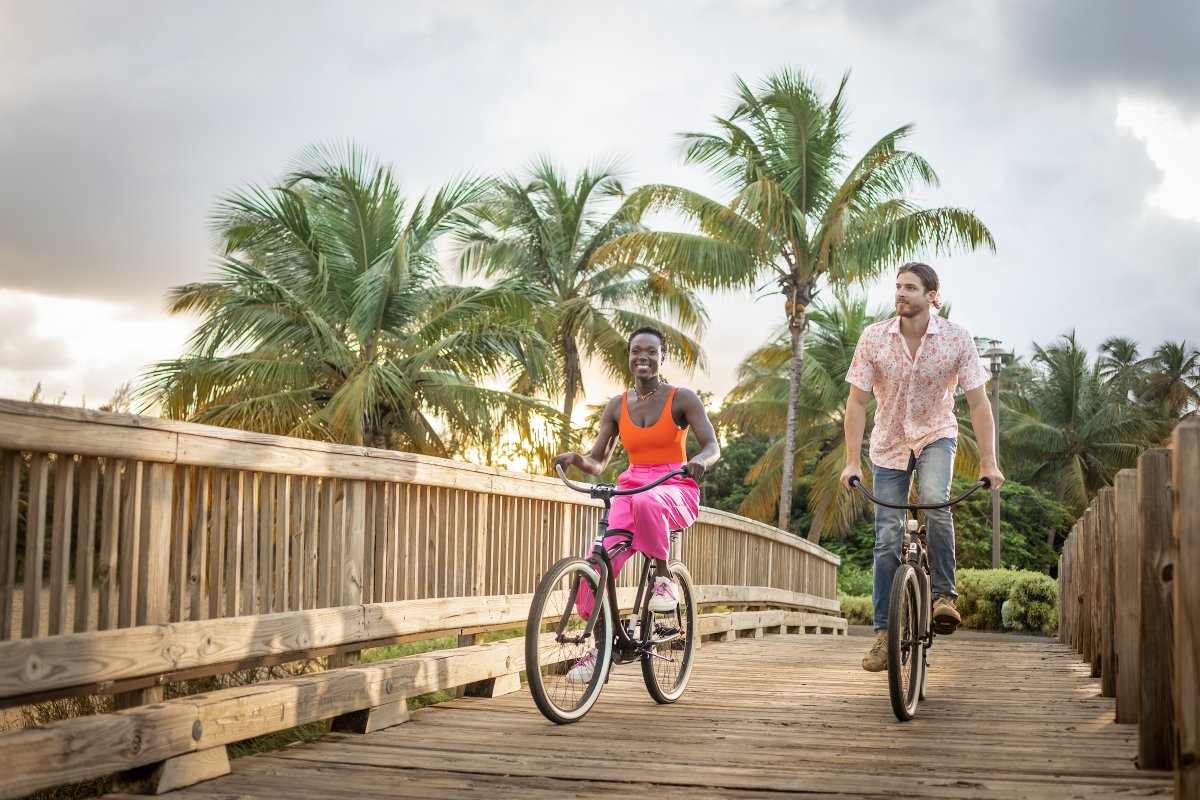 St. Regis Bahia Beach Resort & Golf Club
Reinvigorate your mind, body, and soul by immersing yourself in the unspoiled natural beauty and wellness activities at The St. Regis Bahia Beach Resort, where the elegance of a luxury spa blends seamlessly with nature's soothing qualities at the Iridium Spa.
Its array of services highlights the Island's culture, from the ingredients they use to their massage techniques. Experience the Encanto Rum Massage, which uses local Don Q Rum to help alleviate inflammation, increase blood flow, and reduce fluid build-up; or try the Plátano Leaf Wrap, which uses the green banana leaf to firm up and give your skin an unforgettable glow.
The resort's proximity to El Yunque National Forest also makes it a haven for natural immersion. At the Boathouse & Nature Center guests can take a peaceful kayak trip along the mangrove-lined waterways, discover local flora and fauna on a hike or bike ride, and float silently above the water on an eFoil, a surfboard with an electric propeller that powers the board to glide on the water. And to provide a complete holistic experience for travelers and residents, the resort offers locally grown organic fresh produce at The Farm. This green space in the hotel complex gives health enthusiasts the chance to enjoy goods straight from the garden to their tables.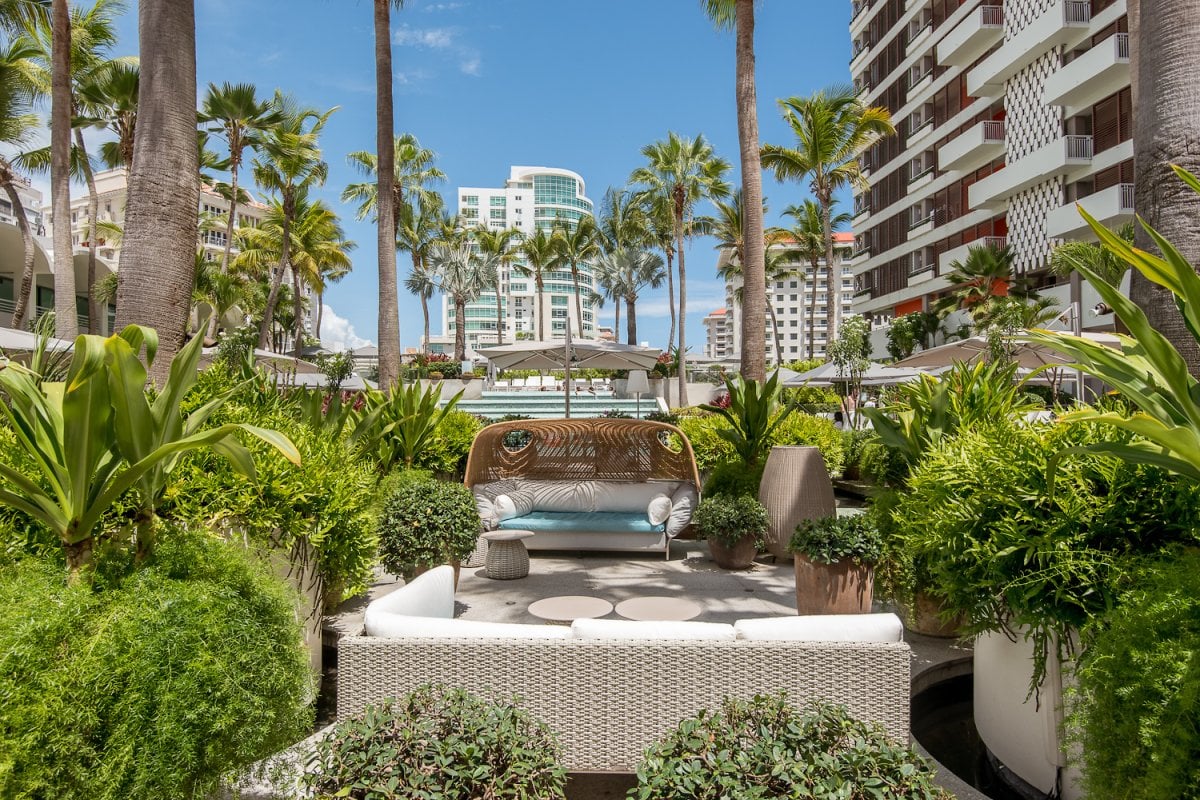 La Concha Renaissance Resort
Situated in the heart of Condado, La Concha Renaissance Resort offers its guests the opportunity to experience conscientious wellness while taking advantage of vacationing in a tropical paradise. Energize your morning at their daily mindfulness session overlooking the beach and release your tensions with some Caribbean heat in a jacuzzi surrounded by nature with the resort's exclusive Wellness Program.
Stop by the Fitness Center to exercise in front of a breathtaking ocean view and discover their assortment of one-of-a-kind yoga flows like the Wine Yoga Experience, which combines yoga asanas, breathing techniques, and wine tasting to heighten your senses and help your body achieve balance. You can also release, or practice yoga submerged in water at the You-ga Water Mix class.
Finally, challenge yourself with La Concha's fitness classes, such as the Spin with a Splash, where you can strengthen your entire body during a cycling ride and water resistance interval training, or choose the Waterfun resistance class in the hotel pool that helps improve your stamina and ensures a good time!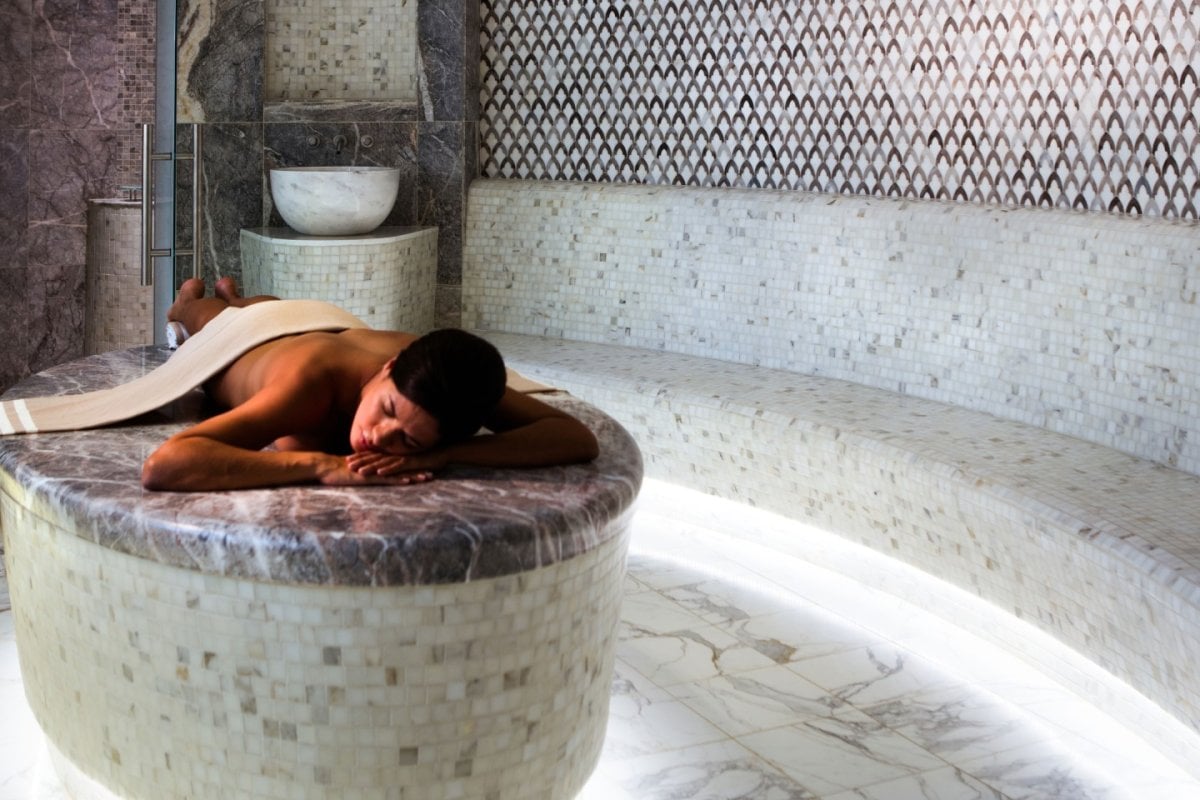 Condado Vanderbilt Hotel 
Looking for much-needed time off? Check out the Condado Vanderbilt Hotel. This historic landmark is regarded as one of the Caribbean's finest resorts and wellness havens where you can tap into your inner peace and tune into all of your senses.  
Detox at the Spa at Condado Vanderbilt Hotel, an exclusive state-of-the-art sanctuary that offers traditional and unique luxurious treatments and guidance from skilled therapists. Begin your healing journey by refreshing in the Rainforest Showers in the spa area, or venture to the Stillness Lounge, a relaxing lounge where you can enjoy a cool beverage, tea, and a space to rest.
And the resort offers the only Hammam ritual on the Island. This incomparable experience fuses ancient purification rituals with modern techniques to help you connect with your inner self while surrounding you with a sense of ancient mystery. It also provides signature facials to achieve alluring skin and body treatments with pleasing scents and rich essential oil blends.