A hidden gem on the west coast.
Being overshadowed by the surfer-hangout Rincón to the north and college town Mayagüez to the south is a blessing in disguise for the town of Añasco. Its pristine beaches are just as breathtaking as its neighbors but with fewer people around. There are also interesting places to explore that might even be new to locals.
If you're just passing through Añasco, there are a few quick-stop sites to visit like the Mirador, a three-story watchtower off PR-115 overlooking the Mona Passage, and the Salcedo iron bridge which crosses the Río Grande de Añasco.
Rincon Beach Resort
Whether you're coming for a romantic weekend or spending time with the family, Rincón Beach Resort is the perfect setting for a tropical getaway. This luxurious and spacious hotel offers guestrooms and villas with views of the ocean, garden, or right by the pool. Amenities include an enormous infinity pool and private access to Almirante beach, a sandy bathing beach shared by both Añasco and Rincón. The resort's two restaurants and bar serve Caribbean, Spanish, and Mediterranean cuisine, along with creative cocktails.
Añasco Beach and Parque Nacional Tres Hermanos
Along with Almirante, Añasco boasts two other beautiful beaches: Añasco beach and Tres Hermanos National Park. Añasco beach is secluded, picturesque, and serene. Think white sand, tranquil waves, and a rugged coastline as the backdrop. Just make sure to bring everything you need. Tres Hermanos is very similar, the only difference is that, since it is managed by the National Parks of Puerto Rico, this beach has parking, showers and bathrooms, gazebos, campgrounds, and an area for trailers.
Plaza de Recreo José A. Pesante
Añasco's town square is the second largest on the Island and worth the visit if you're interested in history. The plaza is headed by a lovely Catholic church built in 1919 after the original one was destroyed by an earthquake. Curiously, the square also features a statue portraying the moment when the Taíno Indians finally decided to test whether the Spanish invaders were actually gods. They drowned a soldier in a river and this event led to the Taíno revolt. It also gave Añasco the nickname the "Town Where Gods Die."
El Salto de la Encantada
This waterfall rushes over slick rocks and is hidden behind dense foliage. There are a boardwalk and picnic benches surrounding it, as well as steps leading down to a natural pool. The name means the "Enchanted Waterfall" and there is a legend surrounding the area. A young Taíno woman named Humata fell in love with a Spanish soldier but he didn't reciprocate her love. She died heartbrokenly and locals say at midnight you can see the young woman combing her hair by the side of the waterfall.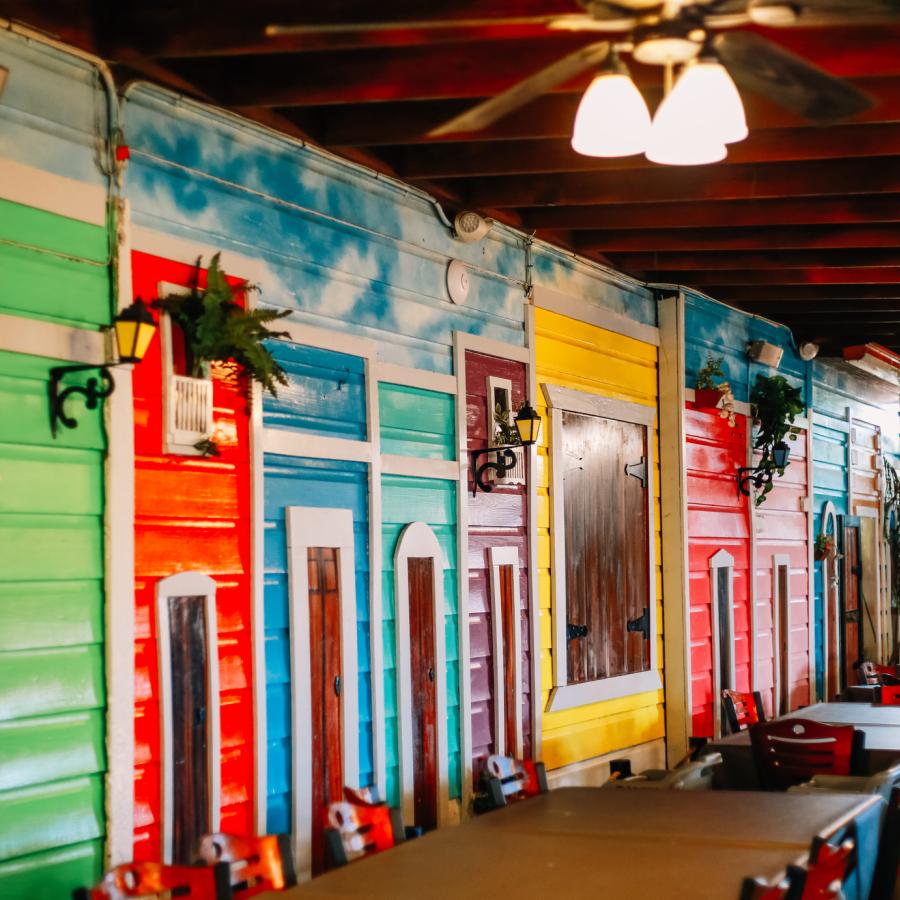 Don Frappe and Don Maceta
What started out as a cart selling frappes and milkshakes has now expanded into a family entertainment center featuring a restaurant, frappe trailer, go-kart track, and an urban zipline. Everything about this place is over the top. Don Frappe serves extravagant frozen drinks while the restaurant Don Maceta serves extremely generous portions of Puerto Rican dishes like mofongo, grilled meats, and seafood, and enormous desserts and cakes.
The go-kart track is called Somos de Aquí Race Track and there are giant track snakes around the parking lot. The zipline is called La Torre del Esbocao and sweeps over the restaurant itself. This is guaranteed to be one of the more unusual (and delicious) places you've ever visited.
Discover Puerto Rico's E-Newsletter
Paradise for Your Inbox
Get travel inspiration, news, tips and more delivered monthly.