Get a dose of Puerto Rico Sunshine from coast to coast in our Sunshine Route Itinerary!
For the explorer who wants to experience Puerto Rico Sunshine via all their senses, check out these hot spots across the Island to feel the warmth. 
Share the Sunshine
Sunshine to Spare: Origin
Did you know that #PuertoRicoSunshine, our official Pantone Color Institute shade, was developed based on the findings of Héctor Jiménez, Ph.D., who calculated the color of sunbeams throughout the Island? Click play for more details
Sunshine to Spare: Paint
Infuse your home with the beauty of our vibrant Island sun! ECOS Paints transformed the red-orange hue of our official Pantone Color Institute shade, Puerto Rico Sunshine, into a beautiful, limited-edition paint. 
Sunshine to Spare: Products
From ice cream to chocolate and backpacks to sandals, experience the sun-kissed orange hue through custom-made products.
Sunshine to Spare: Fashion
Shining like the sun and strutting the vibrant orange color never goes out of style! From New York Fashion Week to bomba attire, learn how designers and students alike got inspired by the Island's official shade.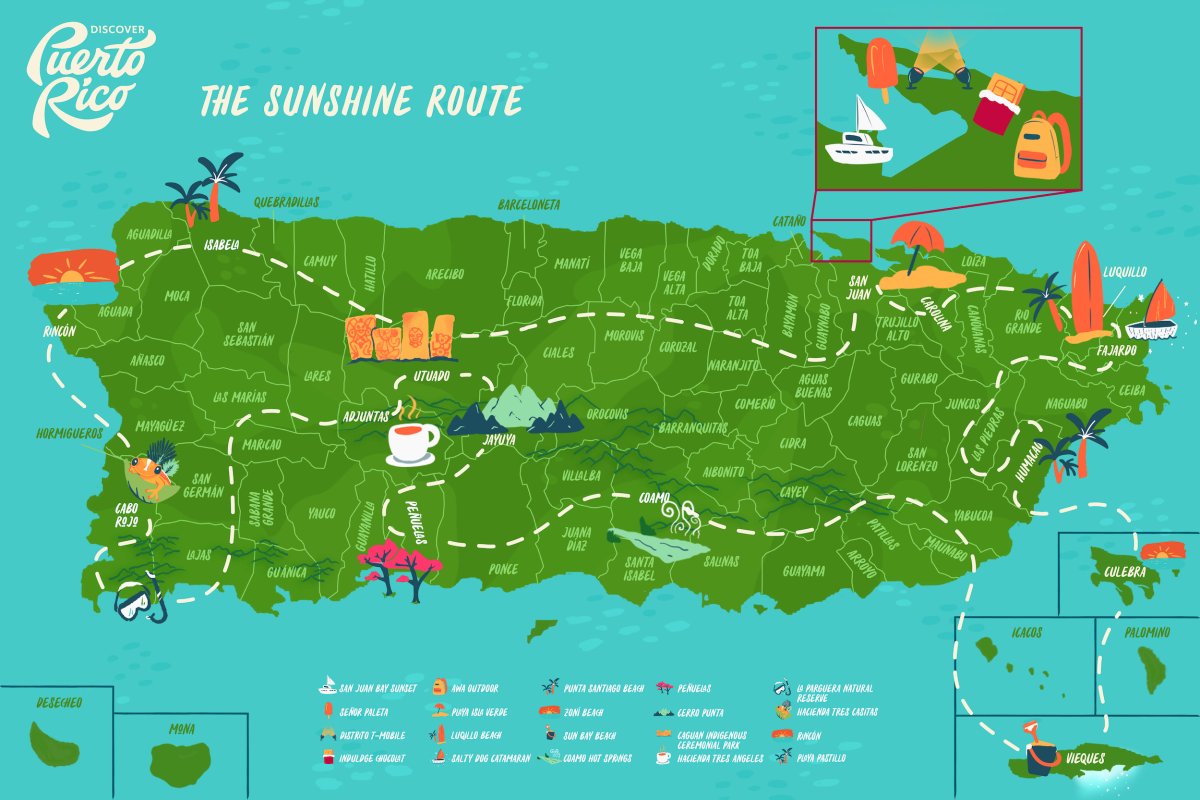 Explore the Sunshine Route
From apparel to paletas, the Sunshine Route highlights vibrant locations and offerings featuring our iconic sunshine. Be sure to share how you feel the #puertoricosunshine on social media along the way.
Metro Region
Eat, drink, and dance the night away in Puerto Rico's metro region, where Old World charm and modern urban life intersect.
DISTRITO T-Mobile
Visitors to DISTRITO T-Mobile can experience a unique light show inspired by Puerto Rican Sunshine on their 14,000 feet of LED screens and the largest 4K horizontal LED screen in the Americas. 
Señor Paleta
This artisanal shop crafts handmade and natural frozen treats, including the new Puerto Rico Sunshine-inspired Paleta, flavored with papaya and pineapple; be sure to check out their Old San Juan location and grab yourself something sweet!
Indulge Chocolate
This couture chocolate shop designs handcrafted treats including their Puerto Rico Sunshine-inspired passion fruit-infused bonbons, available for purchase in person or in our Sunshine Shop!
Sunset Sail on San Juan Bay
Enjoy the sunset over San Juan Bay either tableside at a local restaurant or via catamarans, such as Sailing Dreams and Sunset Cruises, for an experience like no other.
Playa Isla Verde
Playa Isla Verde's golden sands are the perfect spot to experience the breathtaking beauty of sunrises in Puerto Rico.
aWa Outdoors
Founded by two local women inspired by their Caribbean roots, aWa Outdoors offers exclusive Puerto Rico Sunshine-inspired bags/coolers perfect for a day in the sun. 
South Region
From remote beaches and waterfalls to legendary hot springs, immerse yourself in Puerto Rico's natural wonders in the south region.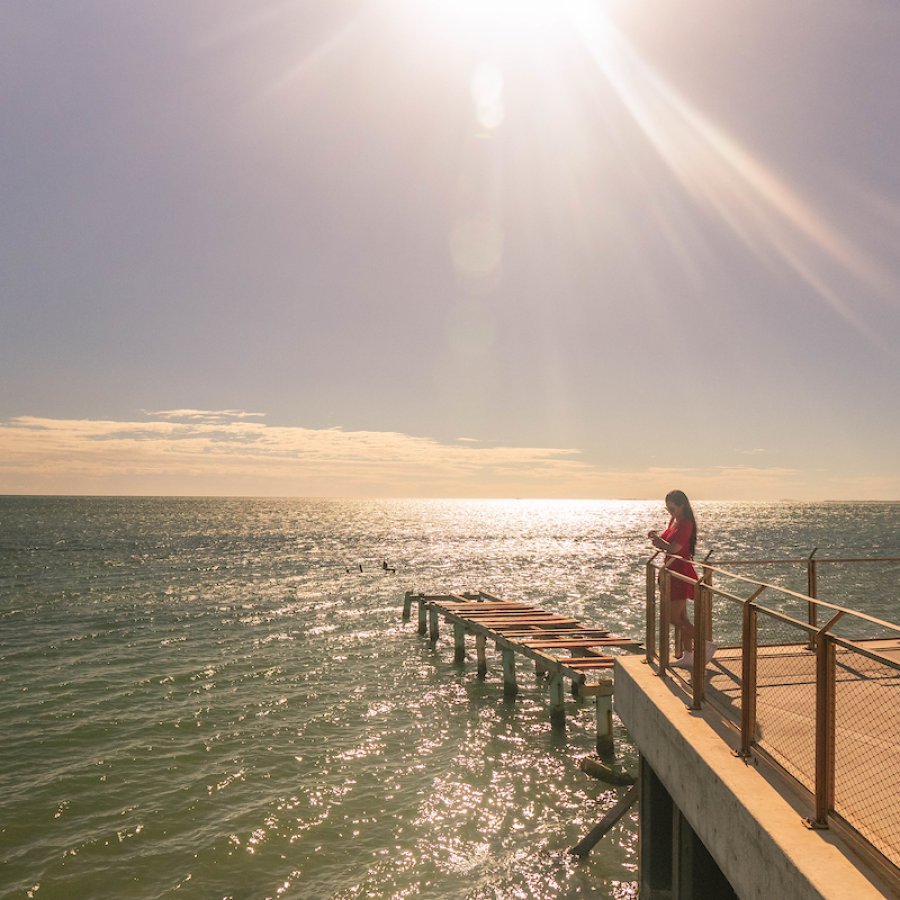 Jobos Bay
Visit one of Puerto Rico's largest estuaries to soak up the Puerto Rico Sunshine and relax by crystal waters in the south of Puerto Rico.
Learn More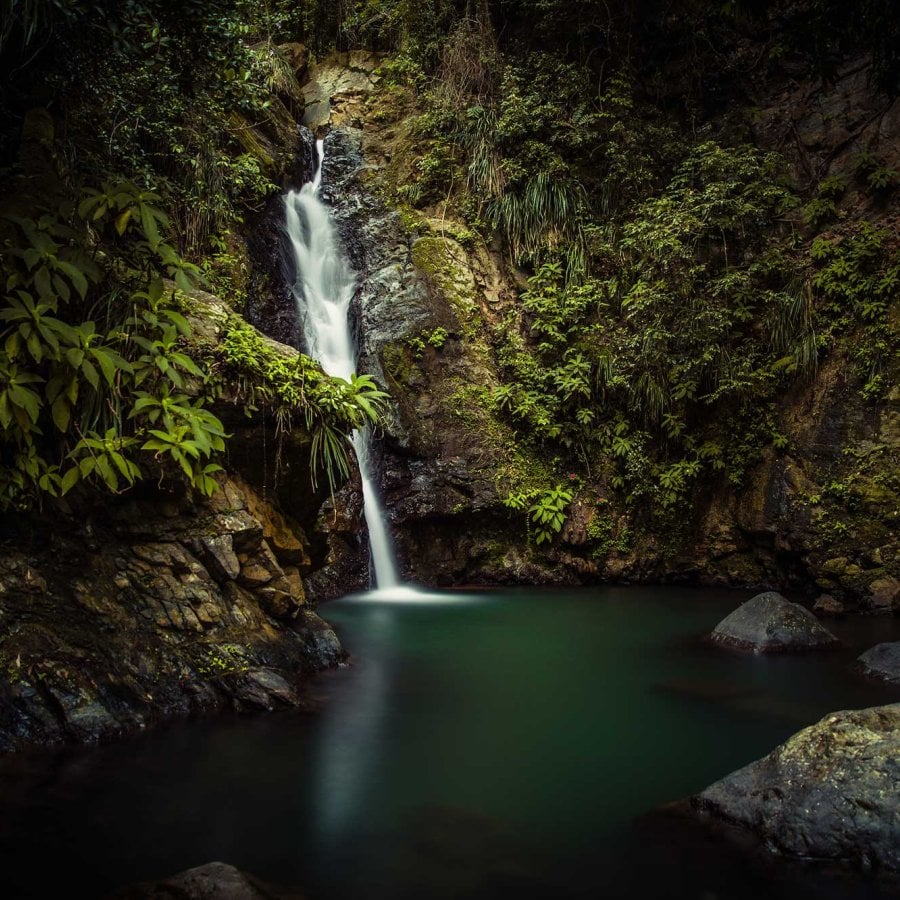 Peñuelas
If you're looking for a little shade from the sun's rays, this spot is known as "The Valley of the Flamboyant Trees," which bloom a vibrant red-orange color reminiscent of the Puerto Rico Sunshine Pantone color.
Learn More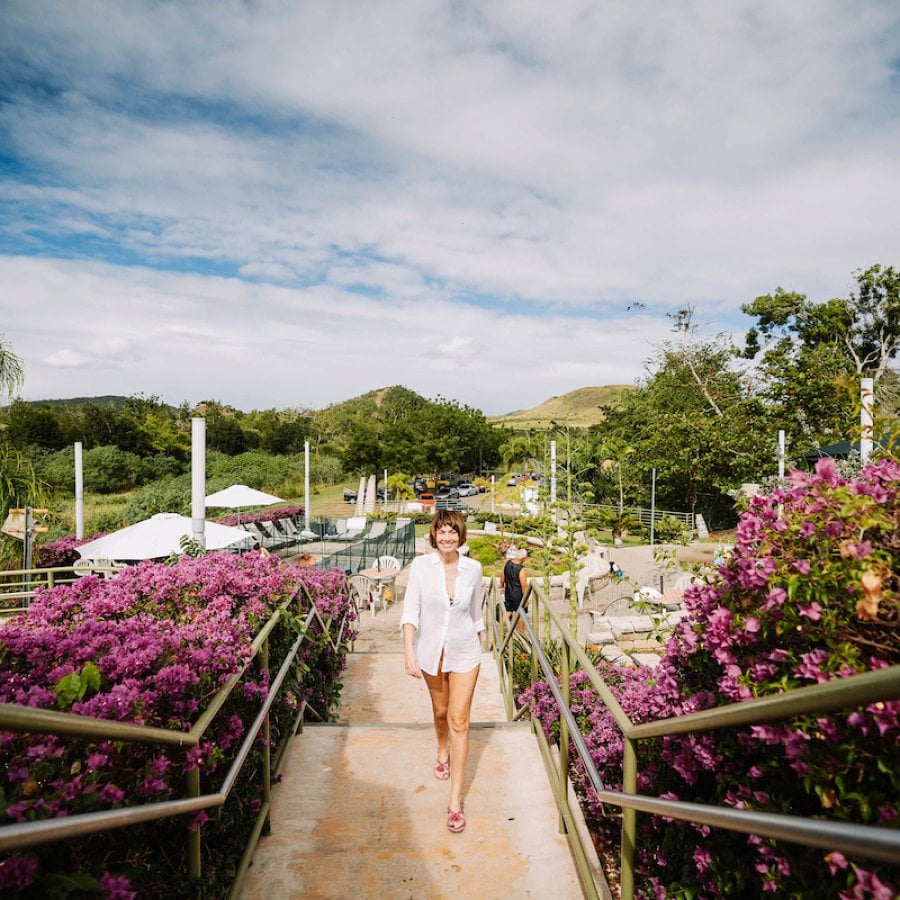 Coamo Hot Springs
Feel the warmth of the sun and relax in this outdoor spa and natural thermal spring, legend says these waters were the fountain of youth sought by Puerto Rico's first governor, Juan Ponce de León.
Learn More
East Region
Puerto Rico's enchanting east region offers secluded beaches, historic Taíno petroglyphs, and picture-perfect scenery.
Luquillo Beach
Visit "The Sun's Capital" for some of the Island's best beaches and the famous Los Kioskos de Luquillo, a beachside strip of restaurants, bars and gift shops.
Cueva del Indio, Las Piedras
This historic ceremonial park has more than 200 petroglyphs, three bateys (ceremonial plazas), and hiking trails and camping areas. Petroglyphs of the iconic Puerto Rican sun can be found among other representative of the Island and Taíno culture, proving the sun essential part in Boricua life goes back centuries.
Punta Santiago Beach
Have fun in the sun at Punta Santiago, lounging under palm tree or taking a dip in the sea. With plenty of parking and nearby restaurants, you'll be surrounded by perfect picturesque scenery.
Salty Dog Catamaran (Fajardo)
Enjoy the sunshine, at sea! Tours travel to unspoiled islands off the coast, where you can explore tropical fish and coral reefs on the eastern coast.
West Region
Sensational sunsets, underwater adventures, and laid-back beach vibes are what you can expect in Puerto Rico's west region.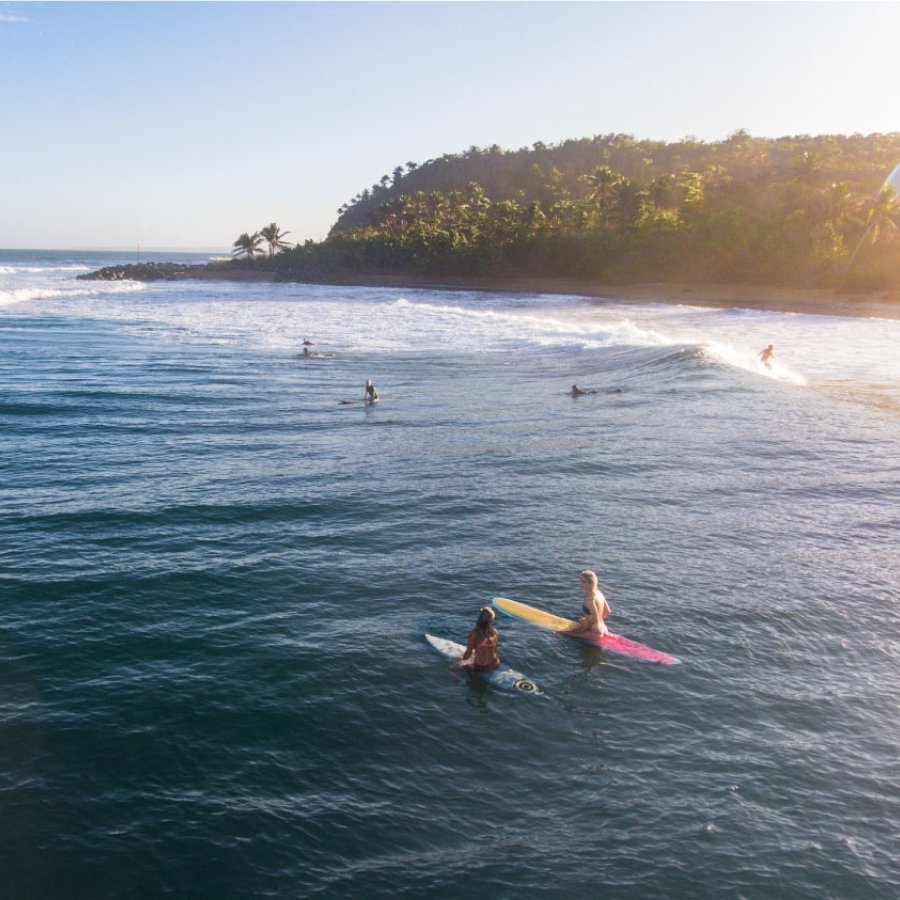 Rincón
Famous for its breathtaking sunsets, Rincón is the perfect place to catch some Puerto Rico Sunshine before it sets for the evening over the western coast.
Learn More
La Parguera Natural Reserve
Get outdoors and catch some rays with a snorkeling adventure at the La Parguera Natural Reserve. This stop features a variety of reef life thriving in the sun-filled waters off the shoreline.
Learn More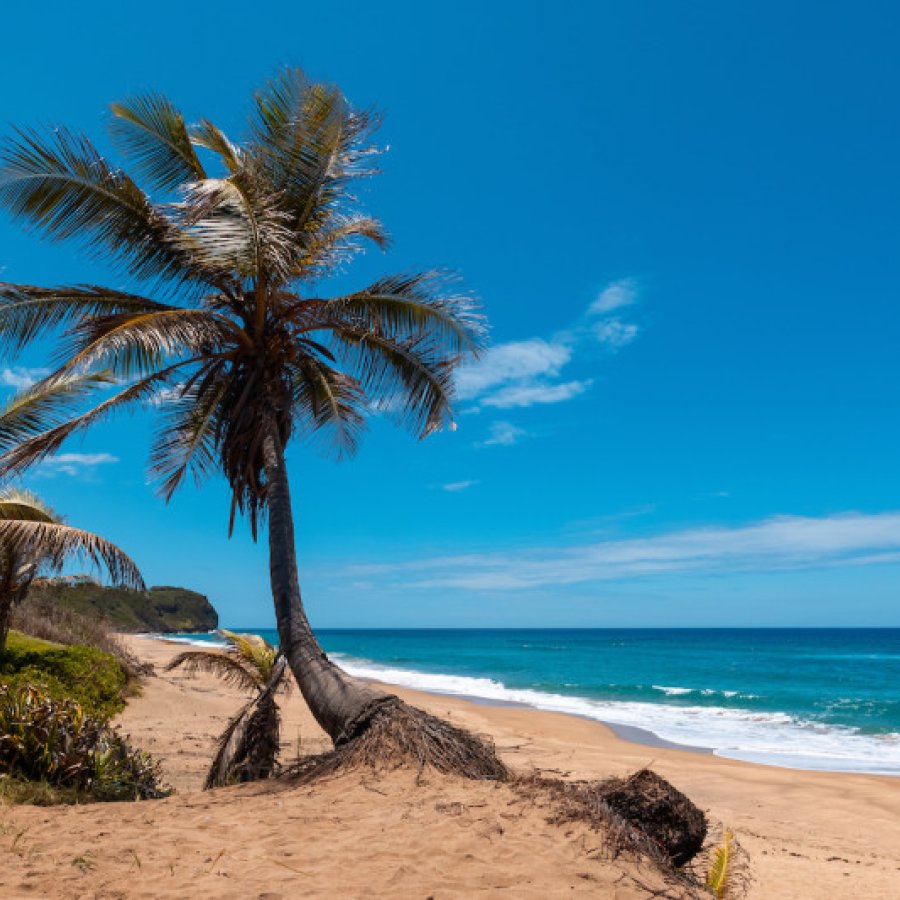 Playa Pastillo
Soak up the sun at this lush beach area as the turquoise waves crash on the shore. Sunbathe under a palm tree or check out Isabela's famed Cuevas de las Golondrinas.
Learn More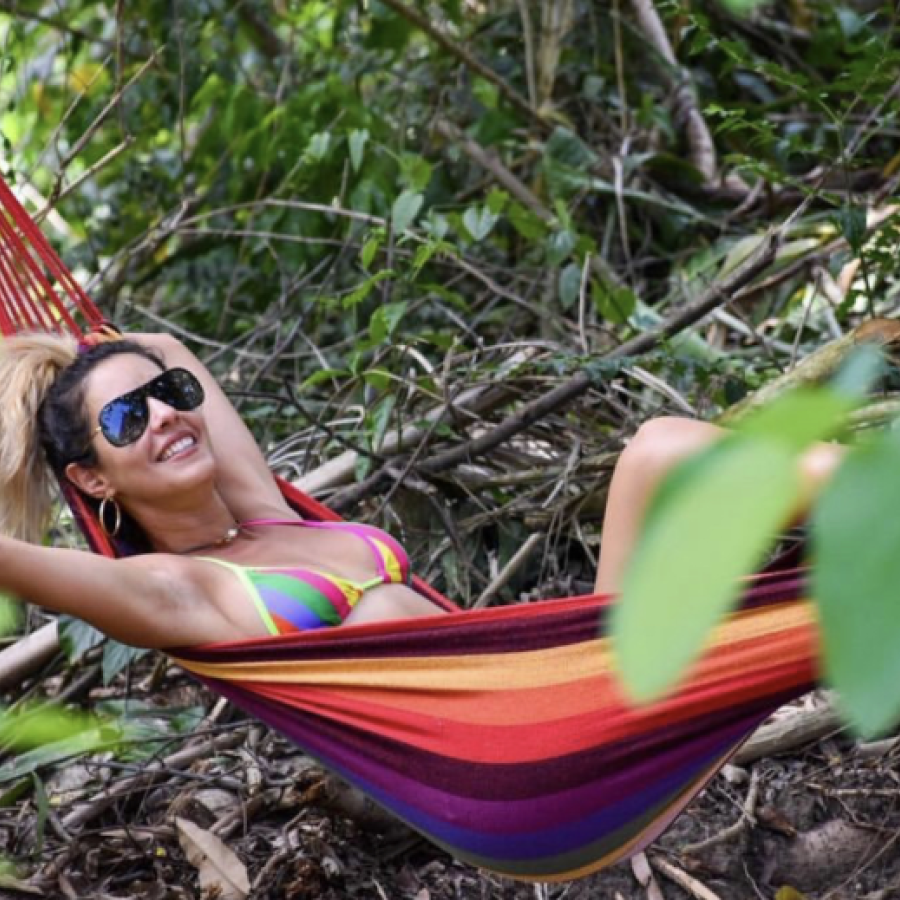 Hacienda Tres Casitas
Reconnect with nature at this family-owned Hacienda tucked away in the beauty of the Island's west coast. Spend the day relaxing under the sun and listening to the sounds of the coquis as you unwind and decompress.
Learn More
Central Mountains
Puerto Rico's Central Mountains are known for outdoor adventures, culinary excursions, and lots of coffee.
Hacienda Tres Ángeles
Sip on a fresh cup of coffee and enjoy the sunshine at Hacienda Tres Ángeles, a coffee hacienda tucked away in the mountains of Adjuntas.
Cerro Punta
The highest peak on the Island, Cerro Punta is where travelers can get as close to the Puerto Rico Sunshine as possible and take in the panoramic Island views.
Caguan Indigenous Ceremonial Park
One of the Island's most precious Taíno legacies stretching back more than 800 years, the park has numerous well-preserved petroglyphs, a museum with Taíno artifacts, and a botanical garden to explore under the sun.
Vieques & Culebra
Plan an excursion off the main Island with a trip to Culebra and Vieques, two inspiring islands that are home to pristine beaches and bioluminescent bays.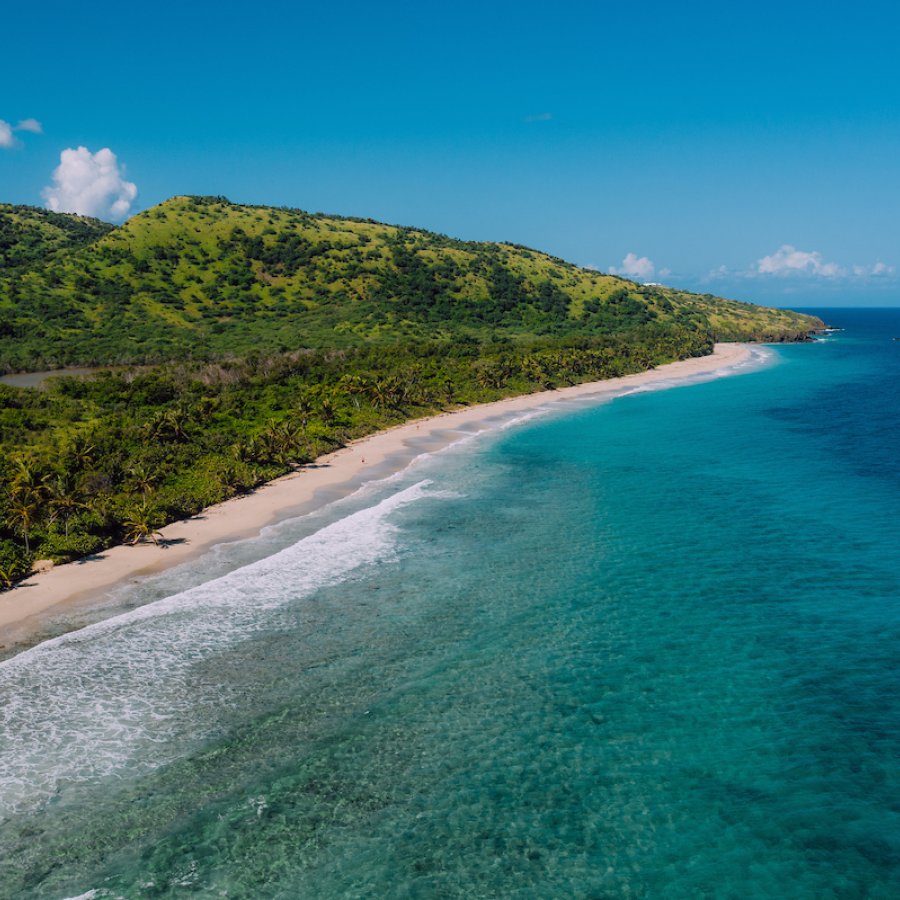 Zoni Beach (Culebra)
A hidden paradise, Zoní Beach in Culebra offers natural caves, sea grapevines, and a beautiful sunset in a less crowded environment.
Learn More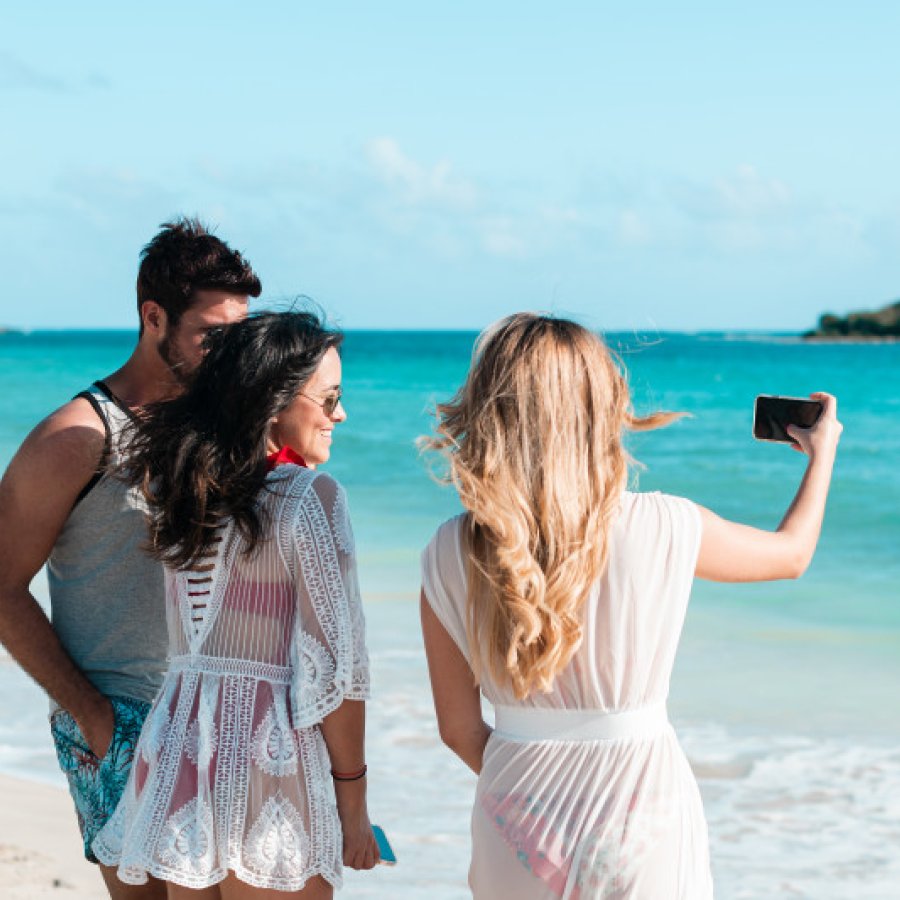 Sun Bay Beach (Vieques)
This family friendly beach boasts everything you need for a day in the sun including changing rooms, lifeguards and food kiosks. Guests can also camp under the sun at the beach, with a permit.
Learn More