Enjoy some sightseeing during your vacation to Puerto Rico. 
Bus tours are an easy and convenient way to make the most out of your visit to the island, especially if you're just there for a few days.
If you're staying in San Juan, then getting around on foot, via rideshare or taxi is generally easy. But if you want to see more sights, with the added benefit of a guide, then a bus tour makes a great option.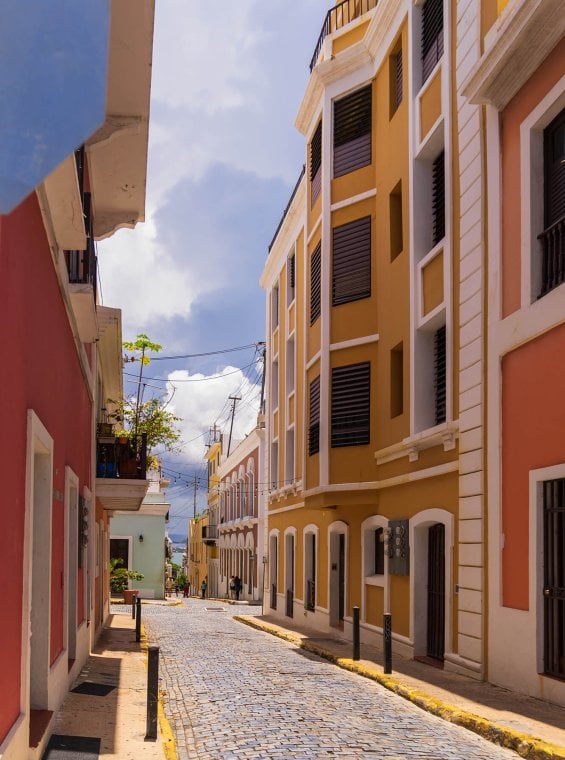 Guided Bus Tours
Many private tour companies offer guided bus tours around San Juan (both Old and New), as well as to sites outside the metro area like El Yunque National Forest; Guavate,"the pork highway," and the bioluminescent bay in Fajardo. These are places that normally require a rental car, mastery of the GPS, and previous research, so tours can help simplify a lot of the work for you.
By booking a tour, the logistics are all taken care and you get a dedicated local guide to explain where you're going, the significance of the place, and, most importantly, to fully enjoy your visit stress-free. Many of these tours also include a walking portion or even hiking or swimming depending on which you choose, so keep that in mind when you make your selection. Some will accommodate private tours and can customize a route for you.
All the tours mentioned below are provided by companies such as Fine Line Excursions, Puerto Rico Tour Desk, MBtion VIP Tours, Charlie's Custom Tours, Amador Tours, and others.
San Juan and More
Old San Juan bus tours will typically include a drive around the city with stops at one of the forts, the Capitol building, the Cathedral, and the governor's mansion: La Fortaleza. Then the bus will leave the historic part of San Juan for what is referred to as "New San Juan" which includes Condado, Ocean Park, and Isla Verde (which isn't technically San Juan, it's Carolina). Some will go even further, either visiting the Casa Bacardí distillery, grabbing lunch at Piñones, a beachfront boardwalk where you can buy amazing fritters (locally known as frituras), or go shopping at Plaza Las Américas, the largest mall in the Caribbean.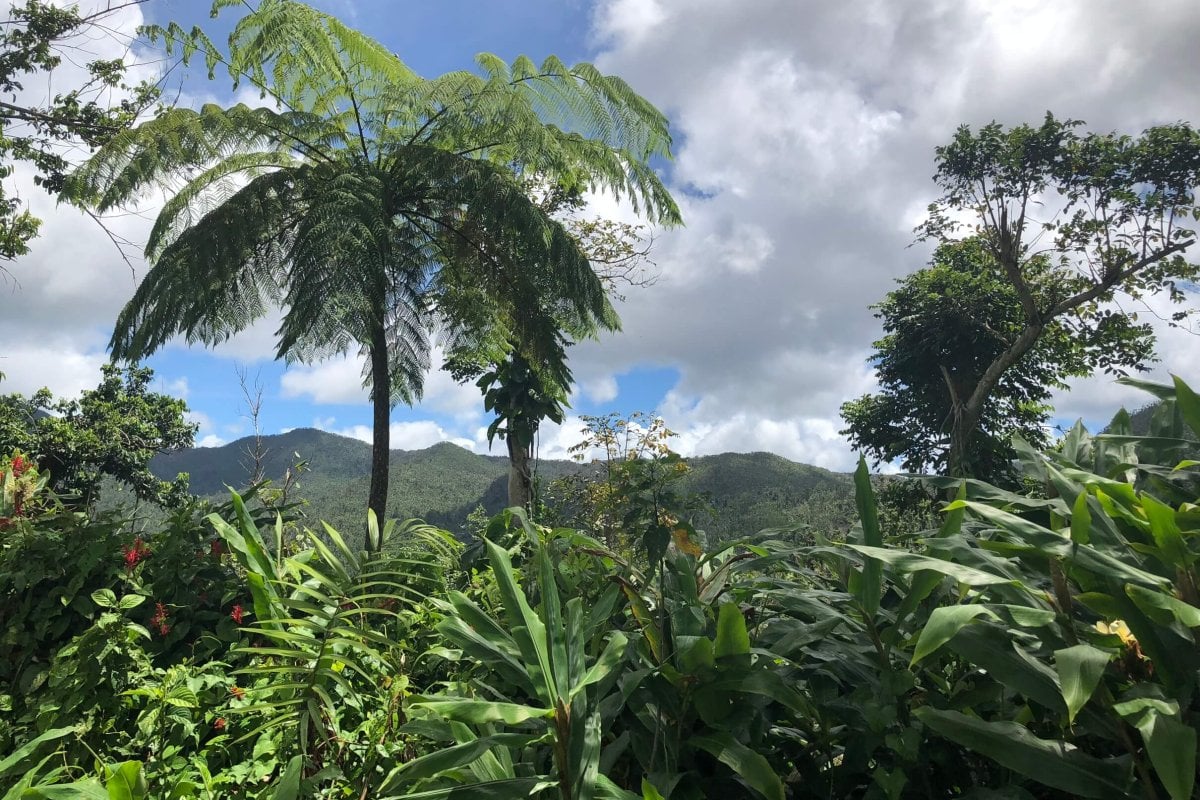 El Yunque National Forest
Among the most popular bus tours are the ones that visit El Yunque National Forest, the only tropical rainforest in the United States' National Forest System. There, visitors will have the chance to hike and swim in natural pools, take photos in waterfalls, and stop for an authentic criollo (Puerto Rican creole) lunch on the way back to San Juan. Choose your tour company depending on the type of experience you're looking for since some will be more physically exerting with longer and steeper hikes. Others offer shorter hikes at an easier pace or just a splash in one of the pools. Also, since Hurricane María several trails are still being cleared and haven't reopened so be sure to ask the company if there are any modifications to the itinerary.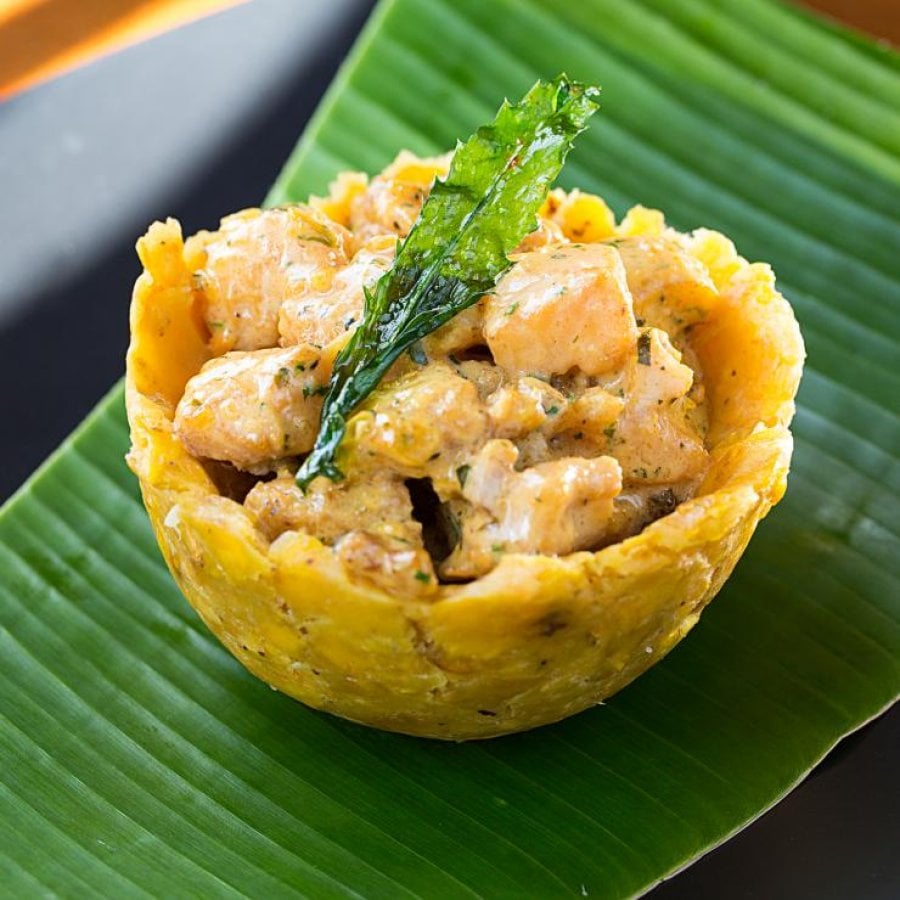 Guavate
The famous pork highway of Puerto Rico is located in the central town of Cayey in a sector called Guavate. Open-air restaurants called lechoneras that specialize in whole, slow-roasted pork, with all the mouthwatering Puerto Rican side dishes you can imagine including rice and beans, arroz con gandules, fried yuca, mofongo, and much more, flank several miles of the narrow winding road that snakes its way up the mountain. Tours include stops at one or several lechoneras as well as a brief hike at the Carite Forest or a swim at Charco Azul, a natural pool with a peculiar blue tint to the water.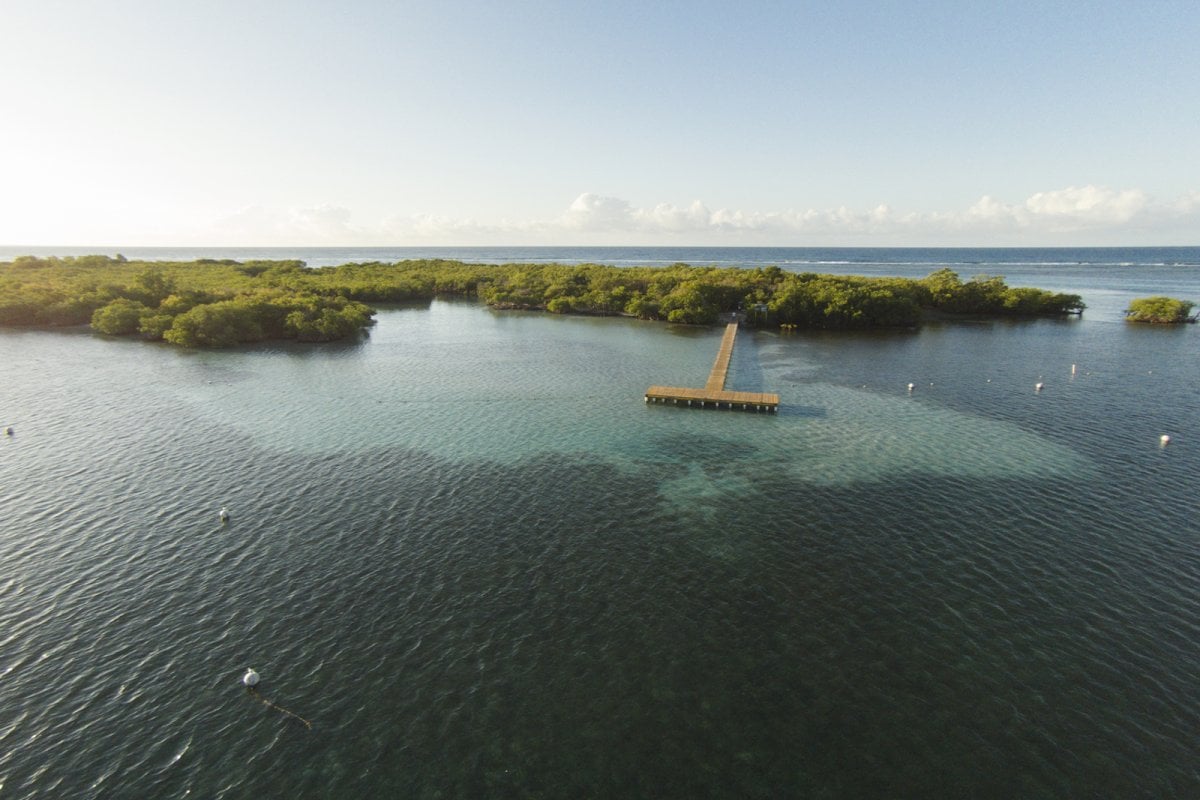 Other Destinations
Other bus tour destinations include Ponce to the south, where you'll visit the historic sites around the city, and/or Guánica, famous for mangrove coves like Cayo Aurora (also known as Gilligan's Island), which are a fun and unique beach day. Tour coffee plantations and caves in the central mountain towns of Utuado and Arecibo; explore the volcanic rock beaches of the north coast; or head east to Fajardo for a kayaking tour of a bioluminescent bay.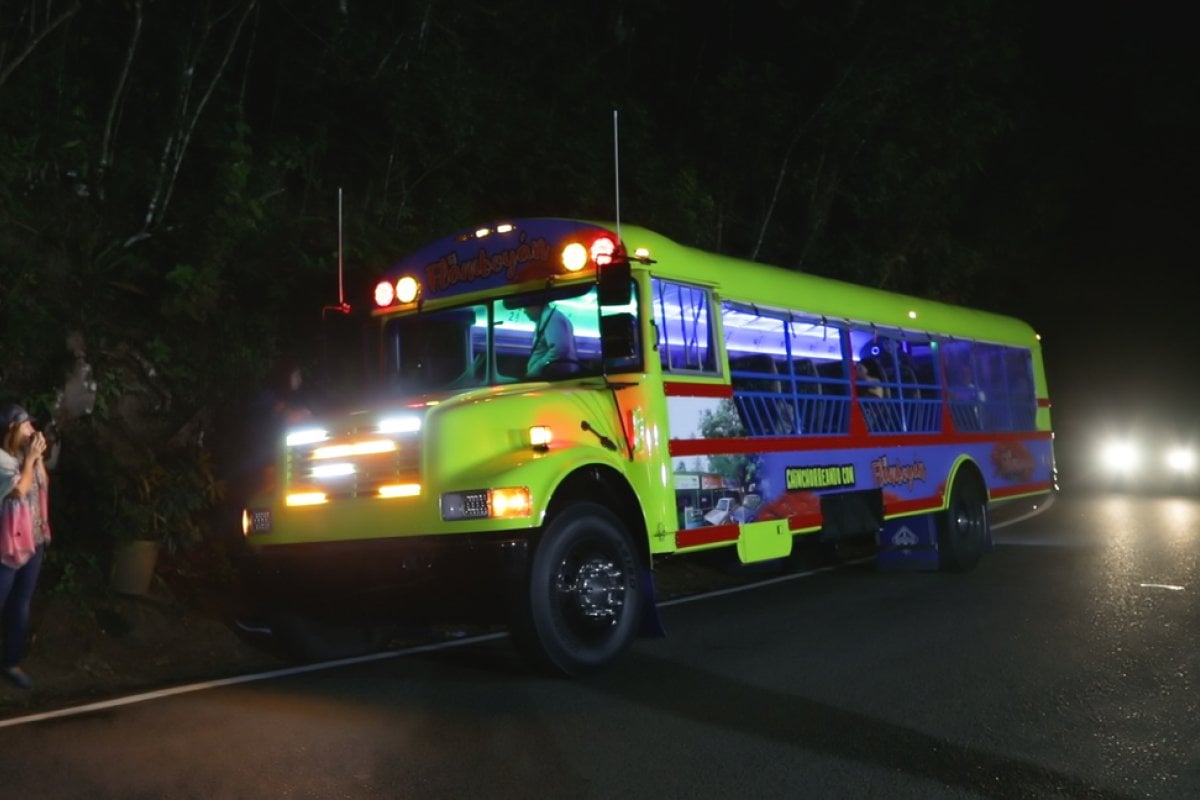 There's one other way to see the island on a bus and it won't require any hiking
Chinchorreo Bus
A fun weekend activity that many locals regularly partake in is chinchorrear, basically a daylong bar hop where you visit different chinchorros (open air bar-restaurants) in the mountains or along the coast, having a drink and a bite to eat at each one. To avoid having to draw straws for who will be the designated driver there are now companies offering chinchorreo bus tours, so all you have to worry about is having a good time. A few tour companies such as Chinchorreo Bus and La Chiva Chinchorreos, and party bus companies like Party Bus Puerto Rico and Chinchorreo Party Bus, offer different routes around the island.
Depending on which you pick, you'll be offered different types of food: the center and mountainous regions will specialize in pork and a type of spicy sausage called longaniza, while the coastal routes along the south, north, or east will have a wider selection of seafood and fish. Wherever you go, there will be frituras, local fritters like empanadillas (deep fried empanadas), alcapurrias (made with a dough of root vegetables and plantains and stuffed with meat, fish, or seafood), bacalaítos (codfish fritters), and a variety of other fried goodies. Chased down with a cold Medalla beer, you'll be dancing jukebox salsa and speaking Spanish in no time.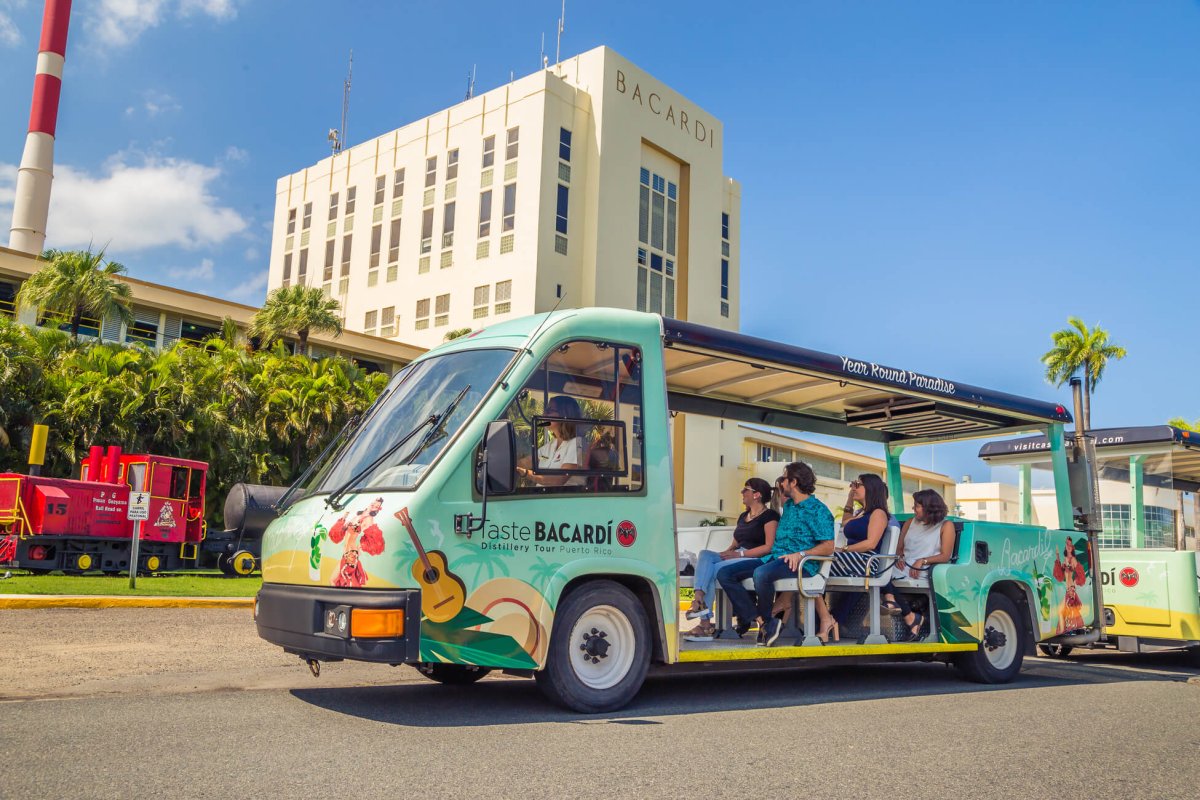 Trolleys
On a budget? Many towns in Puerto Rico have municipal trolleys that go around the city center. These are not guided tours, simply free (yes, free) transportation and a way to get an overview of the city or to reach a point of interest more easily. Aside from the ones mentioned here, several cities including Ponce, Guaynabo, Bayamón, Carolina, Cabo Rojo, and others also have a public trolley systems.
Caguas
The town of Caguas is about 25 minutes south of San Juan and also offers free trolleys that go around the city from Monday to Friday, from 7:30 a.m. to 3:30 p.m. Currently the three stops are: the public bus terminal; Plaza Santiago R. Palmer, which is the main square of Caguas; and Plaza Gautier Benítez, a shopping district. If you disembark at Plaza Palmer, visit the Caguas Tourism Office for a self-guided walking tour of the municipality's free museums or just enjoy the beautiful square.
Mayagüez
The town of Mayagüez on the west side of the island has 9 trolley routes, of which three stay within the city, while the other six go out into the countryside and adjacent towns. The main routes pass by historic monuments, the Cathedral and City Hall, the Farmer's Market, the brewery Cervecera de Puerto Rico (where Medalla and Magna beers are produced), and several museums. The trolleys run every day from 6:00 a.m. to 6:00 p.m.
View Places Mentioned on a Map
Tags
Tours