Check out the spots featured in the actor's 8-episode web series highlighting some the Island's most unique experiences.
Chapter 1 - Rediscover
Have you discovered Puerto Rico? The Island inspires visitors to enjoy its hidden treasures, rainforests, hiking trails, pristine beaches, and many only-in-Puerto Rico wonders. Join Lin-Manuel in discovering (or rediscovering) what makes Puerto Rico such a special place.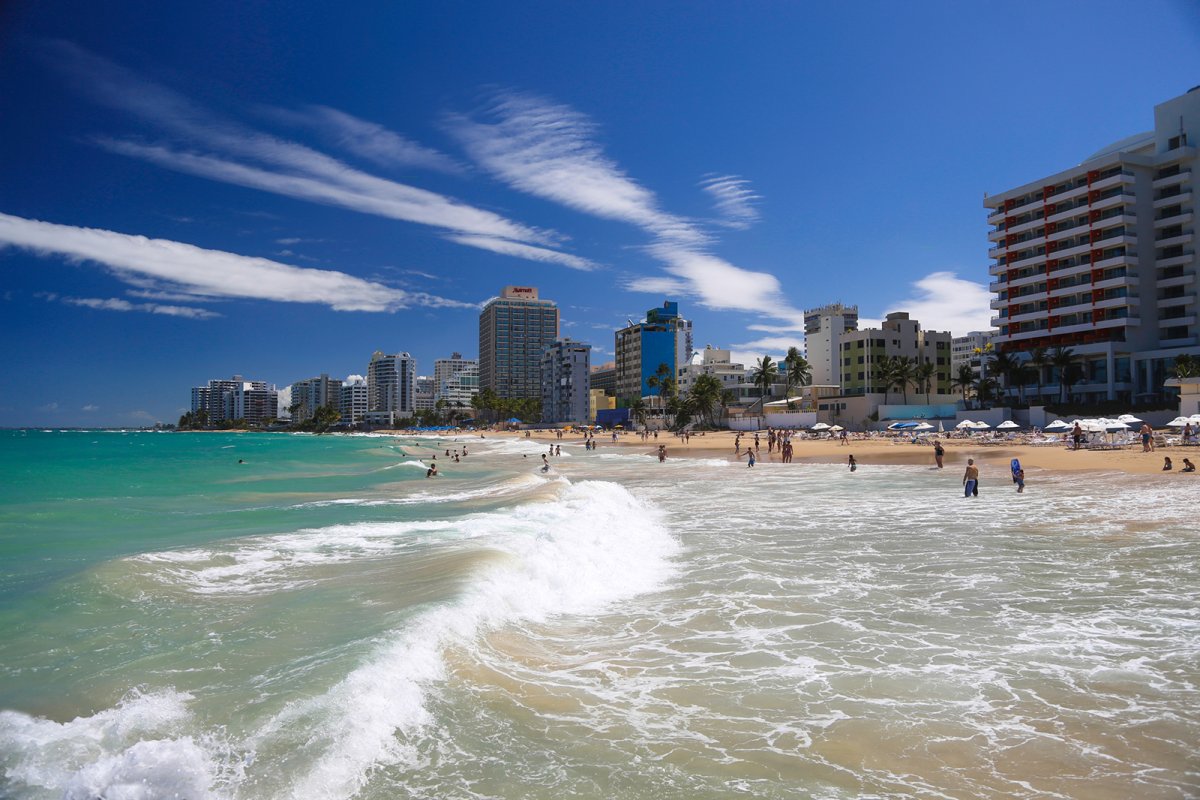 Chapter 2 - Reverse Commute
Condado Beach
Bordered by posh hotels and restaurants, Condado Beach is often compared to Miami beach because of the diverse crowd it attracts. From solo travelers, couples, families, and even celebrities, this city beach — within walking distance of some of San Juan's top hotels and minutes away from the airport — is very popular with visitors. There are a variety of activities and water sports offered, including swimming, snorkeling, surfing, paddle boarding, and more. If you're staying at one of the resorts that surround the beach, waiters can deliver cocktails and piña coladas. You can rent lounge chairs and an umbrella to enjoy your time under the sun, even if you're not a guest.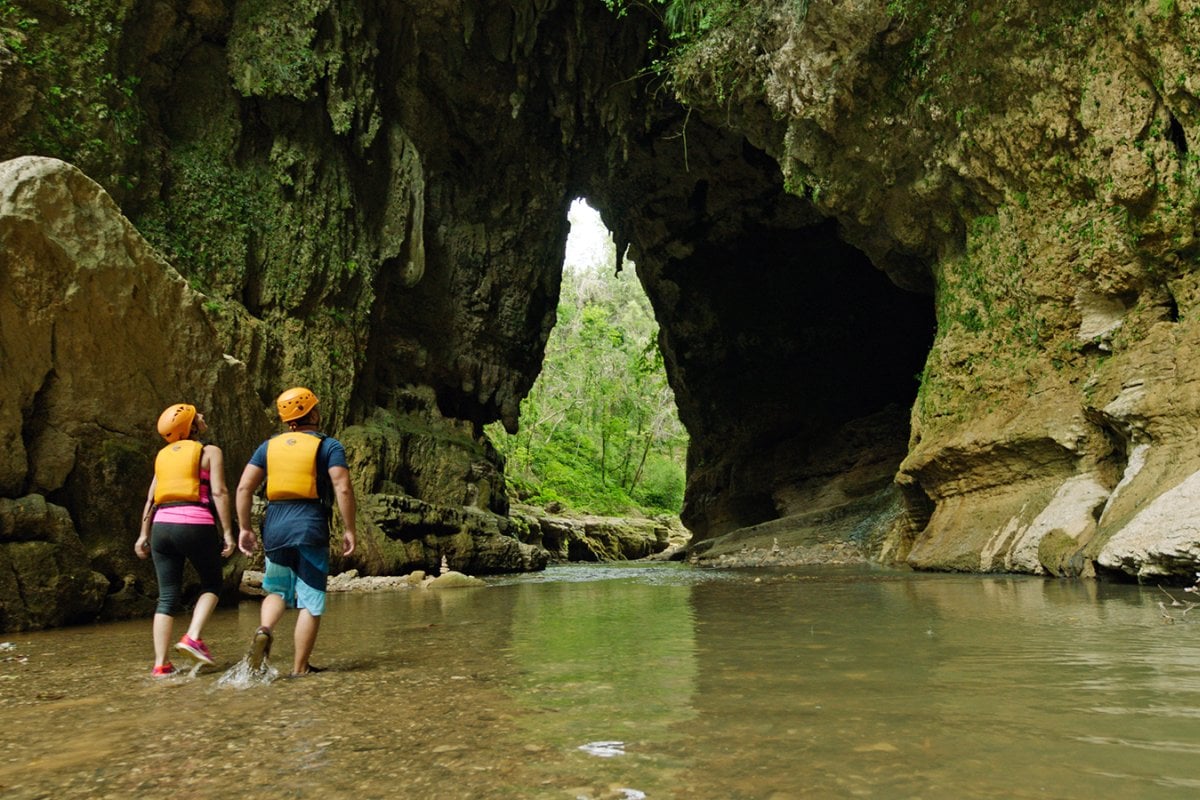 Tanamá Canyon
Utuado
Whether you're seeking adventure or simply to enjoy Puerto Rico's natural beauty, the Cañón de Tanamá in Utuado is a perfect place to go. Over millions of years, the waters of the Tanamá river have carved a network of caves, canyons, and tunnels deep in the mountainous region of Puerto Rico. Explore this stunning ecosystem, practice some cave tubing, rappelling, hiking, and even rock-climbing when you take a tour with one of the several companies that can guide you.
El Yunque National Forest
Río Grande
Nestled in Río Grande (east of San Juan), El Yunque is the only tropical rainforest in the U.S. National Forest System. Spanning over 28,000 acres of land, this natural wonder houses 240 types of trees, 25 waterfalls, several rivers, unique birds and native species like the coquí frog and Iguaka (a.k.a Puerto Rican Parrot - an endangered species). At El Yunque, you can choose between hiking, ziplining, or simply sightseeing. Climb up to Britton Tower for spectacular views of the jungle, all the way to the ocean.  Regardless of what you choose to do, you'll fall in love with the mesmerizing views of the lush mountains and valleys. You can navigate it on your own or take guided tours to get to the most popular locations. Arrive early, bring comfortable shoes and a raincoat! An afternoon rain in El Yunque is almost guaranteed!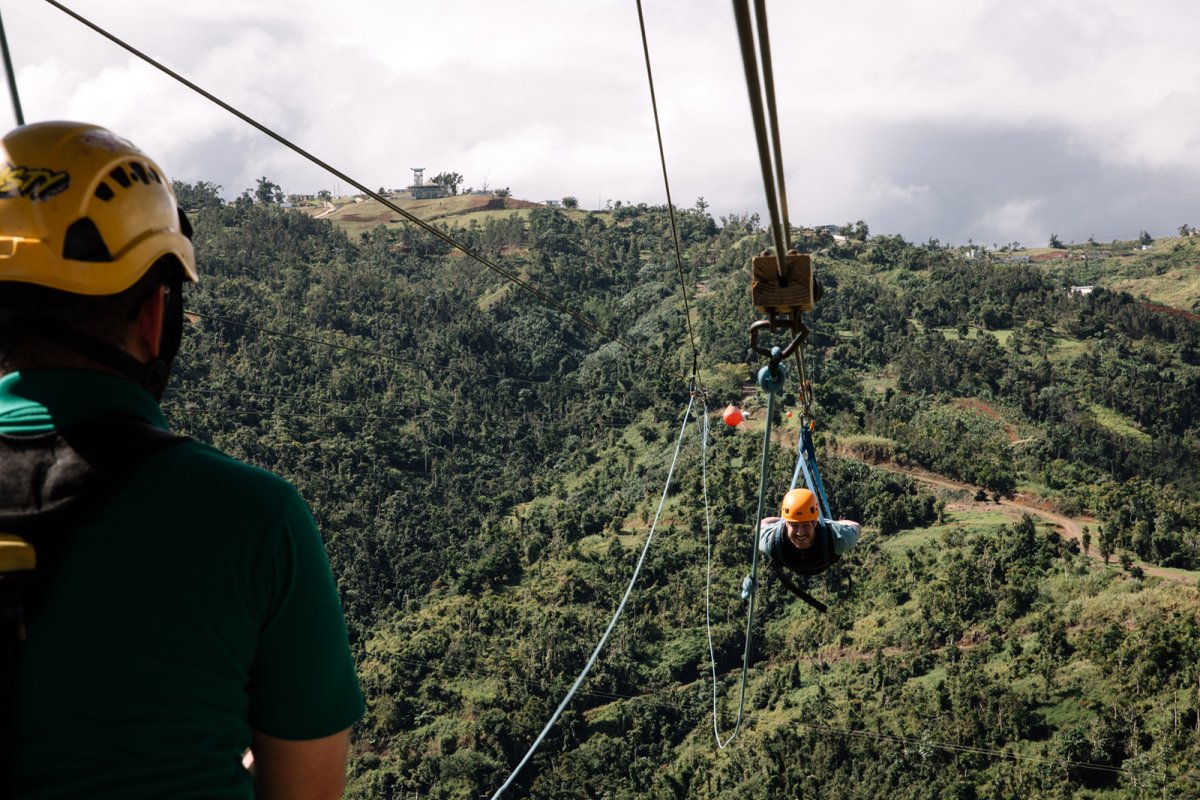 Toro Verde Adventure Park
Orocovis
Experience the second-longest zipline in the world! Join the ranks of Jimmy Fallon, Lin-Manuel, and thousands of other guests who have taken the adrenaline-pumping adventure. Soar above lush mountains and enjoy breathtaking views. The Toro Verde eco-park has a network of cable bridges and ziplines for you to spend hours living to the extreme.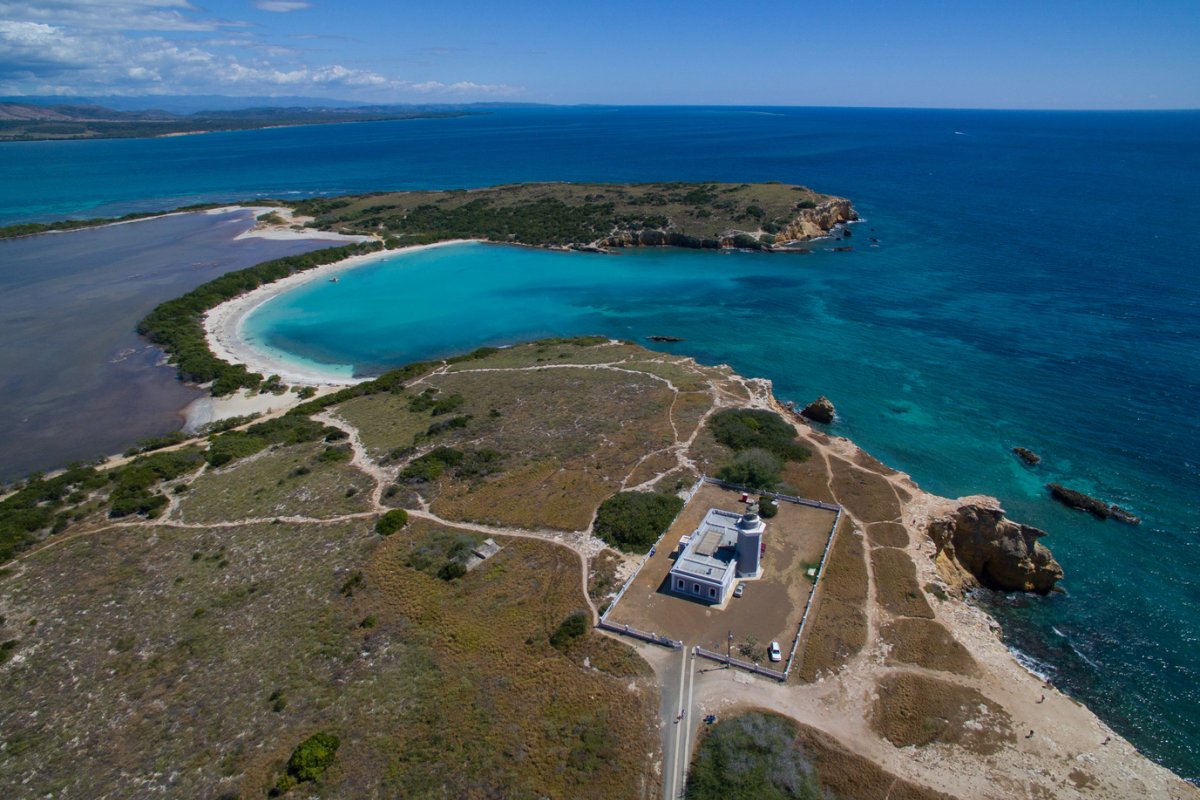 Los Morrillos Lighthouse
Cabo Rojo
Sitting atop a cliff in the town of Cabo Rojo is the landmark Los Morrillos Lighthouse, a historic and picturesque structure that is part of the historic maritime lighting system on the Island. Lighthouse lovers will appreciate the simplicity and will be wowed by the breathtaking views of the beach cove. When visiting this place, be sure to wear sturdy shoes, and comfortable clothes, and use sunblock.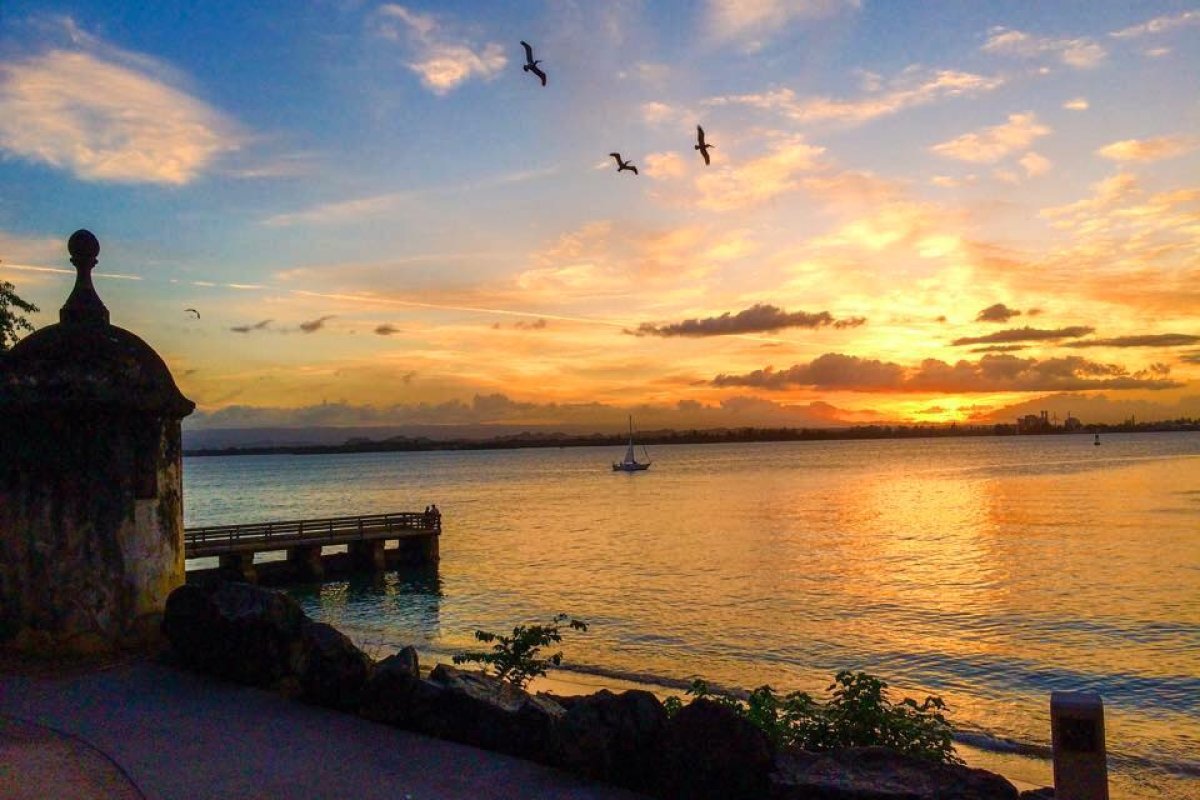 Chapter 3 - Old San Juan
Feel like you're traveling back in time when you visit Old San Juan, a Unesco World Heritage Site, which is also listed on the National Registry of Historic Places. Filled with blue cobblestone-lined streets and colonial architecture, the second-oldest European-settled city in the Americas is ready to amaze you with its impressive fortresses, colorful buildings, captivating museums, innovative restaurants, local shops, and more.
El Convento Hotel
In the heart of the historic walled city stands El Convento, the only full-service hotel located in Old San Juan. The opulent hotel once served as a Carmelite convent – the first on the Island – and was occupied by nuns until 1903. The hotel stays true to its colonial-style aesthetic, which makes you feel like you have stepped back in time without sacrificing modern amenities.
Plaza del Quinto Centenario
Located at the highest point of Old San Juan, the Plaza del Quinto Centenario was built in 1992 to commemorate the Quincentennial of the Discovery of the Americas. At the southern end of the plaza, two needle-shaped columns point to the north star, which helped guide explorers. At the center of the plaza's upper level, stands the Totem Telúrico, an eye-catching modern sculpture made from clay gathered from across the Americas.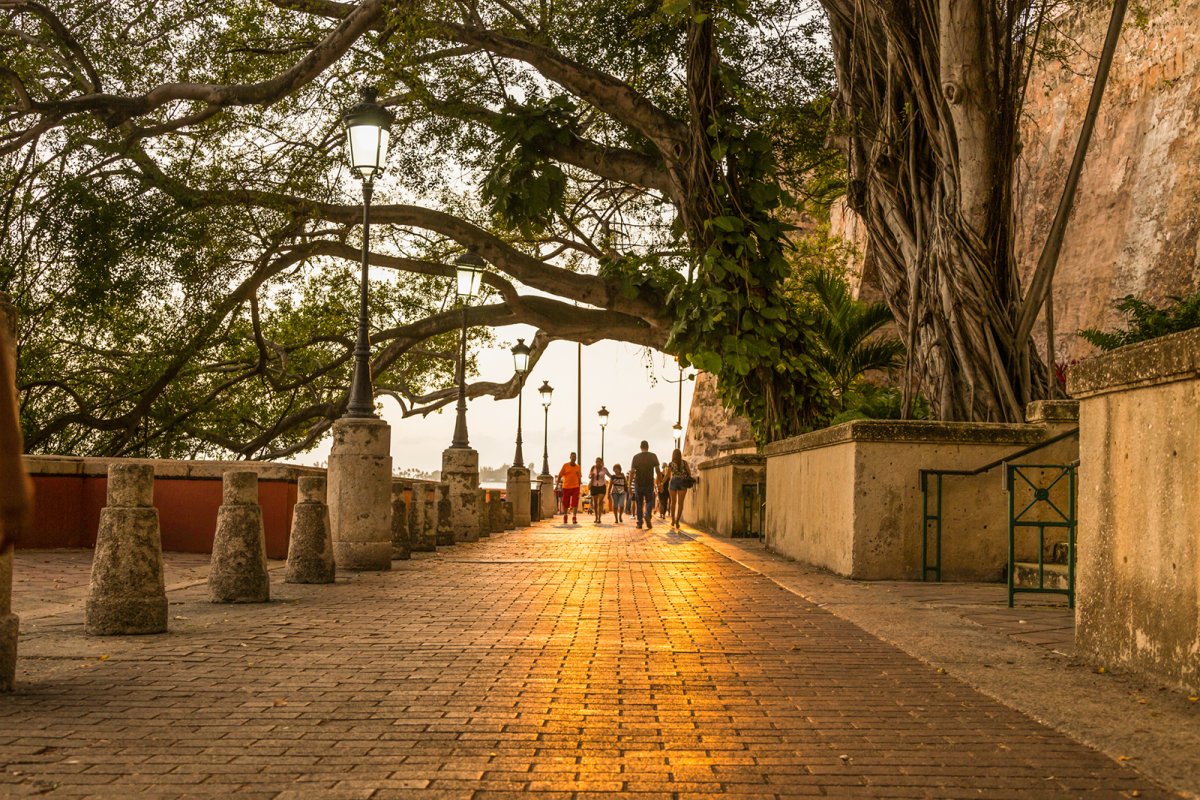 Paseo de la Princesa
Take a stroll along this beautiful promenade as you enjoy stunning views of the San Juan Bay and soak up some local history. The Paseo de la Princesa is lined with shade trees and decorative street lamps, a dramatic fountain, restaurants, and street vendors. You can also walk through the Puerta de San Juan (The San Juan Gate), the main gate into the city back in the day when Old San Juan was entirely walled off as protection from invaders.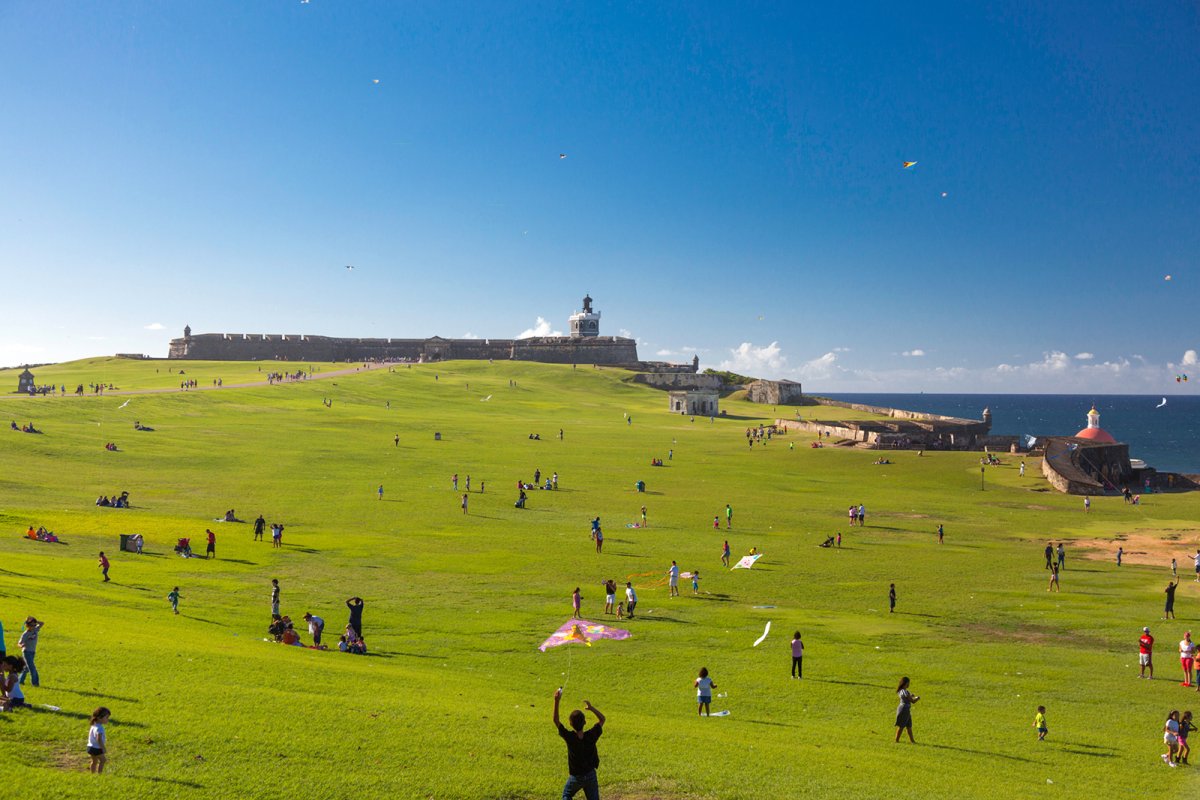 El Morro and Castillo San Cristóbal
These impressive citadels are two of the largest military fortifications built by the Spanish in the Caribbean during the 16th century. El Morro protected the Island from attacks by sea, while the Castillo San Cristóbal protected the settlement from attacks by land. During a visit to these two fortresses, you won't just learn about the relation between both forts, but also the history of the Island itself: why Puerto Rico's strategic location in the Caribbean made it an important port for those trying to expand their reach in the New World.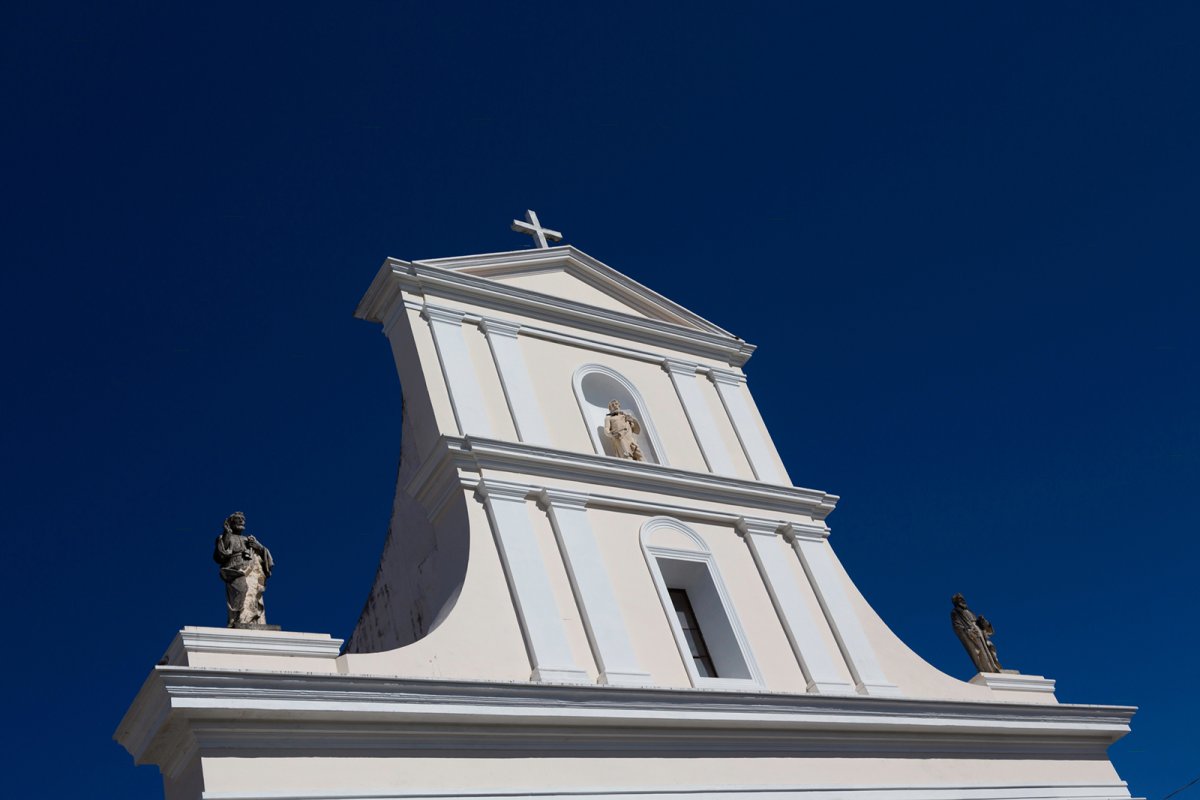 San Juan Bautista Cathedral
Stepping inside of Catedral de San Juan Bautista, it's easy to understand why this historic church is one of the most popular attractions in Old San Juan. While the gothic-style structure dates to 1540, the church was originally built in 1521, making it the oldest Roman Catholic cathedral in the United States. It houses the tomb of legendary explorer Juan Ponce de León and stunning pieces of religious art.
La Perla
An up-and-coming community in Puerto Rico is Barrio La Perla, a neighborhood that rose to visitors' attention after being featured in the video for Luis Fonsi and Daddy Yankee's hit song "Despacito." The community is wedged between the Atlantic Ocean and the thick walls of San Juan and there you can find a bar and a few kioskos (food stands) among the colorful buildings.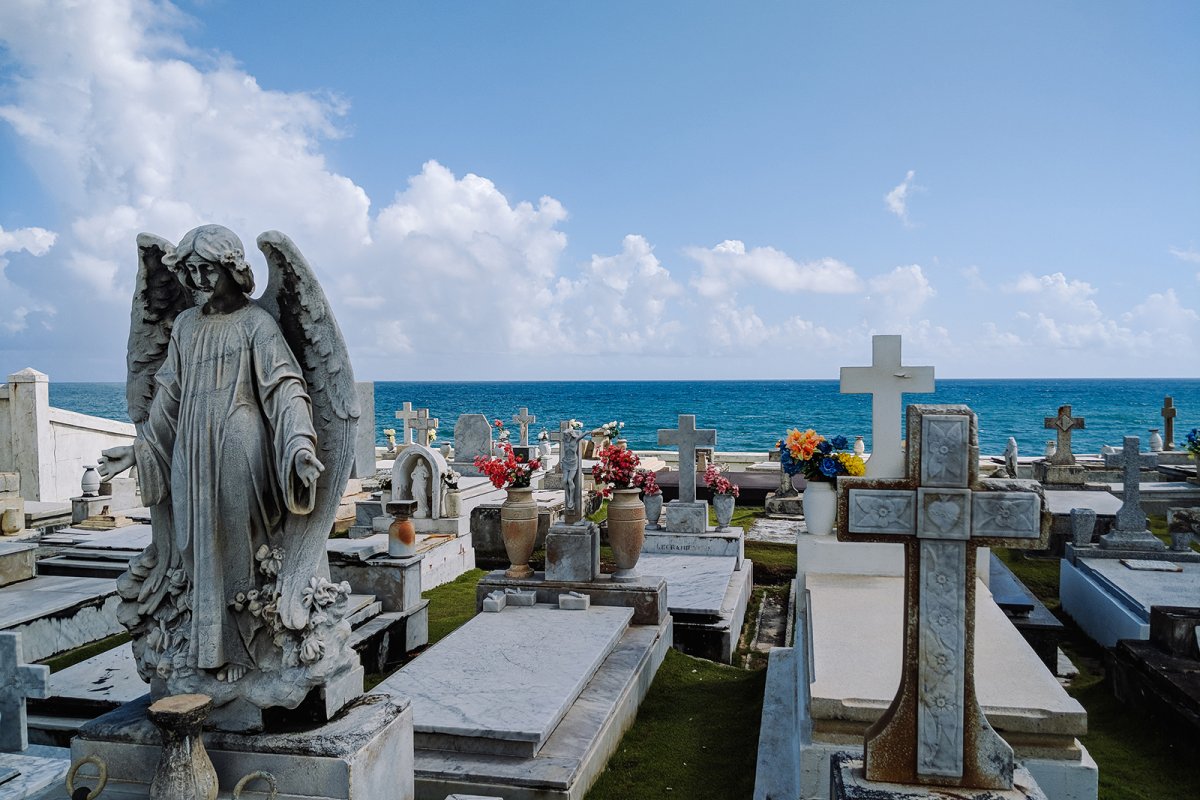 San Juan Cemetery
The Santa María Magdalena de Pazzis Cemetery was established under Spanish rule but placed outside the city walls. Its location was in part due to the Spaniards' fear of the afterlife. Its oceanfront location derives from a religious belief of "the great beyond" and some of Puerto Rico's most prominent figures are buried there.
Parque las Palomas
At the end of la Calle del Cristo in Old San Juan is the famous Parque de las Palomas (Pigeon Park), a courtyard full of pigeons with great views of the Bahía de San Juan. Pigeons fly in and out by the hundreds to be fed by park guests. Pigeons here are not camera shy, and for a bit of corn that you can buy on-site from a local vendor, they will eat right off your hand and pose for a fun photo.
Chapter 4 - Vega Alta
Visit Vega Alta, the hometown of Lin Manuel Miranda's family.
La Placita de Güisin
In Vega Alta, you'll find La Placita de Güisin, a cultural and gastronomic corner dedicated to the actor's late grandfather, community leader Güisin Miranda. The placita is a great place to enjoy a cold drink, some coffee, authentic food, and – on the weekends – dance away your worries. From light breakfast in the morning to late at night, stop by and relax to mingle with locals. You can also visit the small gallery next door to learn about Lin-Manuel's career and enjoy some memorabilia – including one of his Tony Awards and the Platinum Record awarded to the musical HAMILTON.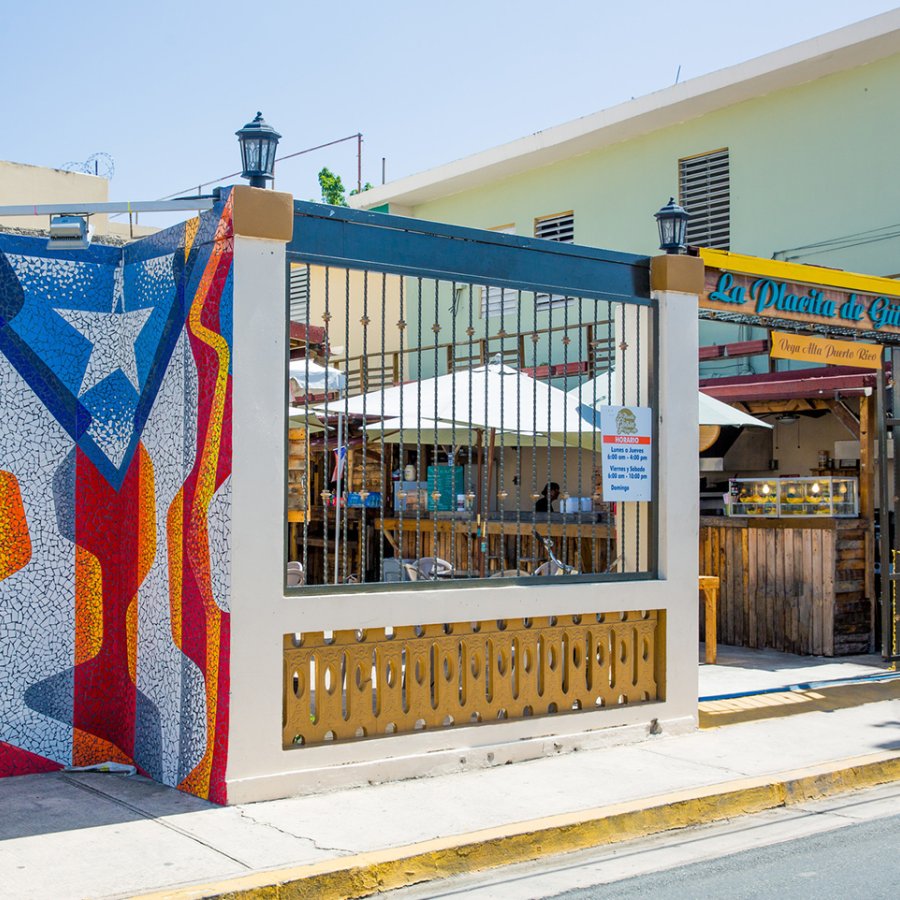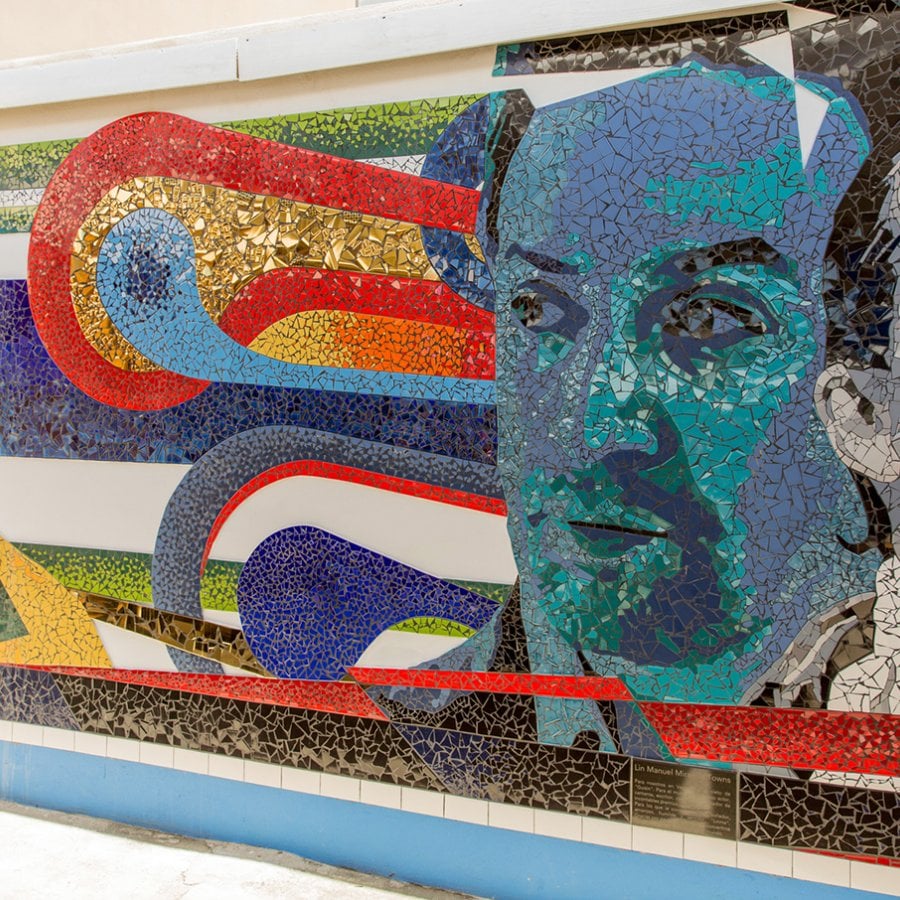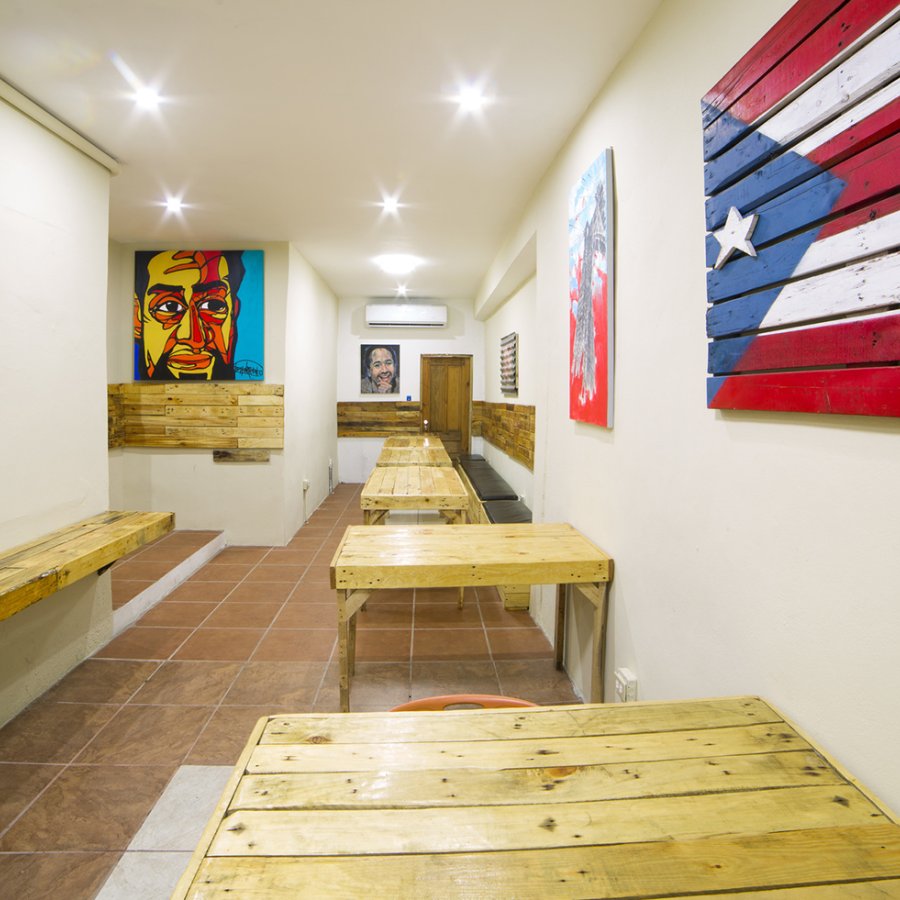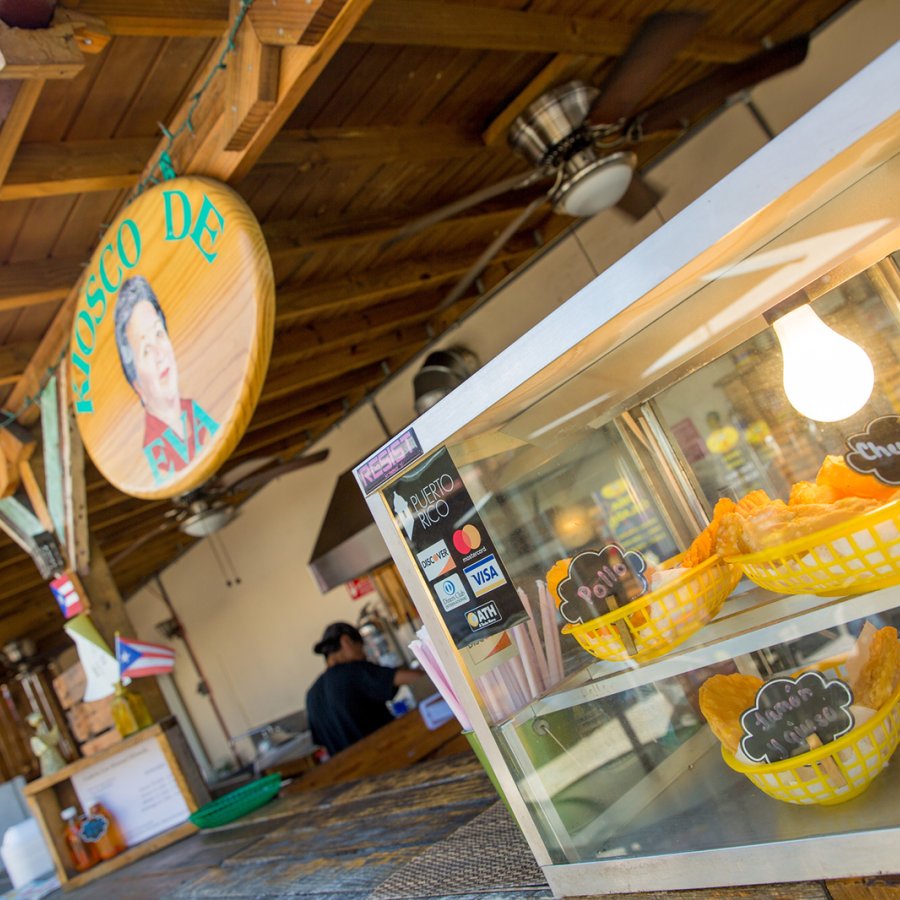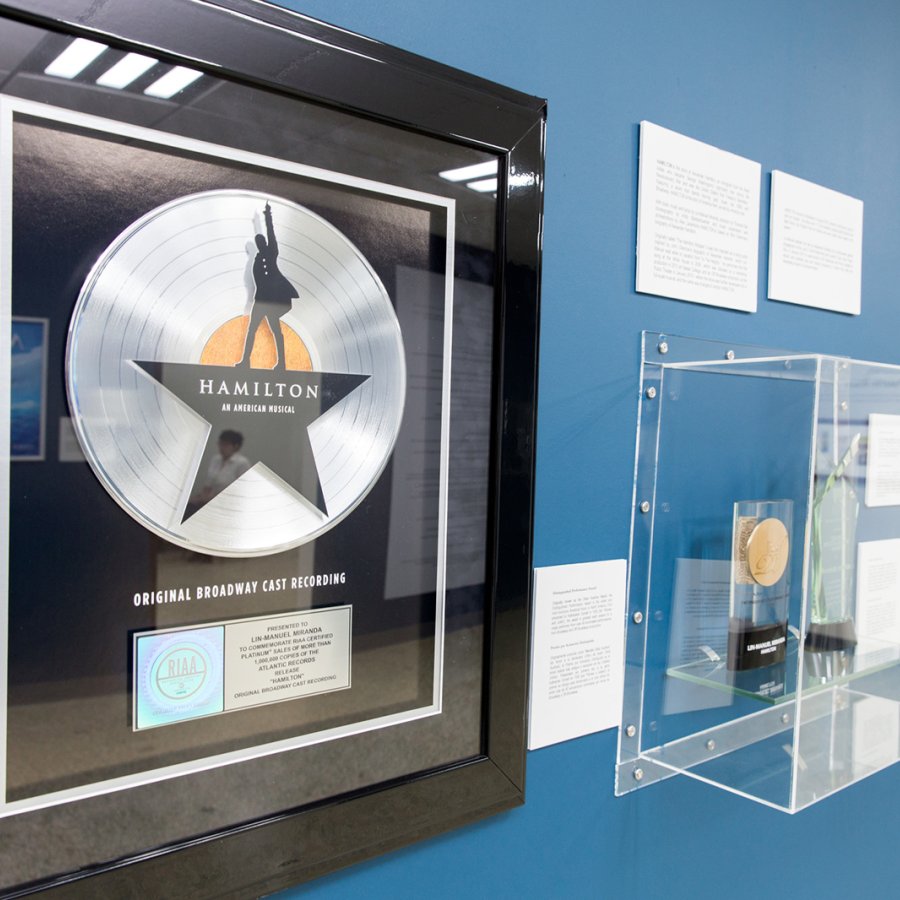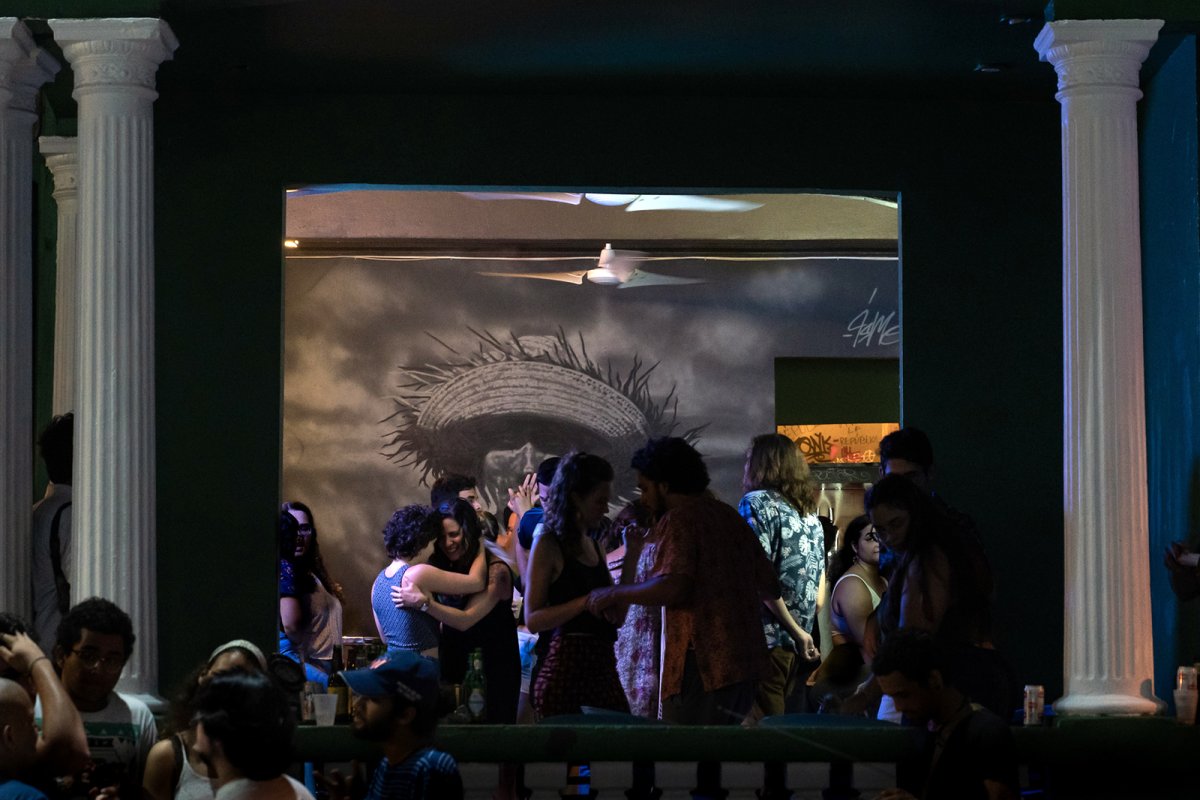 Chapter 5 - Salsa
Throughout history, Puerto Rico has been known as a Salsa music capital. In San Juan, there are dozens of venues where you can enjoy this world-renowned rhythm and swing your hips to tunes — no matter your skill level!
Santurce
The go-to place for salsa dancing in the streets is La Placita de Santurce, a marketplace during the day that turns into a party scene at night. Enjoy a lively scene with people meeting up, drinking, eating, and dancing inside and outside of establishments in what is known as Puerto Rico's most popular "street party." Let the salsa band warm up and you'll be dancing until the wee hours of the night… or morning.
Calle San Sebastián
This charming street in the heart of Old San Juan hosts Puerto Rico's most iconic festival during January. But year-round, you can find a festive ambiance with fantastic bars, pubs and restaurants.
El Boricua
Located in the Río Piedras section of San Juan, near the University of Puerto Rico, El Boricua is an iconic place established in 1979, where locals and visitors alike gather to dance salsa. The place promotes cultural events and provides the stage for local musicians to entertain. Come to enjoy a Medalla (or any other local beer), and join-in the party that comes alive in the streets of Río Piedras, a once-separate municipality that merged with San Juan in 1951.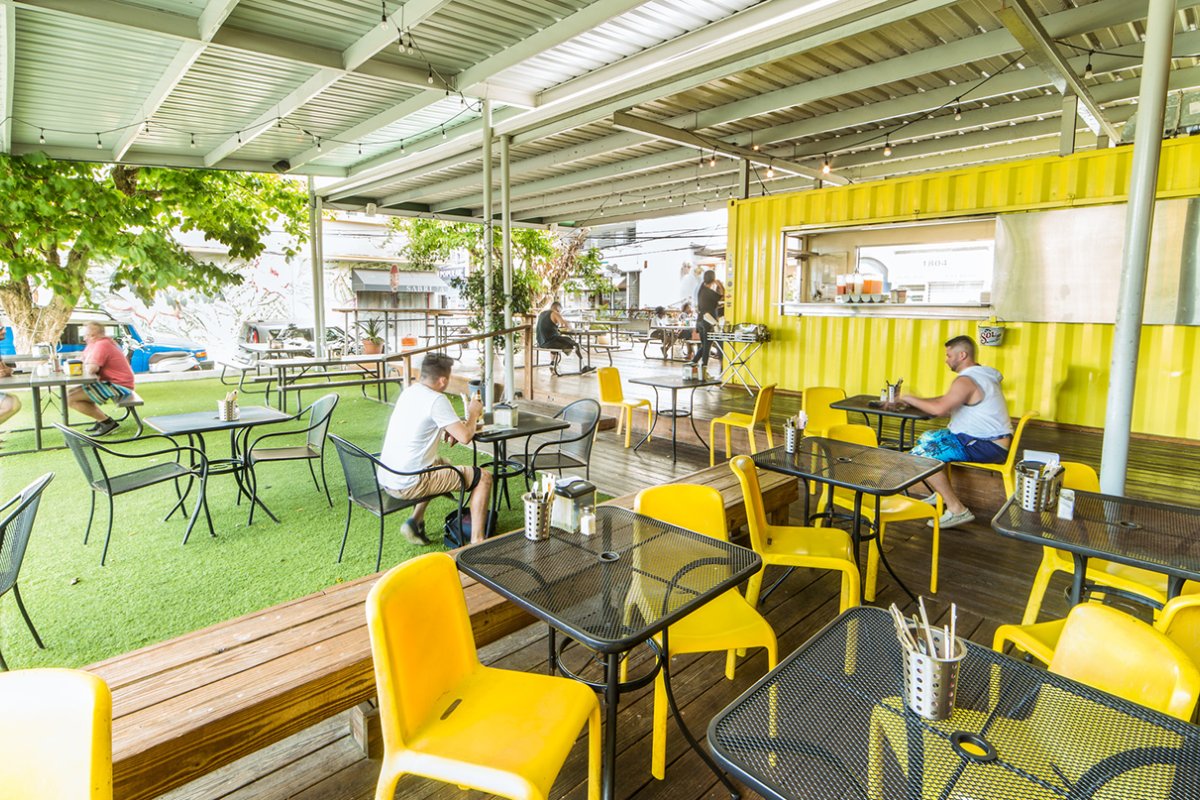 Chapter 6 - Calle Loíza
Calle Loíza is an emblematic, culturally significant street in the Santurce section of San Juan, where a melting pot of art, gastronomy, and history blends. Over the years, the old road from San Juan to Loíza has become a social and gastronomic hub where emerging and returning artists have been featured center stage in the corridor's renaissance.
Café Tresbé
The street food concept gets a lift in this big "food truck" with a spacious wooden deck. Tresbé (a local idiom that means "Triple B") is a colloquial way of saying Bueno, Bonito y Barato (good, pretty, and affordable) and that is precisely what you will find — artisanal burgers, tacos, empanadas, seafood, specials, and coffee.
Si no corro me pizza
This space with Neapolitan flair presents excellent Italian food. Si no corro me pizza is known for its rustic brick-oven pizza that showcases fresh ingredients and Old World techniques. Their menu offers an array of pastas, lasagna, sandwiches, and cocktails.
Piso Viejo
This is a favorite spot with locals and tourists alike for salsa dancing in Calle Loíza. Every Thursday, it offers a free salsa class, which you can put to practice immediately after with music from a live band. If dancing works up an appetite, enjoy traditional Puerto Rican cuisine and iconic cocktails. This is the place to eat, drink, and dance your night away in Calle Loíza.
Punto Medio
This is a place for meeting friends and sharing a great conversation over coffee or drinks. Enjoy delicious tapas or hearty breakfasts when you visit Punto Medio for a friendly conversation, casual date or small gathering.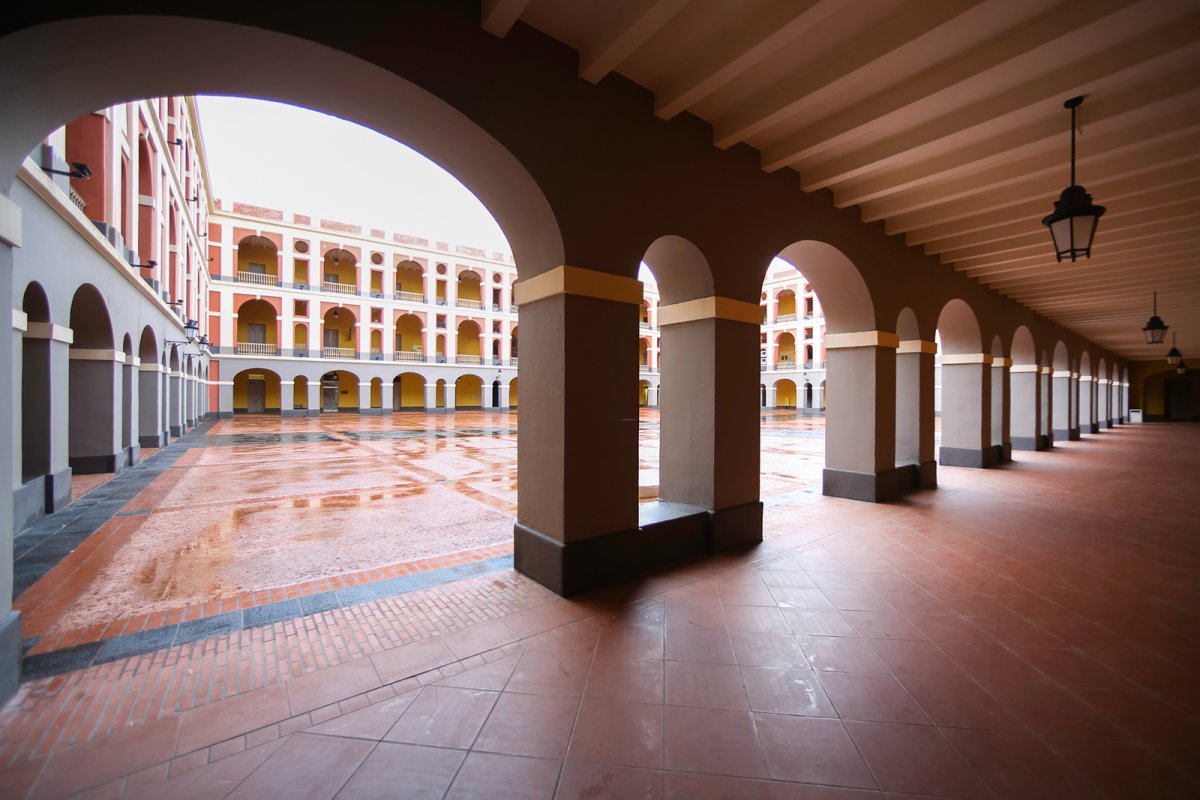 Chapter 7 - Public Art
In Puerto Rico, you'll find art everywhere. Whether it is contemporary, classic, urban, experimental, or historic, the Island's collection will inspire and enchant you. There are numerous museums, galleries, open spaces, and buildings that showcase public art throughout Puerto Rico.
Cuartel de Ballajá
A celebrated cultural site, Cuartel de Ballajá is a former military barrack built in the 1850s. The structure, which recalls the symmetry of European grand palaces, serves as a cultural center that houses Museo de las Américas, a museum focused on the history of the Americas. Come for the exhibits and stay to explore the photogenic courtyard, followed by a cup of coffee at Café Don Ruiz, one of the local shops on site.
Yaucromatic
Under the concept that art is not only created for museums but for everyone and everywhere, the municipality of Yauco on the southwestern coast of Puerto Rico has commissioned several murals to add vibrancy to the town and promote tourism. Yaucromatic is a remarkable example of this successful initiative. It consists of multiple rows of houses painted in colorful patterns and colors that create a visual feast. So, walk around and get lost in the magic of this bright and flashy town nestled at the foot of a hill.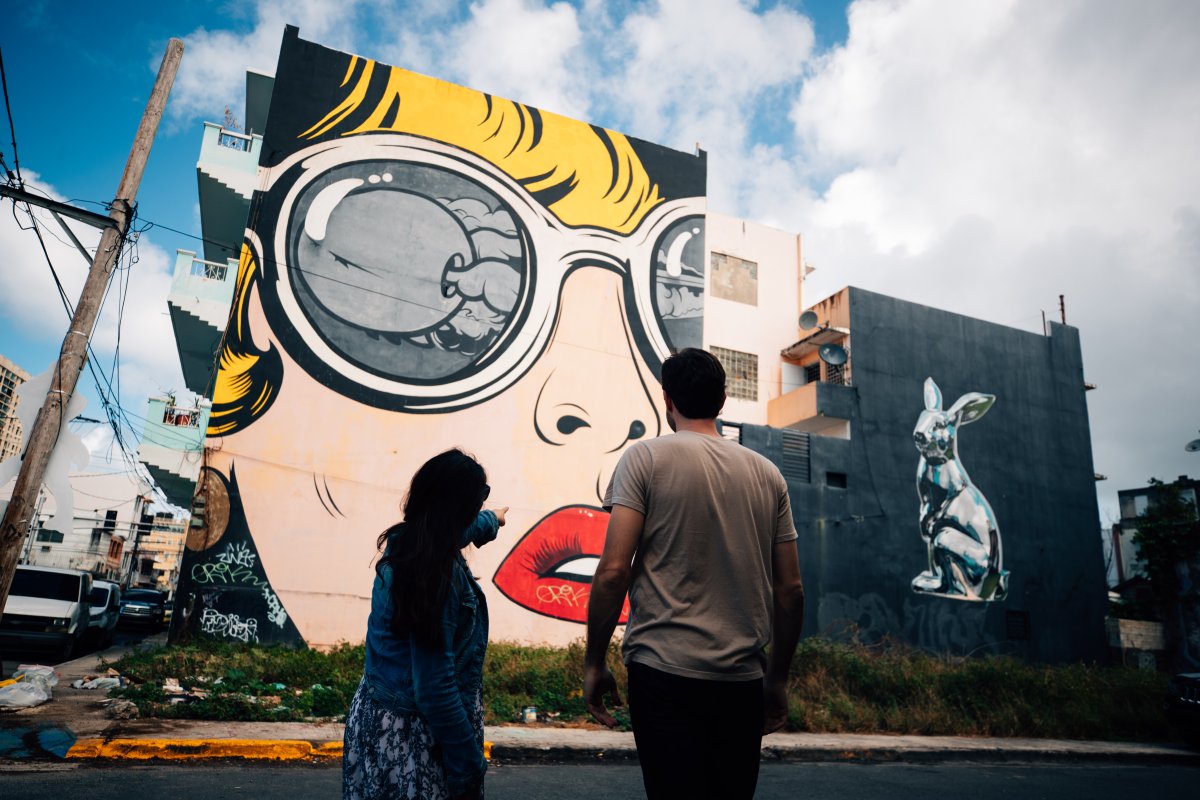 Ponce Letters
One of the most famous pieces of public art in Puerto Rico can be found on Highway 52 right at the entrance to Ponce, the largest city in southern Puerto Rico, often described as Puerto Rico's second capital. Five 20-feet high red and black letters spell out the name of the city and serve as a welcome sign to all the visitors that arrive at la Perla del Sur ("The Pearl of the South"). The art installation is meant to evoke the effect of the iconic Hollywood sign and was originally part of "The Public Art Project," commissioned by the government of Puerto Rico.
Santurce es Ley and Ponce es Ley
San Juan's Santurce neighborhood and downtown Ponce showcase art everywhere. In Santurce, it all started as a beautification process for the neighborhood, but soon the proliferation of art turned the district into Puerto Rico's version of Wynwood Arts District in Miami. The neighborhood developed its own creative festival called Santurce es Ley ("Santurce Rules"). The same happened in Ponce, where Ponce es Ley showcases international and local artists. From wall-sized murals to sculptures on public plazas, roads and parks, you'll find plenty of places for great photos.
Museo de Arte de Puerto Rico
An important art and cultural center in Puerto Rico is el Museo de Arte de Puerto Rico, a dazzling neoclassical structure that houses 24 galleries, a sculpture garden, restaurant, craft workshop, and gift shop. This museum — the largest in the Caribbean — is known for showcasing a variety of local and international masters spanning from the 17th century to contemporary work. Exhibits change throughout the year and include a cross-section of styles and media. 
Speaking of art, did you know "Hamilton" returned to Puerto Rico in June 2023? Lin-Manuel Miranda and three original Broadway cast members attended two weeks of performances on the Island to benefit the Hispanic Federation and Flamboyan Foundation. Both organizations have worked to rebuild Puerto Rico's educational system and economy post-Hurricane Maria.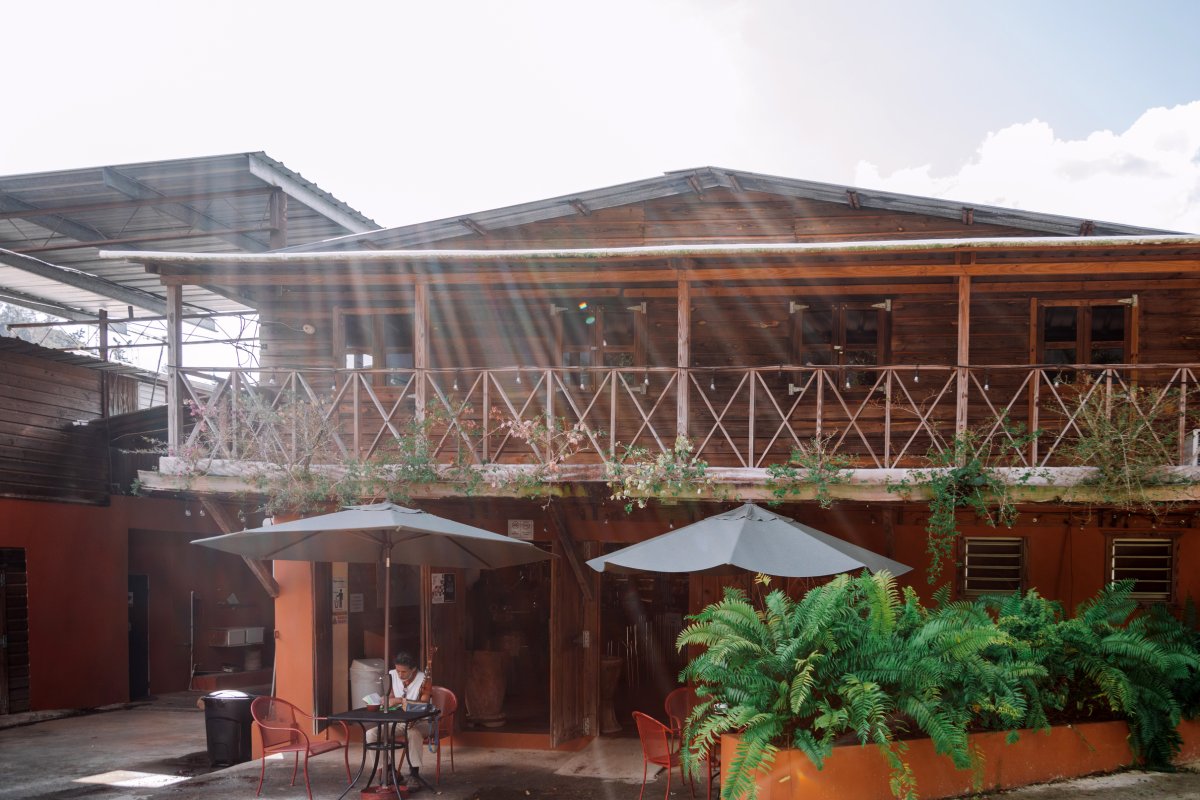 Chapter 8 - Coffee
Puerto Rico is harvesting some of the best coffee in the world. Whether it's served hot or cold, in the mountains, by the beach, or in big cities, a taste of locally grown and roasted coffee will give you a new appreciation for the Island's agriculture (as well as a dose of caffeine). 
Hacienda San Pedro
Harvested in the mountain town of Jayuya, over 3,000 feet above sea level, Hacienda San Pedro is a favorite among locals. Hacienda San Pedro is a fourth-generation artisanal coffee producer whose beans are known for a classic semi-sweet, caramelized flavor with hints of chocolate and aromatic spices. Besides the plantation in the town of Jayuya, which is open to the public for coffee, pastries and snacks, there is a museum about the traditional processes of cultivating coffee. The brand also has coffee shops around San Juan and Guaynabo, where you can go enjoy their roasted beans and grab a quick lunch.