Better yet, Old San Juan is safe, walkable, and full of attractions and experiences – from history and art to food and beaches – making it an ideal destination for in-port excursions.
We know you will only have a few hours to explore — unless you plan to extend your stay, of course! — so we've rounded up some of the best things to see, do, and eat within walking distance of the cruise port in San Juan.
If You're a History Buff
The oldest European-founded city in the Americas, Old San Juan is the Island's heart of history and culture. Once you've arrived at the Old San Juan Port, take a left to head east towards the iconic Castillo San Felipe del Morro, better known as El Morro. The walk to the fort takes about 20 minutes, so you'll have time to get your land legs back while basking in vibrant culture and unique architecture in this beautiful old city.
The Spanish built El Morro in the 16th century to protect the city, but now stands as a captivating fortress ripe for exploration. Before going back towards downtown, stop by the Santa María Magdalena de Pazzis Cemetery, the final resting place of many of the Island's most prominent leaders. (Fun fact: The Spanish built the cemetery so it would stay outside the city walls because they feared the afterlife!)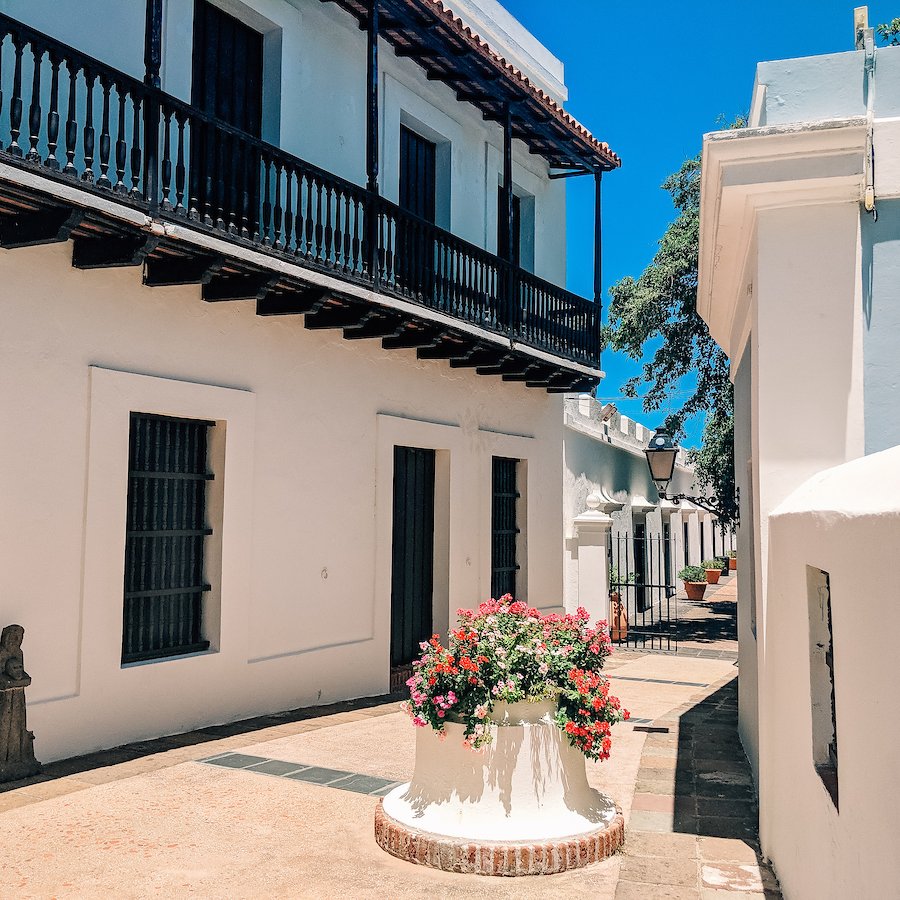 From the fort and cemetery, head south (about a 6-minute walk) towards Cuartel de Ballajá. This structure has lived many lives, having served as regime housing in the 1800s and a hospital during WWII. Today, it houses the Museo de las Américas, a museum dedicated to the history and culture of the Americas. Then, if you're visiting Wednesday through Sunday, take another short (2-3 minute) walk and tour Casa Blanca, the former home of Juan Ponce de León, Puerto Rico's first governor.
By this time, you will likely be heading back to port, but only after grabbing lunch at nearby Barrachina, one of the oldest restaurants in the city. (Legend states this is where the first piña colada was created!) Barrachina is also located on the iconic Calle Fortaleza, one of the city's oldest and most Instagramable streets.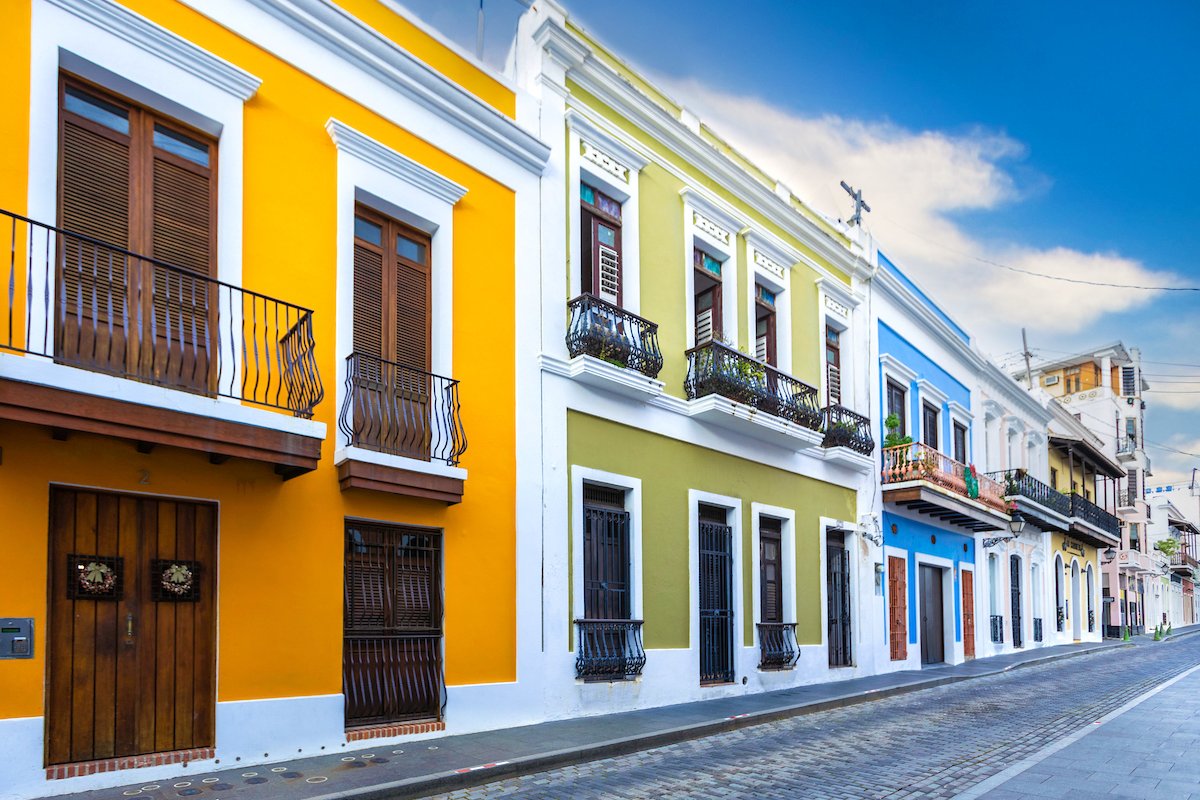 If You're an Art Aficionado
The Island's diverse and storied history has long been a source of inspiration for creative minds. Because of this, San Juan has become an enclave for artists and a must-visit for art aficionados. Whether you're looking to view paintings, sculptures, architecture, lithography, or wood carvings, there are artistic experiences just minutes from the Old San Juan Port.
From the port, head east towards downtown San Juan. Stop first at the Galería Botello, a 350-year-old mansion turned gallery that once belonged to Ángel Botello, a famous Galician artist who moved to Puerto Rico to hone his craft. Throughout the museum, you'll find works by Botello, as well as paintings and ceramics by other internationally and locally recognized artists. The museum is open Monday through Saturday.
From there, walk right down C. de San Francisco to Plaza de Armas. Situated at the center of the city, this is the best place to surround yourself with the colorful architecture San Juan is known for. Grab a pastry from a nearby bakery or an ice cream at ChocoLato, then walk around the plaza to bask in the beauty of the surrounding buildings.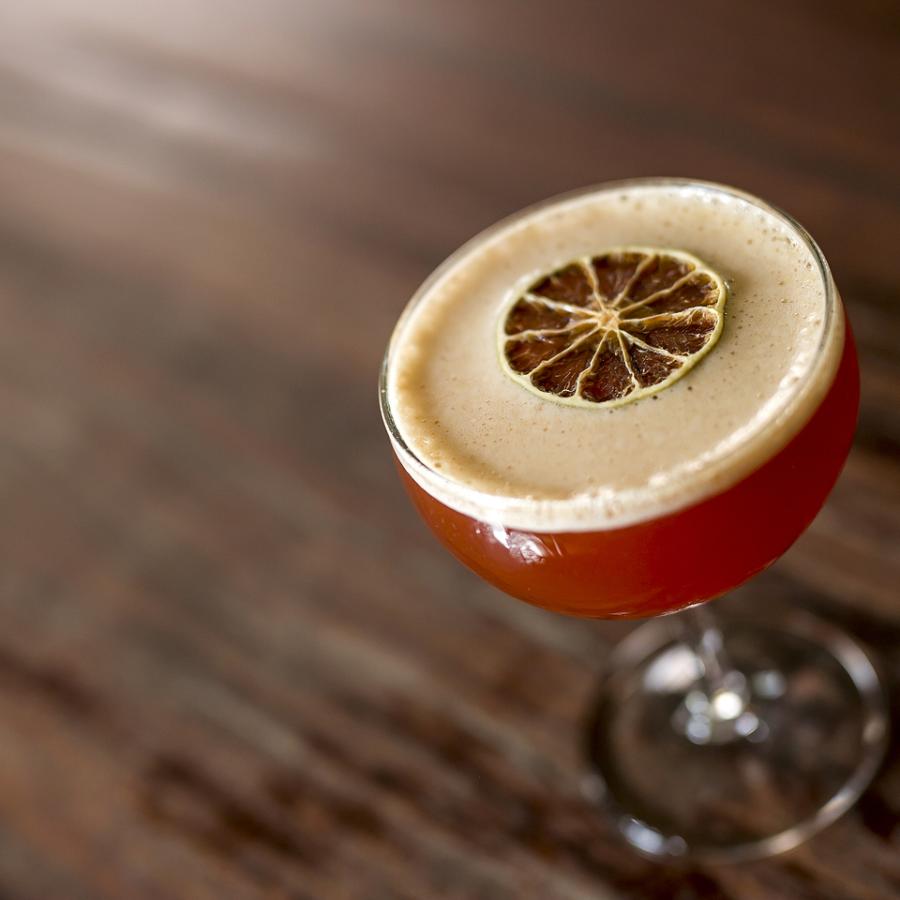 Stick around the plaza to interact with local art vendors who always have a great story to tell, then explore nearby restaurants, art galleries, and boutiques. Or, set out for the Museo de San Juan (just a 6-minute walk) northeast of the plaza. Within its walls, you'll find a host of permanent and temporary exhibits that offer a glimpse into the history of San Juan through an artistic lens.
On your walk back to the port, stop for lunch and a cocktail (or two) at La Factoría, named one of "North America's 50 Best Bars." Savor tuna tiradito, mushroom croquettes, and the restaurant's ever-changing charcuterie boards while sipping innovative, handcrafted cocktails like the Peligroso, made with Barrilito rum, Averna, Campari, dry spice infusion, and lime juice.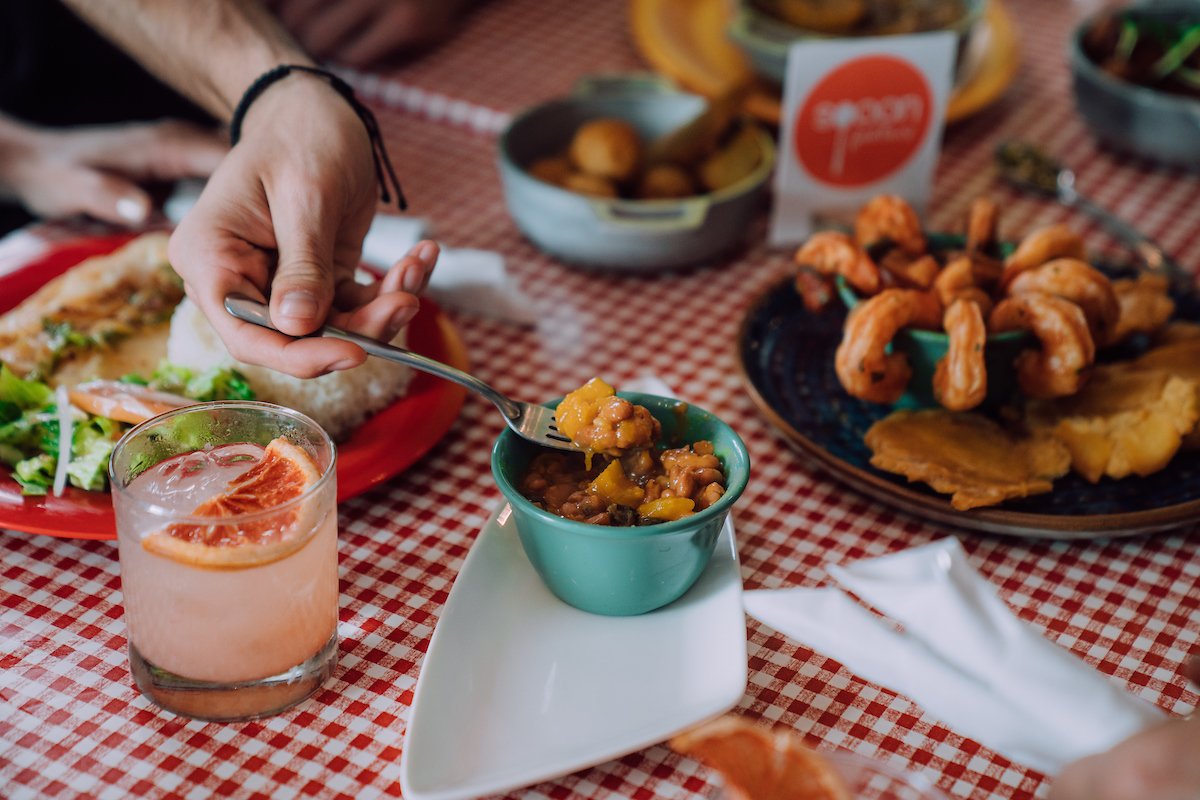 If You're a Foodie
Savoring the flavors of authentic Puerto Rican cuisine is a highlight for most visitors – especially for foodies. Cruise-goers often have several hours to get out and explore while in port, which is why we recommend food-and-drink lovers spend their time on a guided culinary tour of Old San Juan!
Contact the shore excursions team on your cruise ship to book a walking tour with Spoon, where you'll learn about Puerto Rico's history and architecture while sipping and tasting authentic cuisine and cocktails at nine restaurants in Old San Juan. Explore the historic heart of the capital and sample local food and rum on Flavors of San Juan's "Old San Juan Food Tour." Or go on Get Shopped's "Mofongo and Mojito Tour," a historic walking tour of San Juan that culminates in a three-course meal and make-your-own mofongo experience.
If you'd rather enjoy a self-guided exploration, check out this Culinary Tour of Old San Juan where we've outlined some of the best places to go for authentic bites, innovative chef-driven eats, and, of course, rum cocktails! We also recommend chatting with the locals to find their favorite hidden gems and watering holes while walking around the city.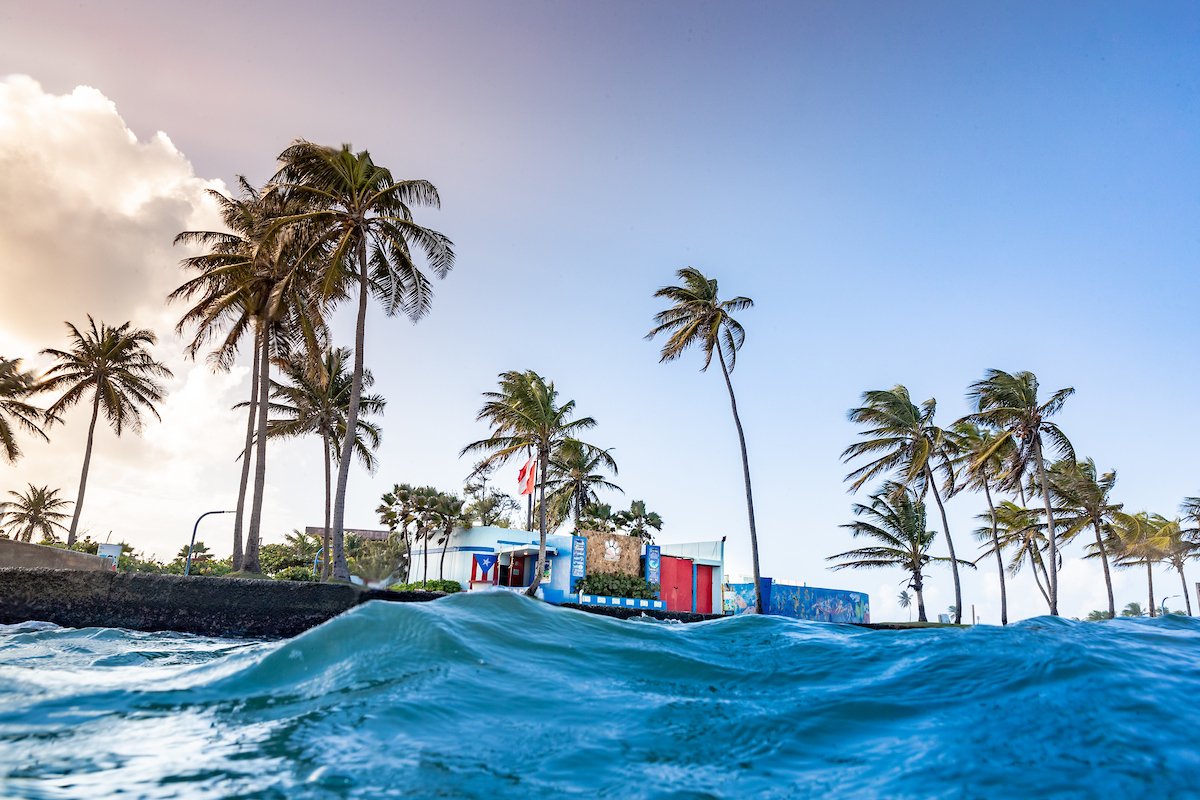 If You're a Beachgoer
Located about a 30-minute walk (or quick ride) from the Old San Juan Port, Playa El Escambrón is the ideal spot for a beach day in San Juan. On your walk to the beach, stop by one of the several coffee shops and bakeries you'll find along the way, like Pilao Bakery-Cafe and Placita's Cafe. 
Playa El Escambrón is popular among families seeking a day of fun in the sun close to the city. Lined with golden sand and tall palm trees, the beach's calm waters, which are protected by coral reefs, make it a hot spot for snorkeling and diving. Try Scuba Diving offers snorkeling and scuba-diving tours for all levels along the reefs surrounding Playa El Escarmbrón. Their 1.5-hour excursions include fundamentals, a shallow dive to help you get comfortable, and an hour of underwater play in the ocean.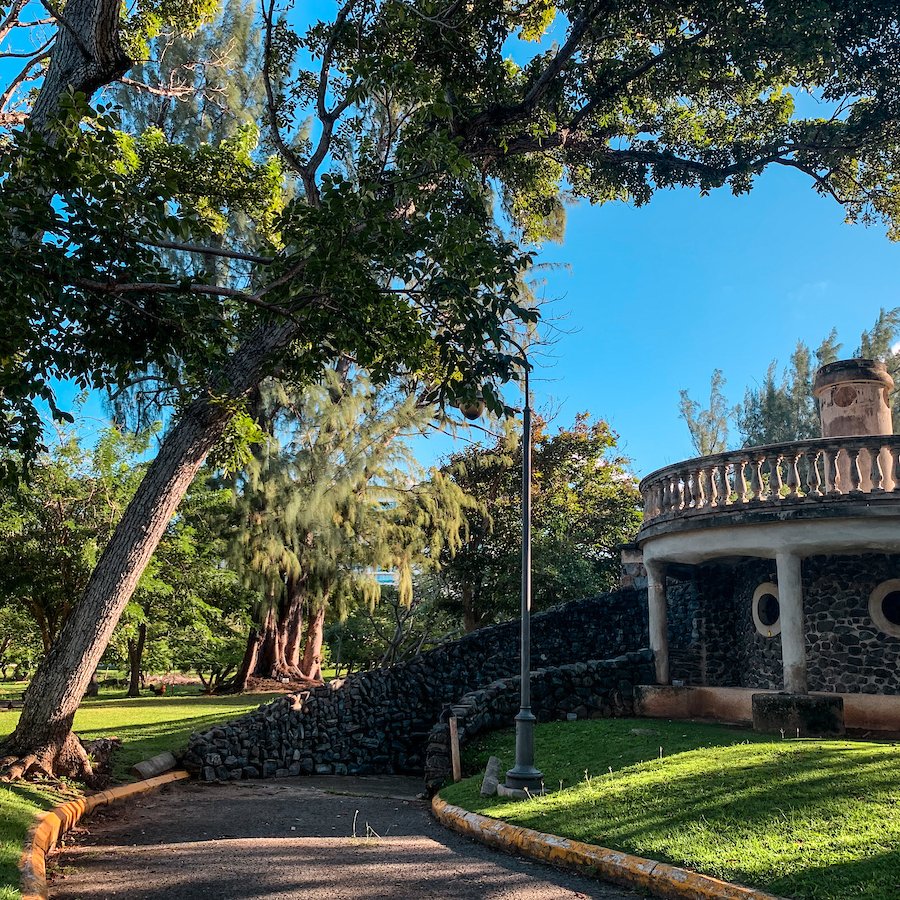 After you've had your fill of water adventures, take the pedestrian-friendly bridge over to Luis Muñoz Rivera Park. This urban park features magnificent foliage, a playground area, and various sculptures by local artists. You can grab a bite to go from nearby food vendors and local restaurants, then have a quiet picnic before heading back to port.