Is there anything more carefree than cruising through nature?
There something ethereal about connecting with nature from the moment you wake up to the moment you fall asleep. A sporadic detachment from the fast-paced life and total immersion with your surroundings bring a level of serenity that can only be sourced from nature. And Puerto Rico is the ideal destination for it.
Imagine driving across the Cordillera Central or La Sierra de Luquillo (yes, through mountains and luscious landscapes), breathing the fresh Caribbean air, finding the perfect resting spot, and falling asleep under the stars while coquís serenade you. Or, rolling down the windows as you cruise the heart and soul of the Caribbean's coastline and set to rest while enjoying some of the most astonishing sunsets in Puerto Rico.
If that's the peace and tranquility you seek in your next vacation, renting a mobile home or an RV (recreational vehicle) to explore beautiful sights and have exciting adventures is for you. RVing through Puerto Rico allows you to move at your pace, gives you the freedom to extend your stay, and change directions as you wish. Flexibility and downtime, that's what it boils down to.
We break it down by days, but wheater you opt for a quiet seaside escapade or a refreshing mountain campsite… or both, pick and choose some of these recommendations to create and inspire your itinerary!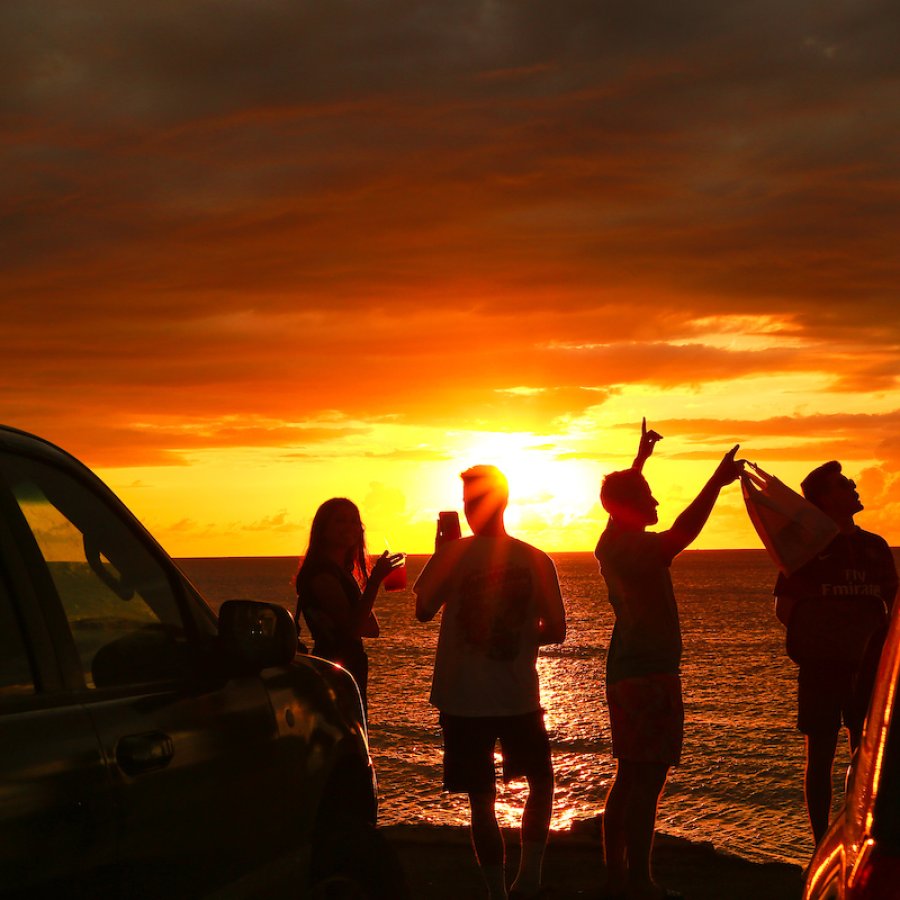 Note: It is best – and easier, to book your campsite and lodging permits in advance through your mobile home rental companies. Businesses like Vive la Van, Genesis Motorhomes, Isla Van PR, and Puerto Rico Van Trip offer all the glamping amenities you'll need to discover Puerto Rico. Still, you must bring your food, water, and personal items.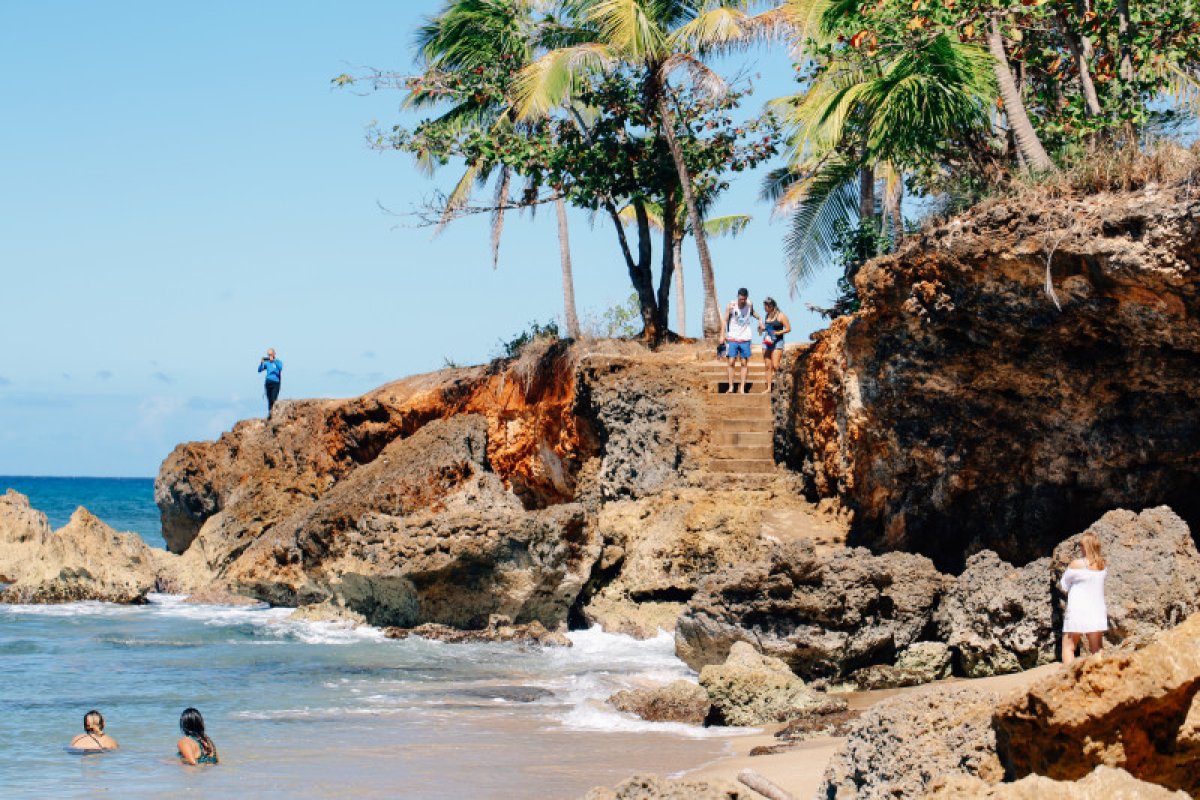 Day one: The north coast awaits
Set your GPS for Añasco, where your first campsite – if you choose to, awaits. An optimal first resting stop is Tres Hermanos National Park, a vacation center with beach views near the northwest mountain regions. There, you'll find an extensive coastline lined with palm trees and sunny-gold sand, a fishing area, gazebos, and campgrounds for those staying overnight. You can enjoy the serenity of the beach away from the bustle and make yourself at home, have a bbq picnic, and go swimming. If you head out and explore Añasco, stop in the "enchanted" Salto de la Encantada, a cascade that falls over slick rocks and ends in a natural pool.   
 Another great resting stop lies inside the Cambalache State Forest between the towns of Barceloneta and Arecibo. There you can find miles of hiking trails, do some birdwatching, and breathe in the fresh air. You can also make your way to nearby towns and visit secluded beaches like Peña Blanca beach in Aguadilla, just 30 minutes away – or drive a little further and delve into a cave adventure at Cueva Ventana in Arecibo. Your first full day of road tripping and adventuring is sure to work up your appetite, so plan for a fulfilling dinner at one of Arecibo's beachfront restaurants. For meat lovers, there's Carbón y Leña, where the can-can porkchop and ribs are all the rave, but if you're craving fresh seafood, then Salitre Mesón Costero has just what you want.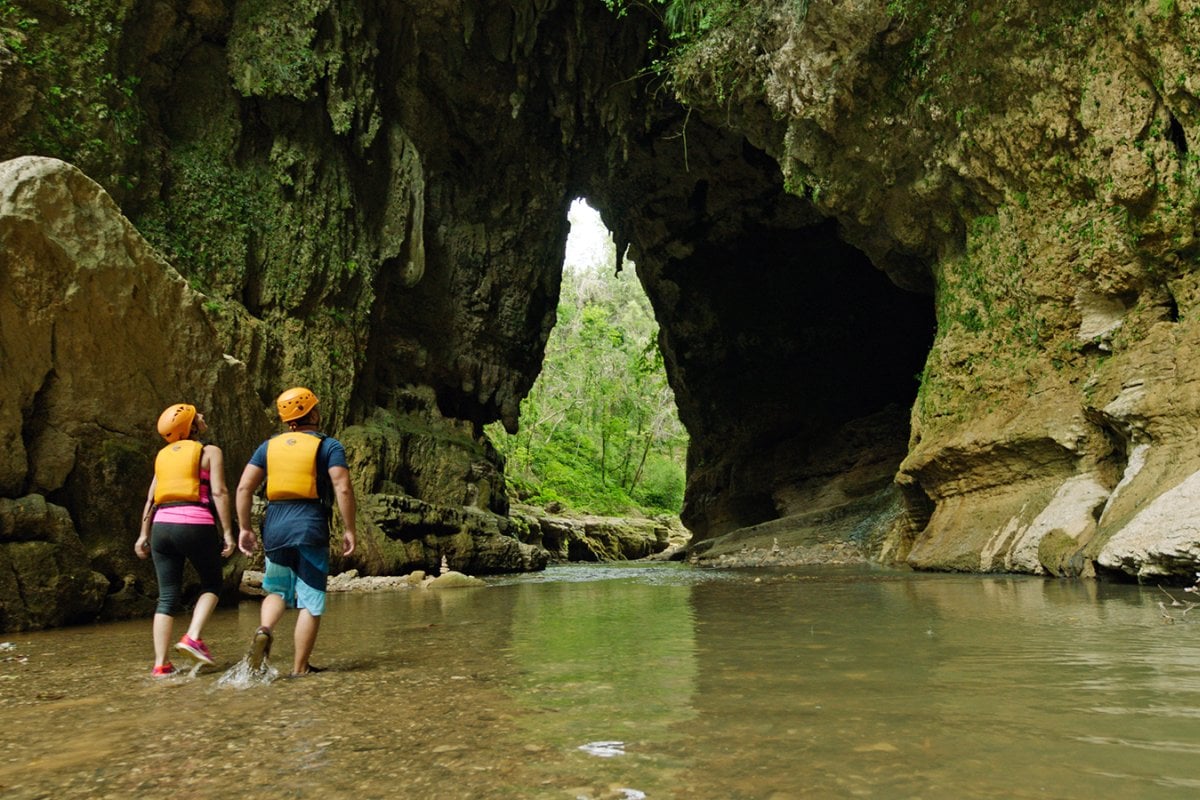 Day 2: The view is always better in the mountains!  
Get ready to explore the innermost parts of the Island, but first, coffee. Pair up your cup of java with a delicious Puerto Rican mallorca (sweet bread) from My Sweet Bakery. Once you've had your morning cup of joe, then head out to Utuado, where you'll spend the night at the Río Abajo State Forest. Yes, you'll find hiking trails, parts of the Tanamá River, and the Dos Bocas Lake, the perfect scenario for reconnecting with nature. Another outdoor lodging option in Utuado is Campamento Don Alí, a camping and RV site run by a local family who'll provide all the amenities you need to spend a comfortable night under the Milky Way. Whichever you choose, one thing is for sure, come the night, you'll be enjoying the utter relaxation that comes from being fully immersed in nature.   
Utuado has no shortage of outdoor activities. You can spend the day exploring the forest, kayaking in the lake, or canyoneering with the pros from Batey Adventures. If you choose to venture into Utuado, you can visit the Caguana Ceremonial Park and learn more about Puerto Rico's indigenous roots; or pass by Café Gran Batey to see the inner workings of a coffee farm. For dinner, you can prepare a meal at your campsite or visit one of the local joints, like Utuado Bier Garden, where you can order refreshing craft cocktails and beers while unwinding in their outdoor patio.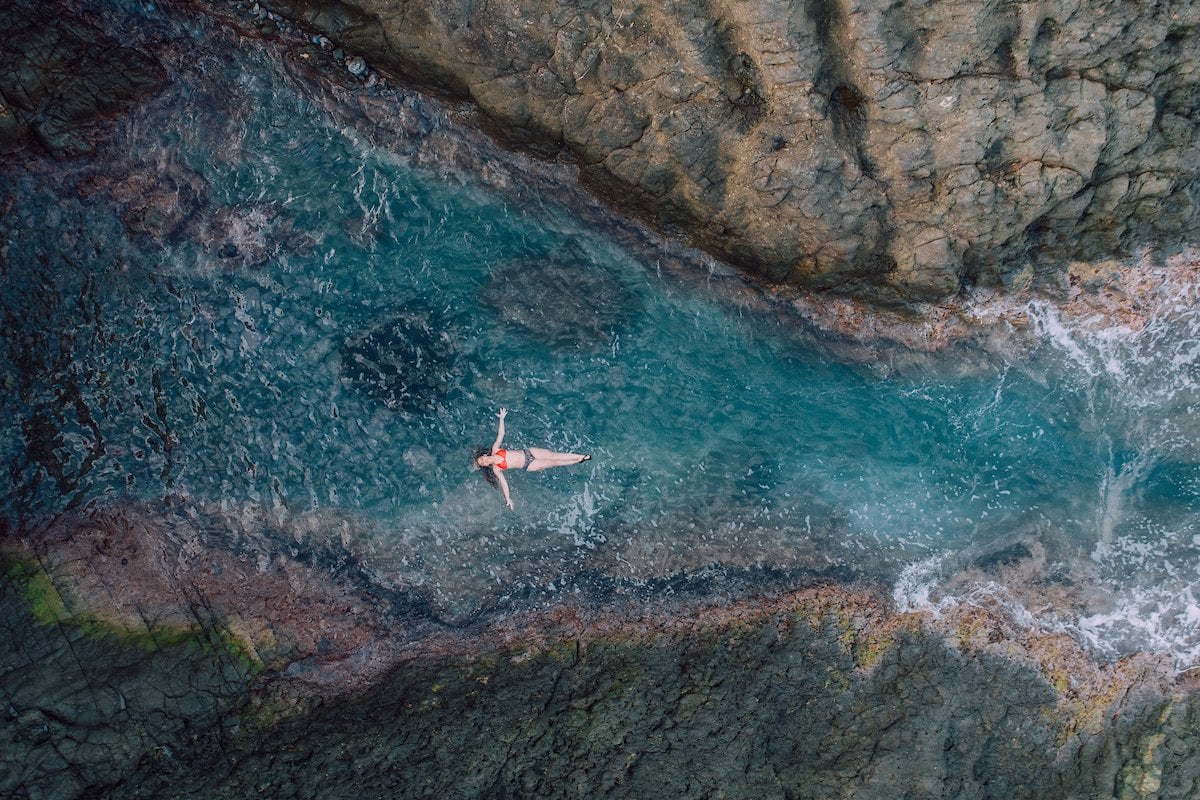 Day 3: Choose your route: east or west coast?  
No one said picking a route would be easy but rest assured, there's no wrong choice. From east to west, Puerto Rico's beaches are unmatched.   
One benefit of finishing your road trip on the east coast is that you'll be closer to the Island's main airport. You can find a little bit of everything when you head out to Seven Seas, the ultimate beach campsite on the east coast of Puerto Rico. Nestled inside a beach that leads to three other secluded beaches: Playa Escondida, Playa Colorá, and La Zanja, this campsite is equipped with a playground for kids, individual showers, and gazebos. This campsite is nearby Las Croabas recreational park, where you can spend the day playing around the swings, slides, and waterpark. Be sure to book a nightly trip around the town's bioluminescent bay Laguna Grande. Before setting the ground for the evening and night, you can stop by El Yunque National Forest, the only tropical forest in the U.S. National Forest System. Or book a trip at La Paseadora, a boat that takes you around the Espíritu Santo River, the only navigable river in Puerto Rico.  
Find out if the west coast is really the best coast. Set your GPS for Cabo Rojo, where you can beach-hop from one picture-perfect beach to another. Crowd-favorites include the Balneario de Boquerón, Buyé beach, and Combate beach, where you'll find the perfect lunch spot, Annie's Place— a local restaurant that's been serving delicious eats for over 40 decades! After you've gotten your dose of vitamin sea, set out for Pitahaya Glamping Eco-Retreat, an outdoor sanctuary that makes for the perfect stargazing location. Toast to the end of your trip from the comfort of your glamping site or head out for a night with the locals at El Poblado de Boquerón. This beachfront hangout spot has everything you could want for your last night in Puerto Rico— dive bars, restaurants serving mouthwatering dishes, and if karaoke is your thing, then prepare to end your trip with a bang.    
Mesmerizing glow in the dark bays await. Learn more here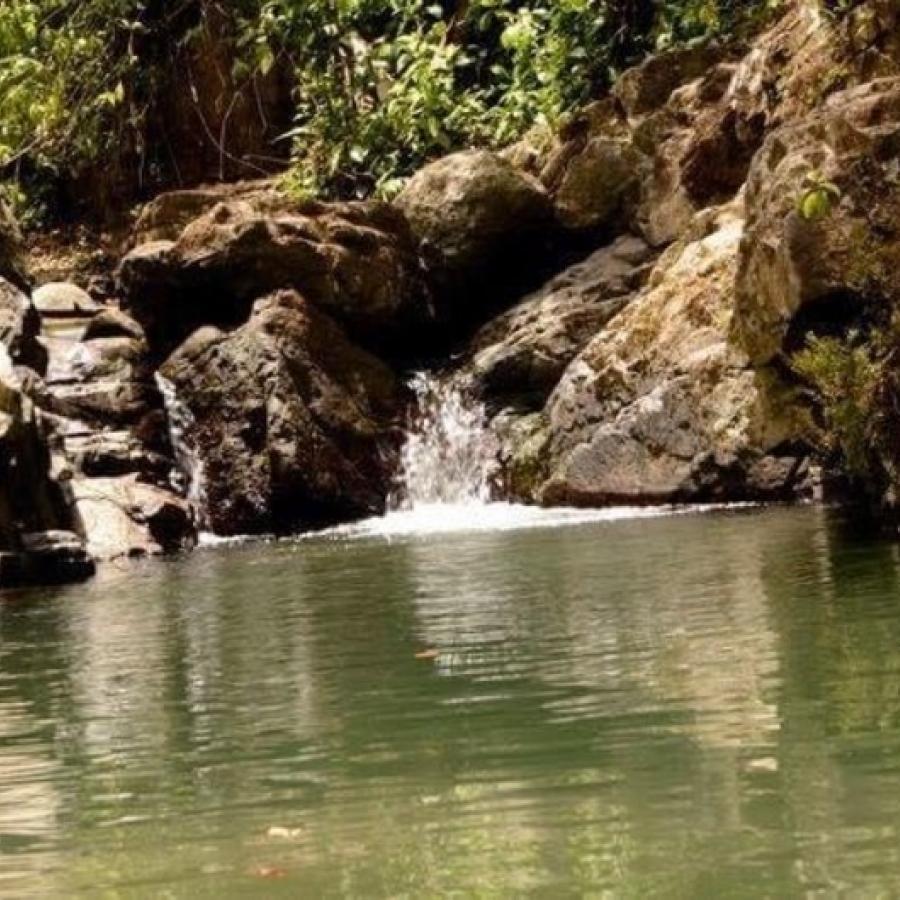 Other campsites you can park your RV or mobile home: