Witness Puerto Rican history firsthand on a hiking adventure.
Discover the amazing natural beauty and learn about the history of the island's indigenous people — the Taíno – with a visit to Cueva Ventana, one of Puerto Rico's most famous natural attractions in Arecibo.
Cueva Ventana is part of a natural formation of limestone, known as karst, in the north region of Puerto Rico. There you'll find pre-Columbian petroglyphs and stone engravings, hiking trails, and the cave's iconic window-like opening that looks out over the lush surroundings. This is one of the most popular destinations on the island for both locals and visitors alike. To learn more about the flora and fauna, enjoy a guided hike led by trained biologists.
NOTE: Cueva Ventana and Cueva León are temporarily closed.
Top Attractions
Guided Tours
The guided tour will enhance your experience while illustrating the diverse beauty of the native flora, such as the ficus and cupey, among others. Understanding the ecosystem thanks to knowledgeable bilingual environmental experts is key to appreciating the area and making your visit memorable.
Animal Residents
In addition to learning how the cave was shaped over centuries, you can meet the resident bat population and other species typical to the environment. Although certain areas will be completely dark, you'll be able to visit without significantly impacting the ecosystem, and you will be provided a flashlight to illuminate your path.
Taíno Art
While visiting you can see some authentic Taíno petroglyphs preserved after several centuries. In the past, the island's indigenous inhabitants created stone markings often representing gods, deities, human figures, animals, or elements of nature. Pretty cool!
A View to Remember
When reaching the "window cave" section of the tour, you'll see why Cueva Ventana is likely one of the most "Instagrammed" locations in Puerto Rico (no easy feat). The impressive opening gives you a beautiful view of the green mountains and the Río Grande de Arecibo that will make you feel like you're on top of the world. Sometimes you can even see the Cerro Punta peak in Jayuya, the highest in Puerto Rico.
Centuries in the Making
You can experience the result of hundreds of years of stalagmites and stalactites natural formation. The cave also has several tunnels, smaller caves, and hidden spots you can explore during your trip. Not an everyday opportunity!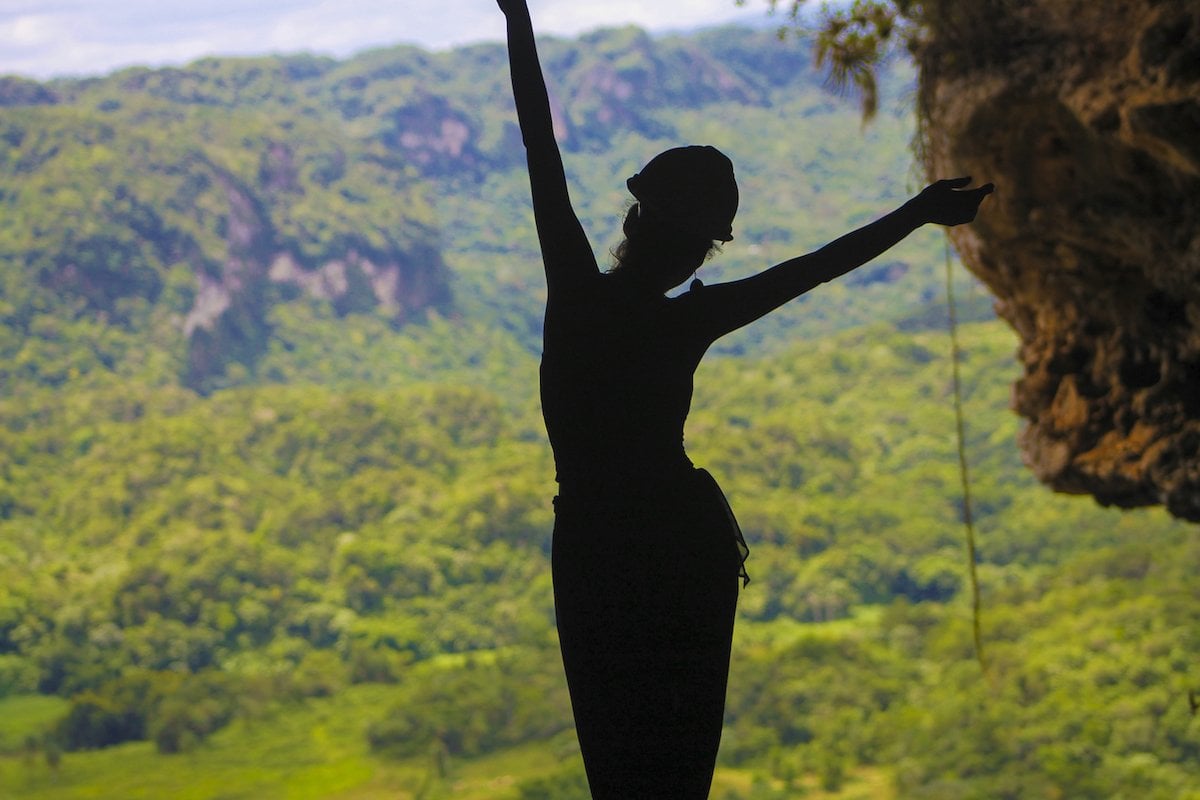 Operating Hours and Costs
Cueva Ventana is open seven days a week, from 10:00 a.m. to 4:00 p.m. Unfortunately, children younger than 5 years are not allowed due to insurance regulations.
Non-residents pay a $19 entrance fee per person, which includes the guided tour and protective helmets, along with a flashlight.
Pro tip: Visit the cave's website for discounted tickets during less crowded weekday visits.
Getting There
Located in the coastal town of Arecibo, it is an easy 75-minute drive from San Juan via route PR-22. The exact address is PR10 Km. 75, Hato Viejo, Arecibo, Puerto Rico 00612. Some hotels in San Juan offer transportation to the attraction, or can recommend a local tour company for transportation, but that should be confirmed ahead of time.
Grab a Bite!
After all the hiking and exploring, you'll probably be ready for some food. Lots of locals head over to Gustitos Criollos after exploring Cueva Ventana. Go try some local specialty dishes for yourself.
Tips for Visiting
At this location, you'll be hiking for 45 minutes to one hour, and while the trails are relatively comfortable, there is some level of physical activity involved, so make sure you're bringing comfortable clothing and shoes. Also, when planning to visit, you can call 787-322-3554 ahead of your visit to confirm the park is receiving visitors and that weather is not a factor.
Discover Puerto Rico's E-Newsletter
Paradise for Your Inbox
Get travel inspiration, news, tips and more delivered monthly.