Food is a universal language.
When you taste the cuisine of another culture, you begin to unlock the secrets of that culture, to feel the love of its people. Nowhere is that truer than in San Juan, where a unique blend of Spanish, African, and American cuisine is spun into a unique, modern Caribbean creole.
Throughout the neighborhoods of the city — including Old San Juan, Condado, Santurce, and Ocean Park — you'll find street food down the block from haute cuisine, farm-to-table freshness, and creative takes on classic dishes. Some of the best restaurants are helmed by queer chefs, but all are welcoming, delicious, and uniquely Puerto Rico.
Fine Dining
José Enrique was born in Puerto Rico, studied in New York and returned to his home to establish this restaurant in La Placita de Santurce in San Juan, which has racked up all sorts of accolades since opening its doors. Arrive early because it gets packed thanks to terrific local food with fresh ingredients. Dinner is a scene and it's also a fun place to have drinks.
Located at the wonderful Condado Vanderbilt Hotel, which dates back to 1919 and was reopened in 2012, the 1919 is a fine dining restaurant by native chef Juan José Cuevas, who serves up a sophisticated palette of Puerto Rican specialties in an elegant atmosphere. You'll love 1919's take on coconut arepa, a popular street food paired with a delicious zucchini soup. The seafood selections are also excellent —, especially the scallop and salmon dishes.
If you want an authentic local dining experience (in a more upscale setting) check out this restaurant in the town of Cayey, south of San Juan. The breezy interior is cooled naturally (i.e. no air conditioning.) You'll feel like family, though you may want to brush up on your Spanish. You'll love the plantain soup with bacon, the chicken breast stuffed with lobster and cheese, and the churrasco.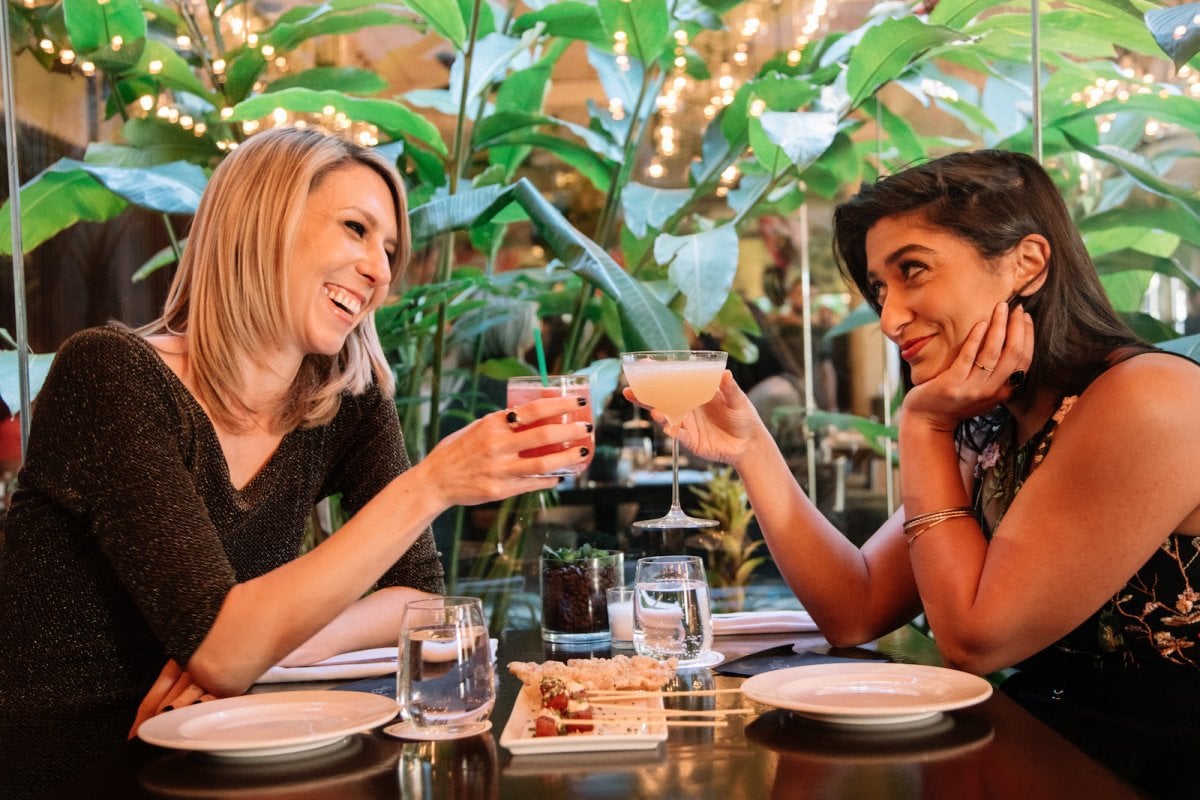 Creative Cuisine
Santaella is a sexy, chef-driven cornerstone of the San Juan dining scene. Helmed by José Santaella (who trained with Eric Ripert), the chic, tropical space — sleek, modern, with a beautiful interior garden — wowed diners when it opened in La Placita in 2011. The staff here incorporate the freshest ingredients into its daily menu, which consists of creative spins on classic dishes. Expect items like goat cheese quesadillas, sweet plantains, and basil ice cream.
Located in Old San Juan, Marmalade's minimalist orange/white decor, high-back chairs and banquettes are a chic yet dramatic backdrop to the stunning menu employing local ingredients with a style that comes from France by way of California. It's nuanced yet flavorful; fastidiously prepared yet fresh. This is not just one of the best restaurants in San Juan, it's among the best on the entire island.
Chef Martin Louzao's modern space of concrete walls and hipster light-fixtures is one of the coolest in Condado. Cocina Abierta — the name translates to "open kitchen" — has a charming outdoor space where queer locals can enjoy local cuisine like freshly-caught red snapper or paella. The restaurant also offers an impressive menu of libations and cooking classes if you'd like to bring a taste of San Juan back home.
Casual/Informal
In Santurce, the Lote 23 food park is a colorful outdoor space showcasing fourteen vendors, including El Baoricua, helmed by trans chef Paxx Caraballo Moll, who serves up delicious Asian-Rican bao buns. The space is cozy, festively strung with light bulbs, and full of locals and live music.
There's nothing not to like here: Great fresh seafood, low prices, great service, and free valet parking. The place is always crowded so call for reservations. 
Try the mofongo (mashed plantains), crab, or one of the many local-style sandwiches at this highly regarded mainstay. Note this is decidedly unglamorous — a real throwback to classic San Juan (in a good way).
An Ocean Park institution, Kasalta is a beloved local bakery. It's great for breakfast or lunch, but it's their desserts that are legendary. Try the pistachio con leche or the key lime tart. The bakery is also one of President Barack Obama's favorites — he stopped there during his campaign.
Start your exploration of Old San Juan with a coffee and mallorca, a buttery savory-sweet breakfast sandwich dusted with powdered sugar. This classic bakery is popular with tourists and locals alike for its artisanal breads and pastries, inexpensive prices, and historic atmosphere.