Exploring Remote Destinations in Puerto Rico
Destination: paradise. Population: YOU!
Check your travel wish list. Are unforgettable, easy access, outdoors, and crowd-free some of the boxes you checked? Then, Puerto Rico is the vacation you need. With countless experiences in pristine locations, you can relax or have an outdoor adventure, enjoy some of the most spectacular Island views, and do it all while social distancing.
Got the coordinates? In Puerto Rico, the road less traveled will lead you to a stunning white canyon, enchanting waterfalls, a breathtaking beach by a cliff, and even a forest full of towering pine trees. There's no need to put away your bucket-list vacation experience anymore. Set the GPS to paradise and encounter mesmerizing where the population is YOU.
The best part? In Puerto Rico, it doesn't take hours (or extra plane rides) to get away! Enjoy the company of singing coquís, the sight of a swallow or seagull, and the soft music of the waves – or streams when you visit these spots. No crowds, just nature!
Note: The locations selected are safe to visit. Travelers who are fully vaccinated are not be required to wear masks in outdoor public areas. Additional information on measures being implemented on the ground is available within our travel guidelines.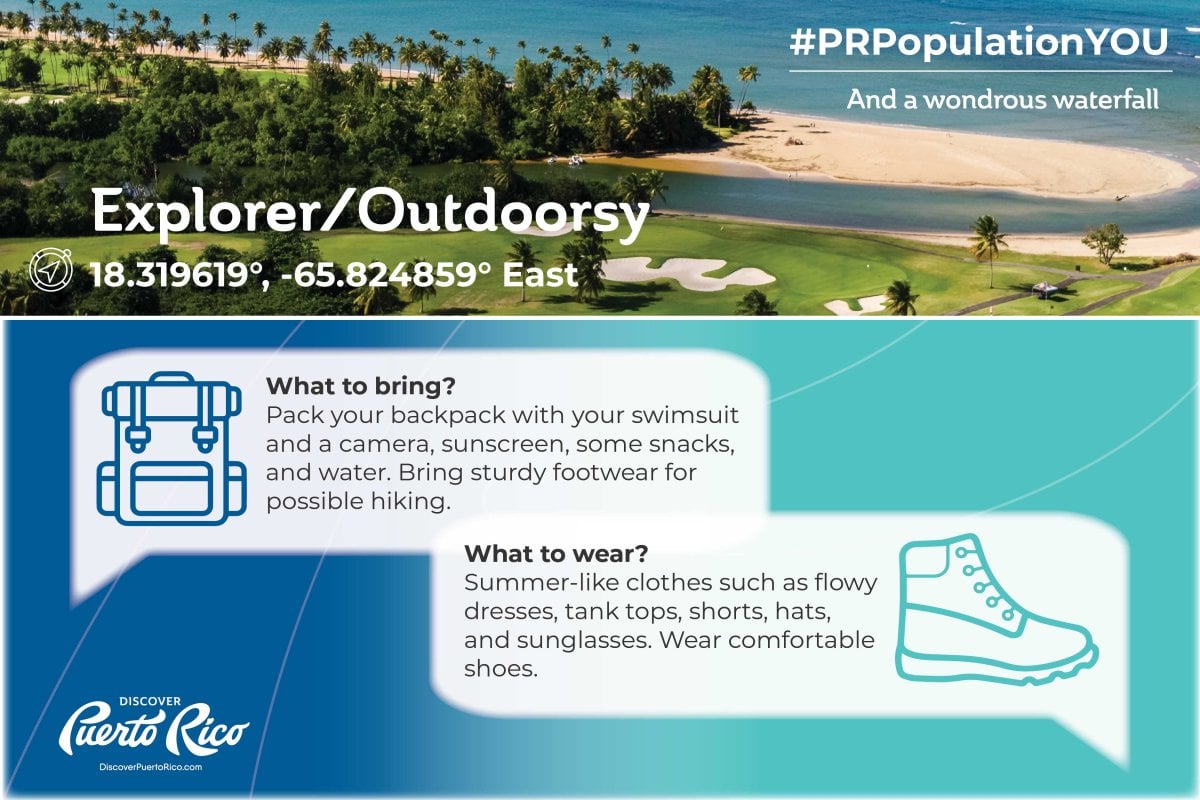 What to expect
A river that begins at El Yunque National Forest (yes, the only tropical rainforest in the U.S. National Forest System) flows into a beautiful cascade and continues the bend until the stream meets the ocean. This location is the ideal destination to "get away from it all" and the only river in Puerto Rico where you can enjoy a nice boat ride along the river bend. You'll find a lovely waterfall surrounded by verdant mountains and even be able to do some hiking.
Nearby attractions and activities
You can book ATV and horseback riding tours at Hacienda Carabalí, go hiking in the rainforest, kick back at a nearby beach, and finish off with a nice criollo dinner at nearby restaurants like Patria Mía, Richie's Café, or Don Pepe. You can also have a Mexican fiesta at Dos Panza Taquería or Lupita's food truck or go for some upscale sushi at W Sushi bar.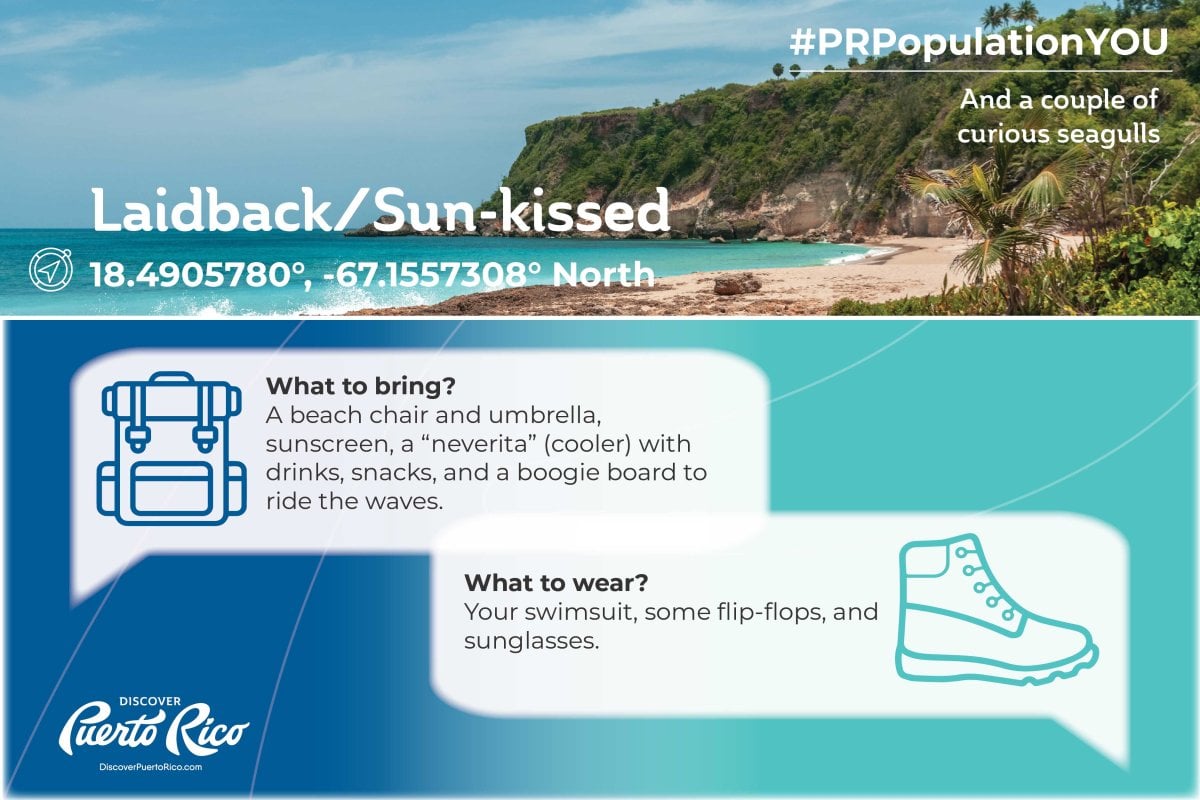 Playa Punta Borinquen, Aguadilla
What to expect
Like taken out of a movie, this location has everything you are looking for in a pristine beach:  no crowds, crystal-clear waters, incredible astonishing backdrops. There are impressive rock formations, small caves, and lush vegetation around, so be sure to bring a camera to capture it all and arrive earlier in the day to avoid other visitors. So soak in the Caribbean sun, catch some waves and enjoy a day at the beach surrounded by nature.
Nearby attractions and activities
You can stop by the Punta Borinquen Lighthouse ruins for a great photo op. You can also book a horseback ride with Playuelas Horse Rides, enjoy a drink at The Beer Box, or grab dinner at Desecheo Restaurant. Finally, if you are looking for some colorful pictures, pass by Casas de Colores, where macro murals serve as the backsplash for your Insta-shot!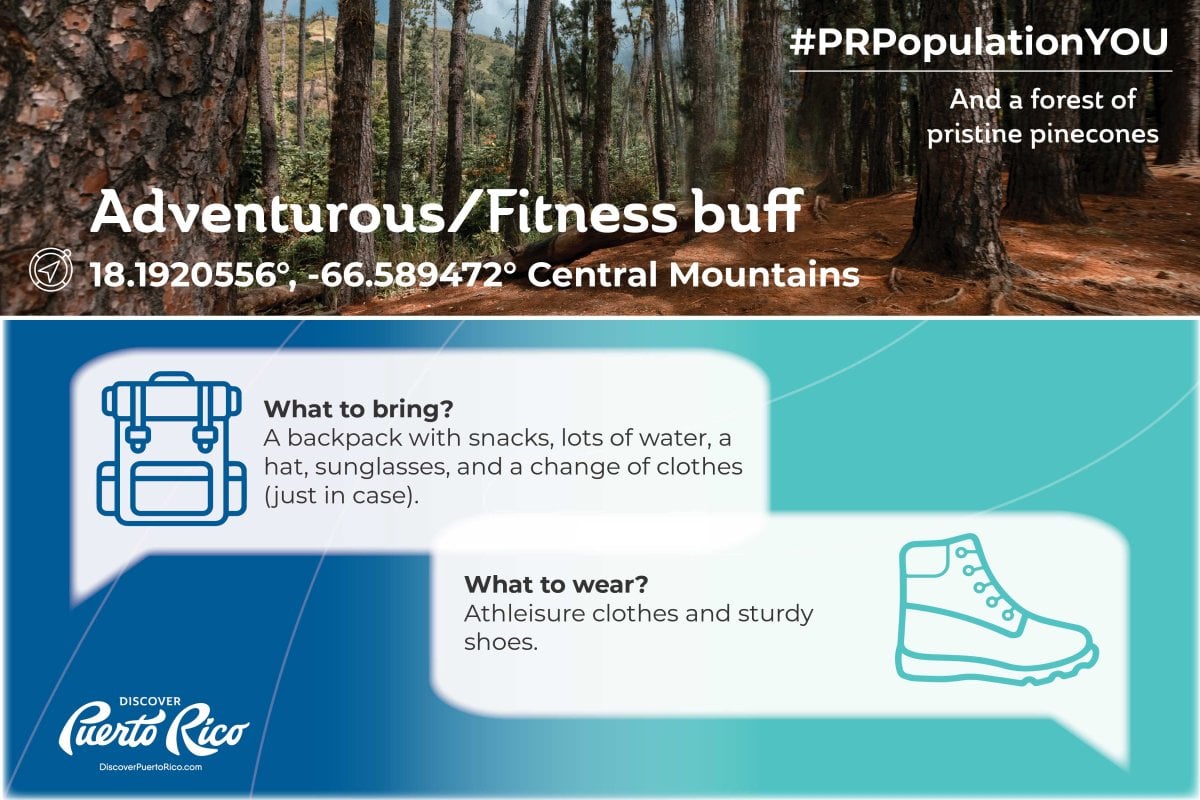 Bosque de Pinos, Jayuya
What to expect
Follow the trails with mesmerizing views and surroundings just outside of the Toro Negro State Forest. You will find an excellent destination to reconnect with nature — breathe in the fresh air and hike through one of the most beautiful state forests in Puerto Rico while being surrounded by tall pine trees and huge ferns. Note: Make sure to plug the coordinates into your GPS once you arrive at La Casita del Chef nearby to avoid trekking through difficult roads. 
Nearby attractions and activities
Visit the iconic Piedra Escrita (The Written Stone) to see Taíno petroglyphs and drawings. You can also visit the Cemí Museum for another peek into the Island's past. Finish your day off with a tour of Hacienda Tres Picachos, where you won't only learn about the coffee culture in Puerto Rico but can grab lunch or dinner.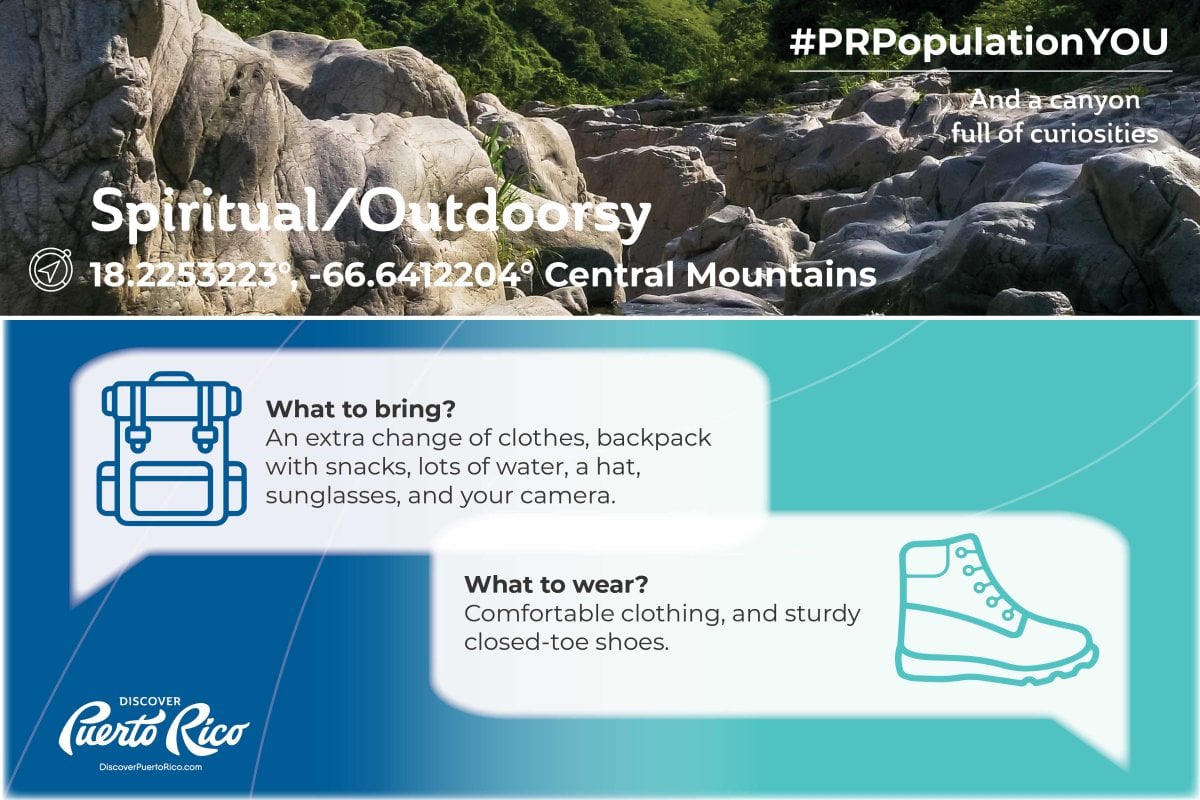 Cañón Blanco, Utuado
What to expect
Embrace one of the most impressive rivers and rock formations on the Island. You will witness the majesty and splendor of the great outdoors when you encounter the smooth, multi-shaped white and gray rocks that shape the bend of the river. This is the place you go when you want to be unbothered, breathe the fresh mountain air, and reconnect with nature, that's for sure! You can swim and dip in the river but be mindful that the water is "extra" cold and that you should never do it alone. Be sure to wear sturdy shoes, as you'll need to cross a river and go up some rocks to reach the exact coordinates.  Inexperienced hikers and swimmers should bring a life vest.
Nearby attractions and activities
After you're done reconnecting with nature, you might want to visit the Caguana Indigenous Ceremonial Park to learn all about the history of Taínos in Puerto Rico. Finish off your trip at the Bier Garden for a nice, juicy burger and some cold beers.
Playa Sardinera, Hatillo
What to expect
Not at your "typical beach town," you will encounter stunning rocks forming a wall-like shape that separates the shore from the open sea, making the perfect space for a tranquil pool for people of all ages. Reach the beach just past the flag (you'll see it). You can find both broken seashells and smooth river-like stones in the sand if you are a collector. The water is so calm it is ideal for practicing snorkeling and swimming.
Nearby attractions and activities
If you like to mix river and beach on the same day, venture off to Parque del Norte and Paseo del Río nearby, where you will find picnic areas and benches to relax along the river stream. If you are booking a tour in the area, be sure to check out Vaca Negra, a cheese-making company with a café open to the public.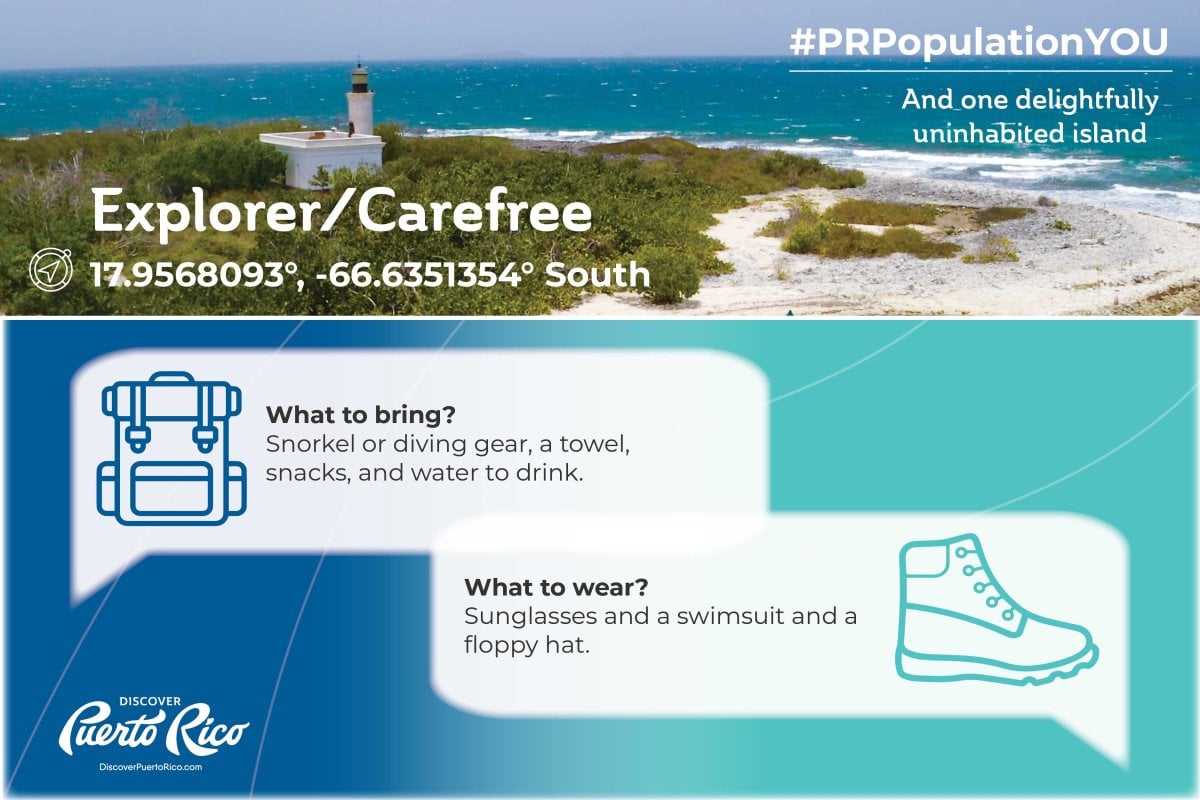 Cayo Cardona, Ponce
What to expect
An island just for you!  Reachable just by boat, a bliss for those who love the sea and watersports. This pristine beach has crystalline waters surrounded by a coral reef perfect for diving and exploring underwater. You will also find various hiking paths that lead to an old colonial lighthouse. If you hike up the lighthouse, you will be mesmerized by the enchanting views of the town's coastline.
Nearby attractions and activities
After a day under the sun, you can visit La Guancha, a boardwalk full of restaurants, kiosks, and tiny gift shops. You can also see the iconic Castillo Serrallés, the former home of the Don Q rum distillery owners. Then, to keep in your pristine-local experience, have dinner at La Casa del Chef, where seafood and comida criolla are in order.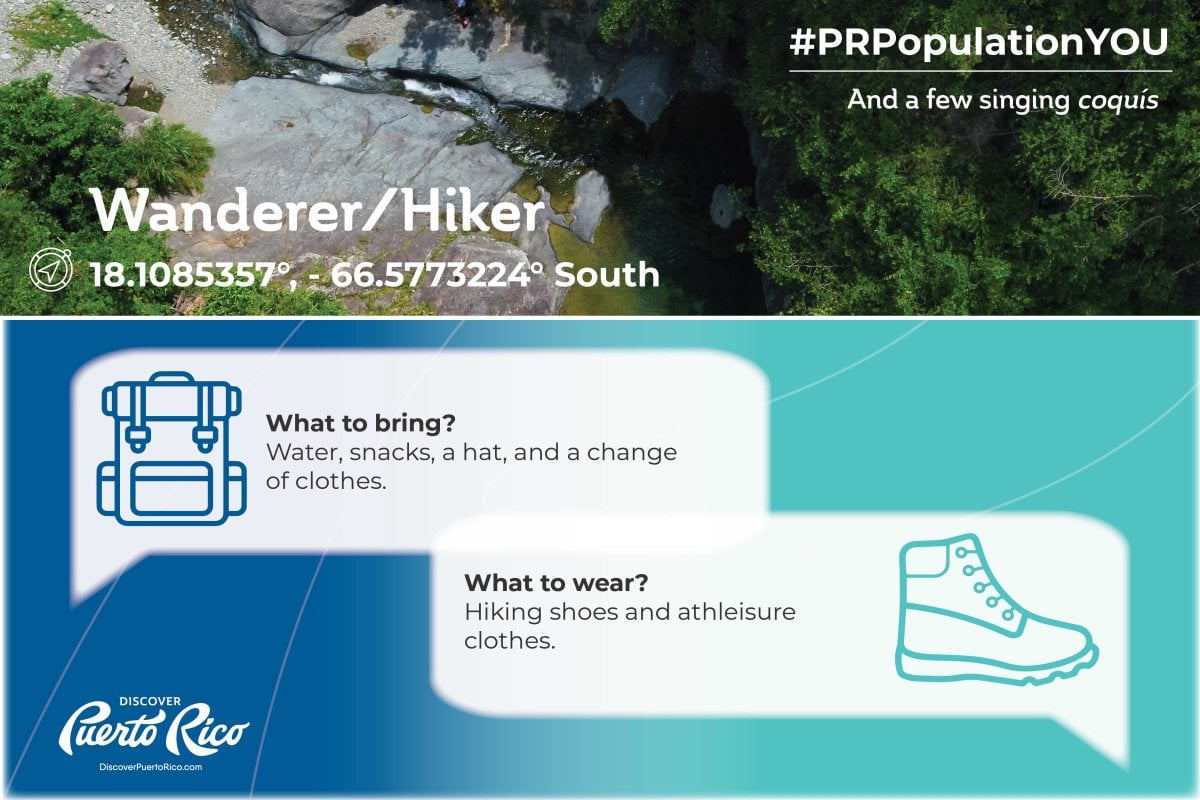 La Charca Aqua, Ponce
What to expect
A pool of pure, crystalline (and cold) water! This spot is perfect for disconnecting from the noise of the city and encountering your adventurous self. As part of a river that crosses various municipalities, you will find multiple streams, rocks, and a few coquís here and there. This is not the place to go chasing waterfalls, although you will encounter a few plunges along the way (yes, stop and take a picture!). You'll know you're close by when you see the concrete markers on the street. 
Nearby attractions and activities
Once you return from your trip to the river, you'll find plenty of attractions in the town's square like the Parque de Bombas, a red and black firehouse-turned-museum that's ideal for learning history and photo-ops. You can also visit Hacienda Pomarrosa, a dream for coffee lovers on the Island.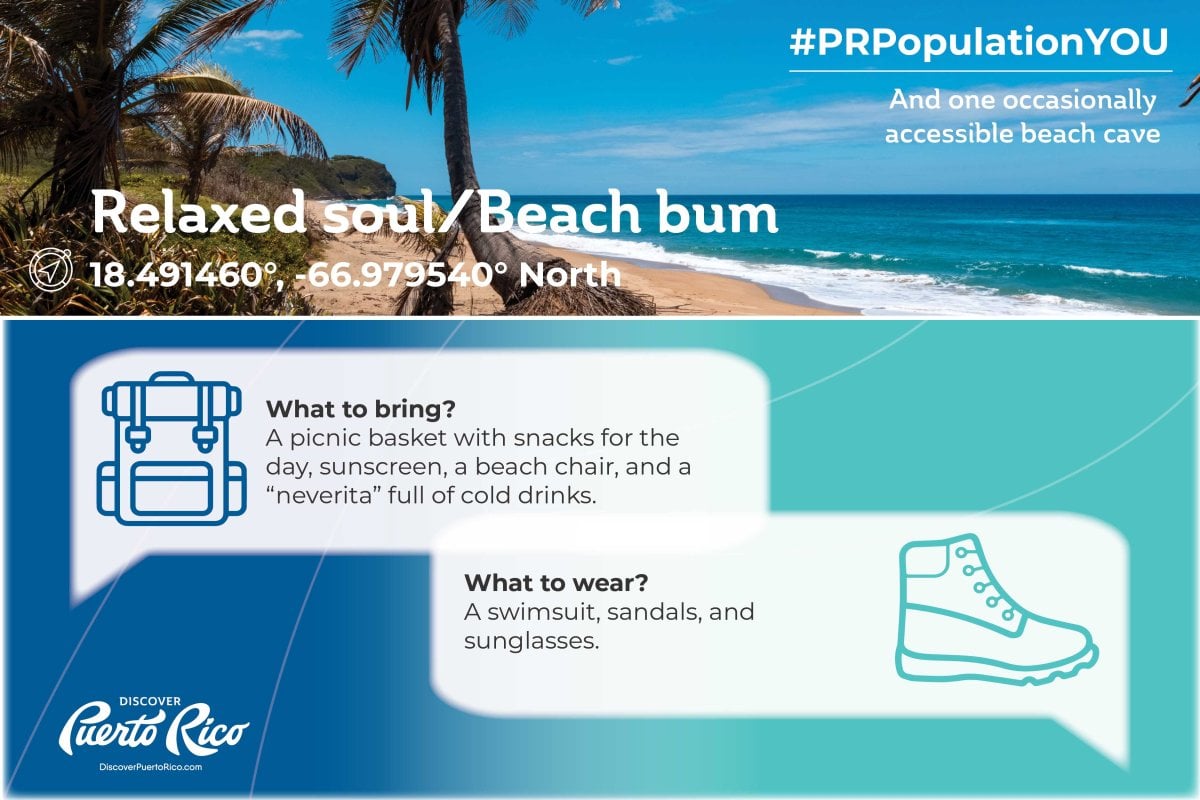 Playa Pastillo, Isabela
What to expect
A beach cove surrounded by lush vegetation contrasting with the towering cliffs that make up the karst of the north. This place is ideal for unwinding, reading a book, and soaking in the sun. Although we wouldn't recommend swimming here, it is perfect for lounging and enjoying the tropical breeze. There is no shade, except the occasional hollow entrances along the cliffs that give a little privacy. So are you ready to take in the blues? The ocean blues it is!
Nearby attractions and activities
Visit the iconic Cara del Indio (a monument to Cacique Mabodamaca) for an incredible photo-op with Taíno imagery in the background. You can also venture onto the Guajataca State Forest and discover the several hiking trails – one that leads to Cueva del Viento and an observation tower. Before leaving town, pass by La Central to enjoy some artisanal cocktails. 
Discover Puerto Rico's E-Newsletter
Paradise for Your Inbox
Get travel inspiration, news, tips and more delivered monthly.