Experience big waves, beautiful beaches, and the best view of the Caribbean sunset.  
If your idea of a Puerto Rican vacation is a breezy beach, sipping on a Medalla Light and overlooking the sunset, look no further than the Island's west coast. The region is known for its abundance of pristine beaches and some of the best surf spots in the Caribbean, making it the premier coastal area on the Island.   
Pro tip: To explore beyond the metro area, renting a car upon arrival is ideal, as rideshare apps availability is limited in other parts of the Island.   
Note: This itinerary is designed to cover as much as possible from the region. Use it as inspiration to pick and choose the activities, landmarks, and places that most catch your interest or align with your getaway plans.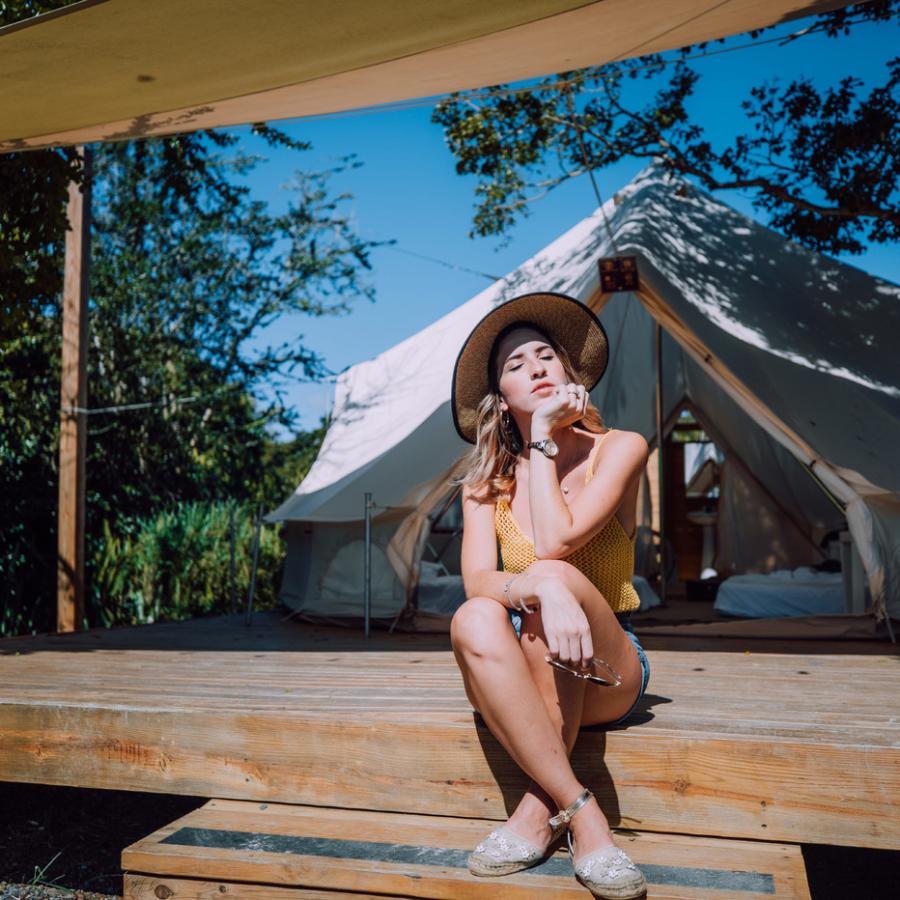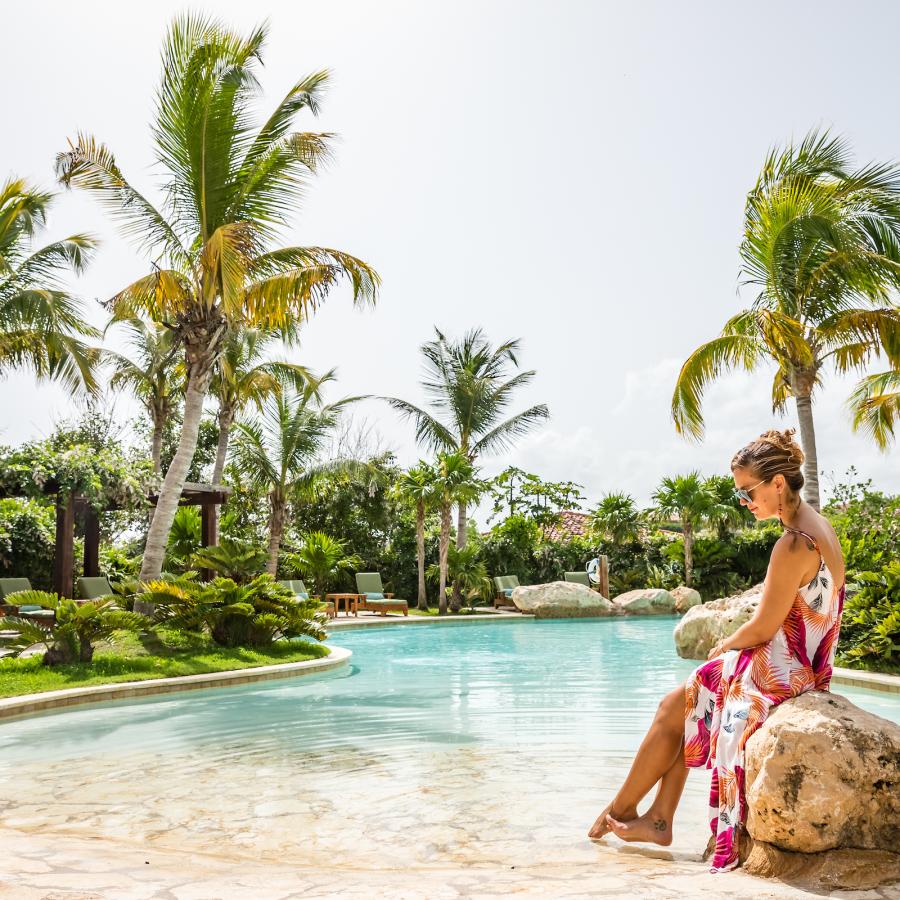 The west is also home to small inns and paradores that blend into the relaxing coastal lifestyle and give visitors authentic Island charm. Hacienda El Jibarito in San Sebastián, Parador Villa Parguera in Lajas, Parador El Faro in Aguadilla, La Jamaca in Lajas, and Lazy Parrot Inn in Rincón are just a few of the cozy options you will find in the region.  
Explore your accommodations options here
Are you looking for a resort with world-class amenities while still being close to the beach? Copamarina Beach Resort in Guánica, Villa Montaña Beach Resort, and Royal Isabela, both in Isabela, offer luxurious perks, suites with a view, and breathtaking backdrops for special occasions and your next favorite picture. Copamarina and Royal Isabela also boast some of the best culinary experiences in the region at Restaurante Alexandra and Jota Restaurant, respectively. 
Other hotels in the area include Rincón Beach Resort in Añasco, Aquarius Vacation Club and Boho Beach Club in Cabo Rojo, Hotel El Guajataca in Quebradillas, Rincón of the Seas and Villa Cofresí Hotel and Restaurant in Rincón, the Holiday Inn Mayagüez and Tropical Casino in Mayagüez, and the Parguera Plaza Hotel in Lajas.  
After checking in, make sure to grab a bite in town and get some rest before the sun-filled days ahead! 
Day 2: Beach escapade 
The best way to start your trip to the west coast is with a day at the beach. The region is known to have some of the most spectacular beaches for swimmers and surfers alike. Casual beachgoers looking for a place to lay back and relax can have their pick at locations along the coast. Crash Boat in Aguadilla, Jobos in Isabela, and El Combate in Cabo Rojo are some of the most famous beaches on the Island, but there are many more spots in the region that you will fall in love with! Playa Puerto Hermina in Quebradillas, Playa Santa in Guánica, Sandy Beach in Rincón, Playa Sucia in Isabela, and Peña Blanca in Aguadilla are just some of the beach spots that travelers love and that you will want to come back to. 
Surfers will also find their haven on the west coast, which hosts many surfing events, including the Corona Pro Surf Circuit and the Rincón Surf Fest, both in Domes beach in Rincón. This town has other great surfing spots, including María's Beach, Steps, and Little Malibu. That said, Rincón isn't the only town where the waves are surf-ready. Middles Beach in Isabela and Surfer's Beach in Aguadilla are great alternative surfing spots further north.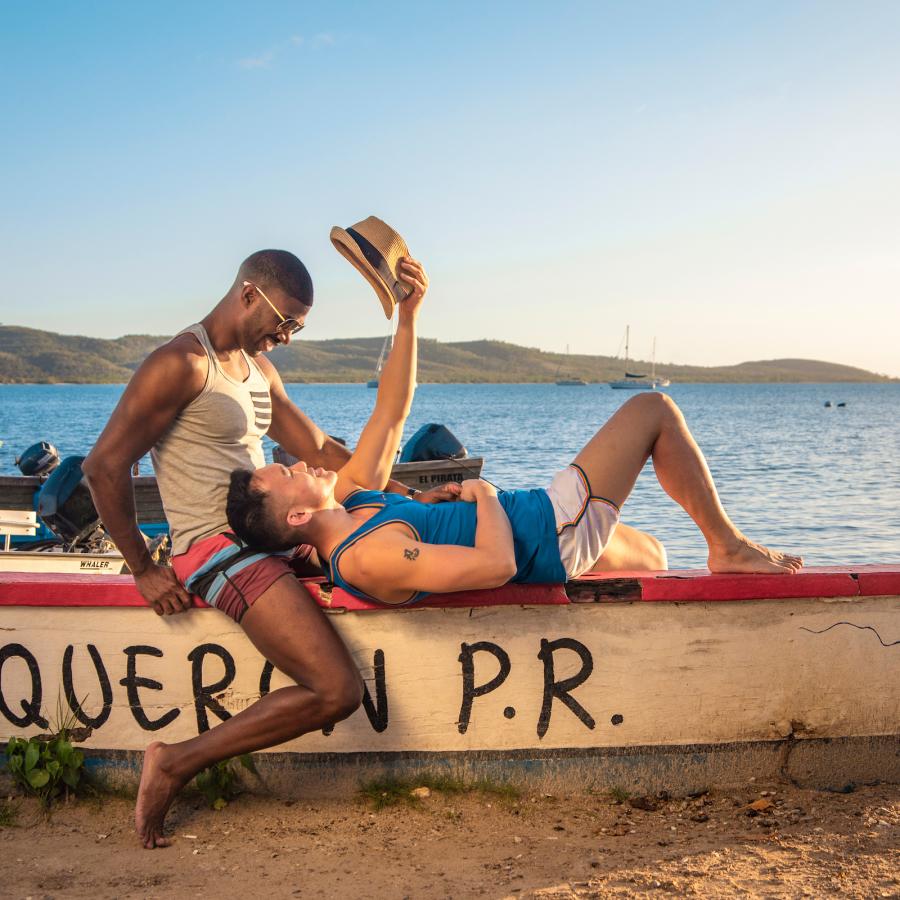 A great way to end your sun-filled day is to head to El Poblado de Boquerón in Cabo Rojo. This southern sweet spot is filled with restaurants, bars, and local stores and offers visitors some of the tastiest clams and oysters on the Island. It's also a great place to grab a drink before heading back to your hotel.
> Spotlight: The town of Cabo Rojo is home to Orgullo Boquerón, an annual event celebrating LGBTQ+ Pride during none other than Pride Month. Visitors can enjoy live music, food and drinks, and an unbeatably inclusive and festive atmosphere.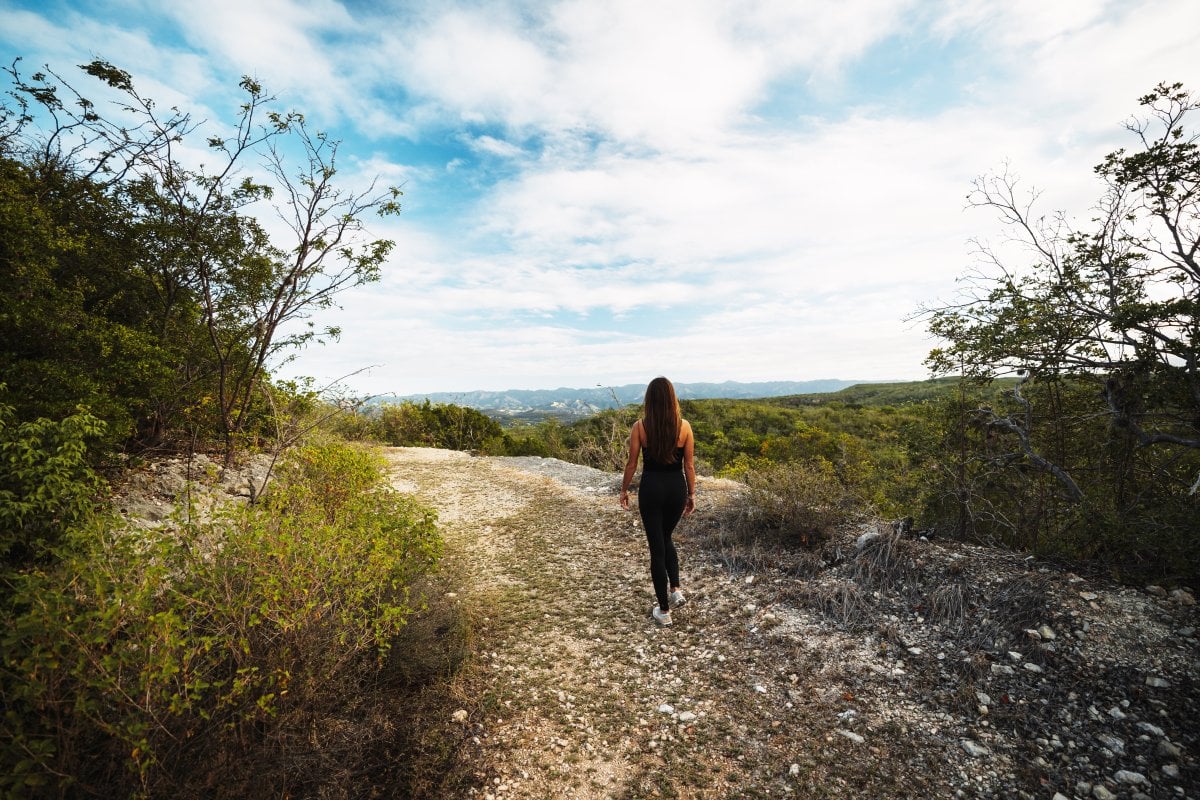 Day 3: Memorable sights to see 
Day three of your trip is about touring the region's landmarks and natural gems. The west has many spots to explore, both on the coast and further inland, starting with the Guánica State Forest. This United Nations International Biosphere Reserve, also known as the Guánica Dry Forest, is one of the most extensive tropical dry coastal forests in the world and features many hiking trails for visitors to choose from. It's also a great spot to ride a bike and climb and even enjoy some time at the beach. Guánica is also home to Finca El Girasol, a local favorite photo-op that immerses visitors amongst giant sunflowers. 
The picture-perfect spots don't end there! The Macro Mural Brisa Tropical in Yauco, also known as Yaucromatic, is a colorful favorite that showcases modern art merged with the local architecture. Another must-visit spot is the Guajataca Tunnel, built in the early 20th century and becomes a lively local spot on the weekends. Visitors can enjoy food kiosks, artisans, and walk through the tunnel to appreciate its history.  
If you are looking for a more immersive experience to awaken the senses, a trip to Hacienda Lealtad in Lares should do the trick! Learn about the coffee-making process, take a sip of their homebrewed batch, and pair it with lunch, dinner, or just a pastry. Make sure to book your visit ahead of time!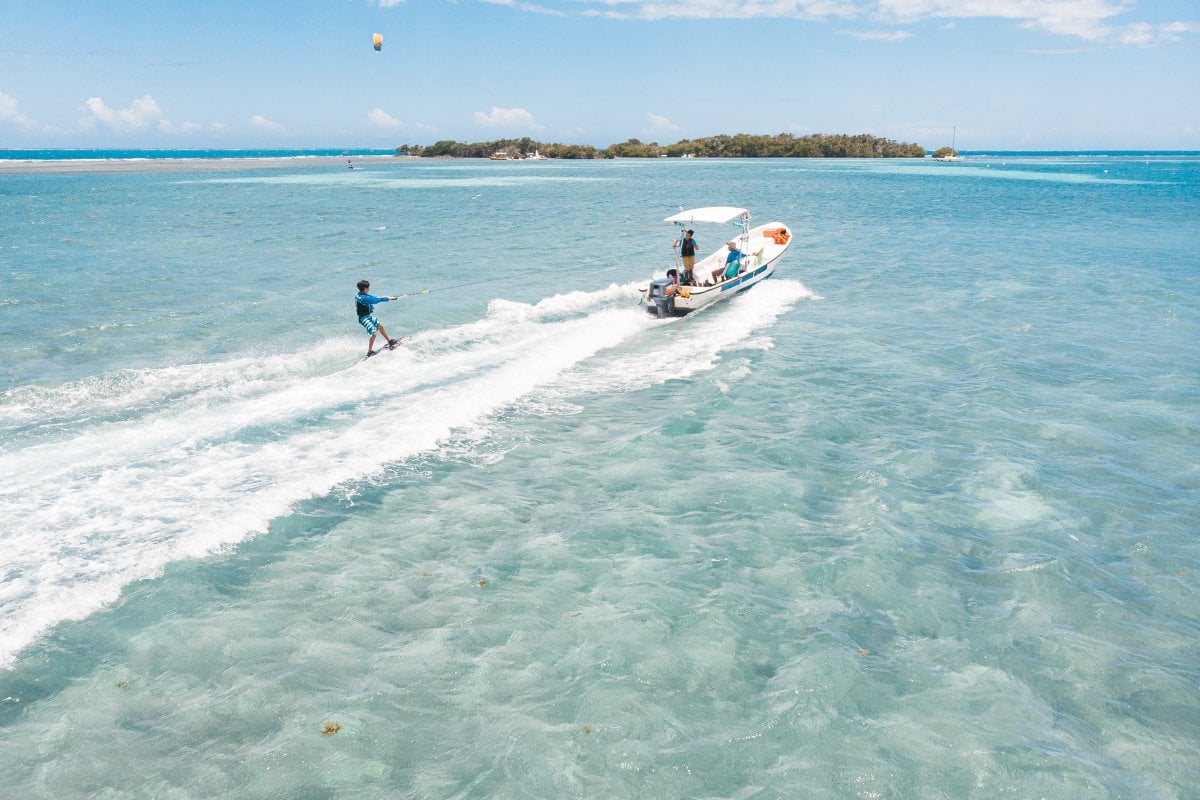 Day 4: Off-Island adventures 
While the big Island has amazing beaches, lakes, and charcas to explore, some of the most breathtaking natural wonders in Puerto Rico are in small cays and islands just a boat ride away. Lucky for you, some of these spectacular secluded locations are accessible through the western towns. Gilligan's Island off the coast of Guánica is easily reachable by kayak, and it's a serene space with calm and shallow waters, ideal for snorkeling or just enjoying the view. Isla de Mona, off the coast of Mayagüez, is another beautiful remote sanctuary where you can disconnect from the hustle and bustle. To reach this island, you need to coordinate with eco-tour operators or private charters, so remember to arrange this before your visit.  
A popular and accessible off-coast experience is a visit to La Parguera in Lajas. This coastal destination is surrounded by pristine cays, which you can reach by renting a boat or arranging transportation from a local tour provider. The cays are nettled between calm waters and mangroves, which make them a great peaceful spot to explore with big families and kids. La Parguera is also a fun place to enjoy local cuisine and music with a view, so make sure to stop by after adventuring. Some of the great restaurants in the area include Moons Bar & Tapas, Isla Cueva Burger and Beer Bar, and El Mangle Bar & Tapas, to name a few.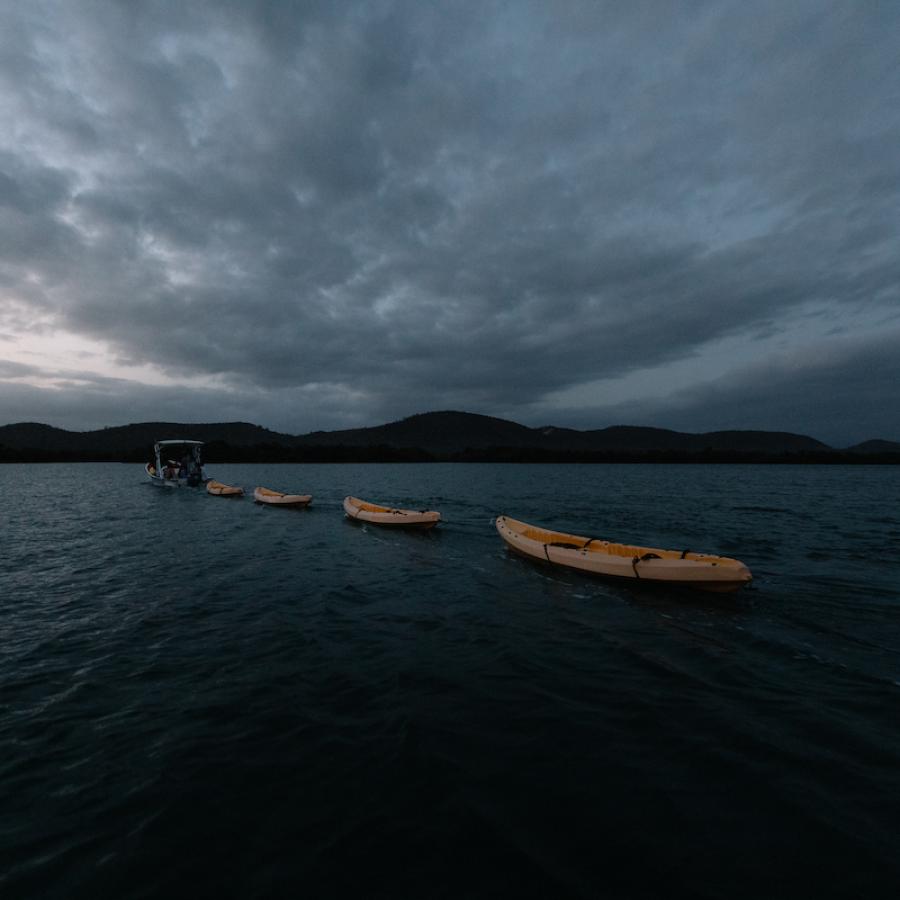 > Spotlight: One of the most unique adventures in the west region is a trip to the bioluminescent bay in La Parguera. Visitors can marvel over the magical "glow in the dark" effect created by microscopic organisms in the water, and swim in the bay to create some magic of their own. Visitors can choose to paddle through the waters or ride on a glass-bottom boat. Either way, your visit to the bio bay will be an unforgettable experience.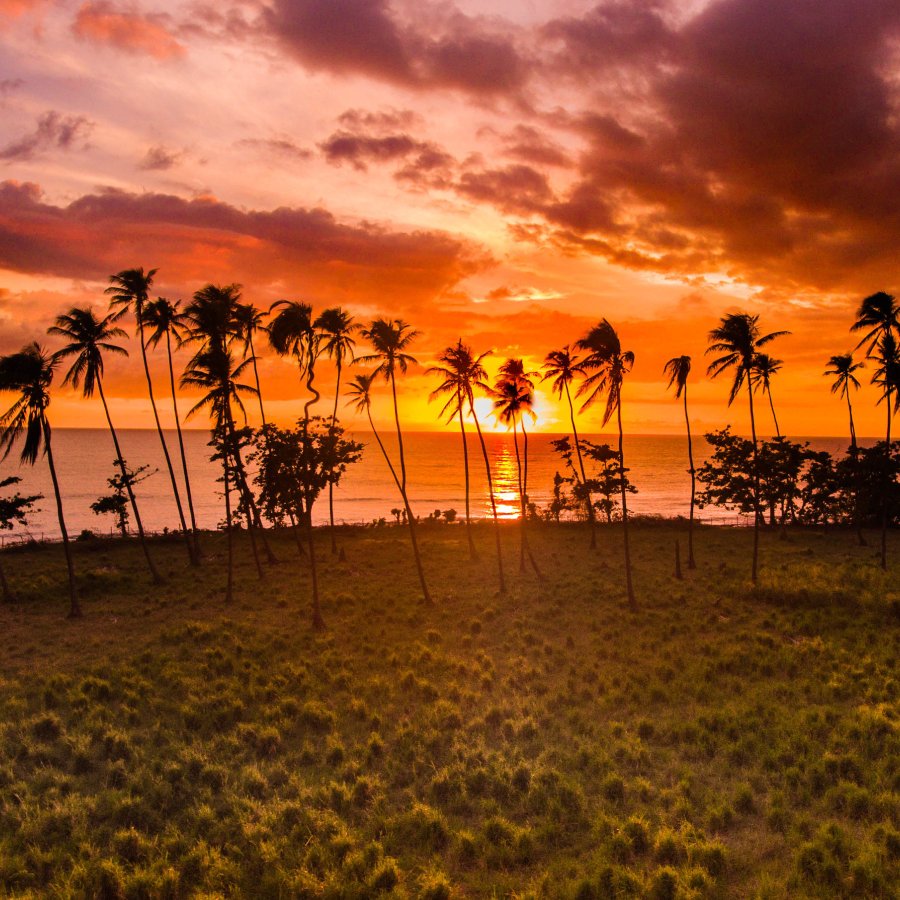 Day 5: Until next time! 
It's time to wrap up and head back home, but before returning to the hustle and bustle, take some time to take in the view one last time. If you're in the Mayagüez area, enjoy a cup of coffee paired with a sweet and savory breakfast at Ricomini Bakery, Friend's Café or MASSA Artisan Bakery and Café before heading to the airport. As far as unwinding goes, it doesn't get better than the west of Puerto Rico, so make a list of all those places left to visit and start planning your next trip! 
View Places Mentioned on a Map
Tags
West