Spend a night under the moonlight, immersed in the lush landscapes of the heart and soul of the Caribbean.
Camping in Puerto Rico is about disconnecting to reconnect. It is about seeing the stars in the night sky, hearing the coquis sing around you, and enjoying the breezy, warm weather while taking in the views. From the islands of Vieques and Culebra in the East to the Island of Mona in the West, Puerto Rico is home to an abundance of experiences to suit every type of nature seeker – from camping grounds to luxurious glamping retreats.
If you're planning on communing with nature when you visit Puerto Rico, then camping is the way to go. Whether you are looking for a traditional camp experience or a lavish and stylish retreat outdoors, this Caribbean gem has the perfect camping spot for you.
Camping Grounds 
For those who love to release their inner scout, nothing says camping like setting up your tent surrounded by nature. Lucky for you, Puerto Rico has some of the most breathtaking natural reserves and outstanding landscapes in the world. So, no matter where you set up camp, you will surely be in the right spot. For instance, the Toro Negro State Forest Camping Site, located in the heart of the central mountains, is accessible just a few minutes away from a tranquil pond where you can genuinely take a break from the hustle and bustle. This site features gazebos, picnic tables, barbecues, running water, and campfires, making it ideal for first-time campers and families.    
Río Abajo State Forest is another prime spot, particularly for those who want to fully immerse themselves in the scenic experience. Explore caves, bird watch, and hike in one of the richest reserves on the Island. This site allows visitors to access their most adventurous self and become one with the flora and fauna the central mountains offer.    
Other camping sites around the Archipelago include Guajataka Scout Reservation, a BSA Council reservation specialized in hosting large groups of campers, Playa Sardinera on the island of Mona, off the coast of Mayagüez, and the Aguirre Camping Area in the Aquirre State Forest in Guayama.   
Pro tip: Remember to reserve your spot or get the permits (when required) ahead of time. Most of these grounds require a fee, and some have special perks you can book, like renting a forest guide for your journey.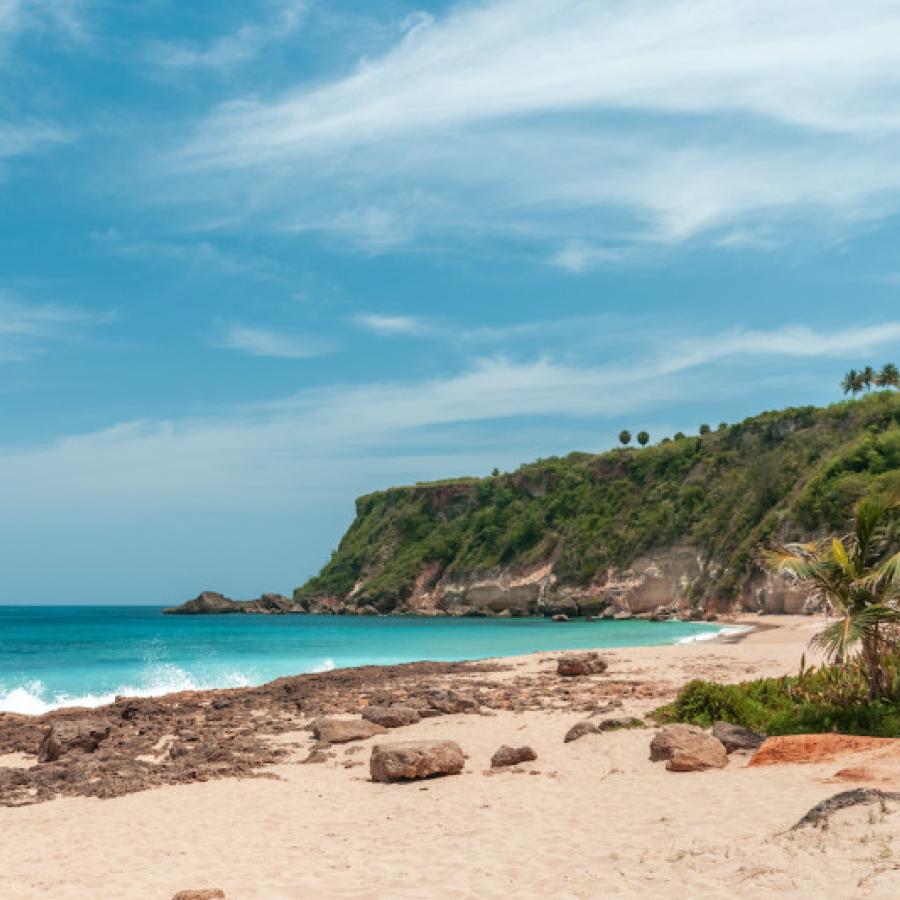 Beachside Camping   
There is no thinking of Puerto Rico without immediately visualizing a picturesque view of the ocean, so why not fall asleep to the sound of the waves crashing on the shoreline? Many beaches around the Island are great spots to spend the night and experience camping on the coast. Punta Borinquen and Playuela are two remote and relaxing beaches to spend the night in Aguadilla. These secluded and serene shores are the perfect romantic or group getaway.   
Playa Flamenco in Culebra, considered one of the most beautiful beaches in the world, is also a popular camping spot for locals and visitors from around the world. Next "door," on the island of Vieques, you'll find the beautiful Sun Bay Beach, which has amenities like bathrooms and showers.    
Pro tip: It doesn't matter if you're camping inland or on the beach, have provisions at hand to make your experience fun and memorable. Bringing your own tent and sleeping bags is required at many sites, so make sure to check before arriving. In addition, packing a headlamp or flashlight, baby wipes, sunblock, and bug spray for pesky mosquitoes and other small bugs are a must. Local stores like Acampa Outdoor Travel and Adventure Store, Aventuras Tierra Adentro, and Isabela Outdoor Sports are great spots to stock up on the supplies you need.   
Glamping    
Camping has never been so glamorous! Around the Island, you will find one-of-a-kind glamping sites that combine the exciting outdoor adventure with the upscale amenities you cannot live without. It is the ultimate "treat yourself" experience! Pitahaya Glamping Eco Retreat, located on the southwest coast, is a perfect example of the top "glamping" experience. This retreat features five upscale, furnished tents, each with its private bathroom, a shared area with a full kitchen and grill, and a communal area with a pool and firepit. Best of all, the site is eco-friendly, so you will not have to worry about leaving behind a large carbon footprint.     
Another amazing glamping site is Sierra Linda Glamping in the central mountains. The retreat boasts an utterly private getaway complete with a jacuzzi, fire pit, and a giant hammock surrounding the spectacular bubble tent. There, you can watch the night stars from the comfort of your bed. This glamping spot is in Aibonito, known as the City of Flowers, so expect to immerse in a dreamlike landscape completely.    
Check out other glamping sites, including Hacienda Tres Casitas in Cabo Rojo, El Balcón de Amador at La Cuchilla in Aibonito, and El Nido and Finca Viernes on the island of Vieques.    
Treehouses    
Unleash your inner child! Treehouses are a fun and unique way to camp. They vary in style, providing everything from a more immersive experience to a full-on glamping moment. For a stay that makes you feel like you're a part of a botanical garden, check out Treehouse of Life in San Germán. This treehouse sits on top of a flamboyán tree and gives you access to over five acres of beautifully landscaped gardens, ponds, and walkways. Yuquiyú Treehouses in Río Grande is also a great option if you're seeking an immersive jungle experience. These treehouses are hidden amongst the forest on the outskirts of El Yunque National Rainforest, placing you in the heart of Puerto Rico's landscape – it's as rustic as it gets!    
Finca Victoria in Vieques takes treehouses to a more high-end retreat – a luxurious boho-inspired space with a terrace overlooking the view, an outdoor shower space, and an on-site ayurvedic center for the ultimate wellness experience.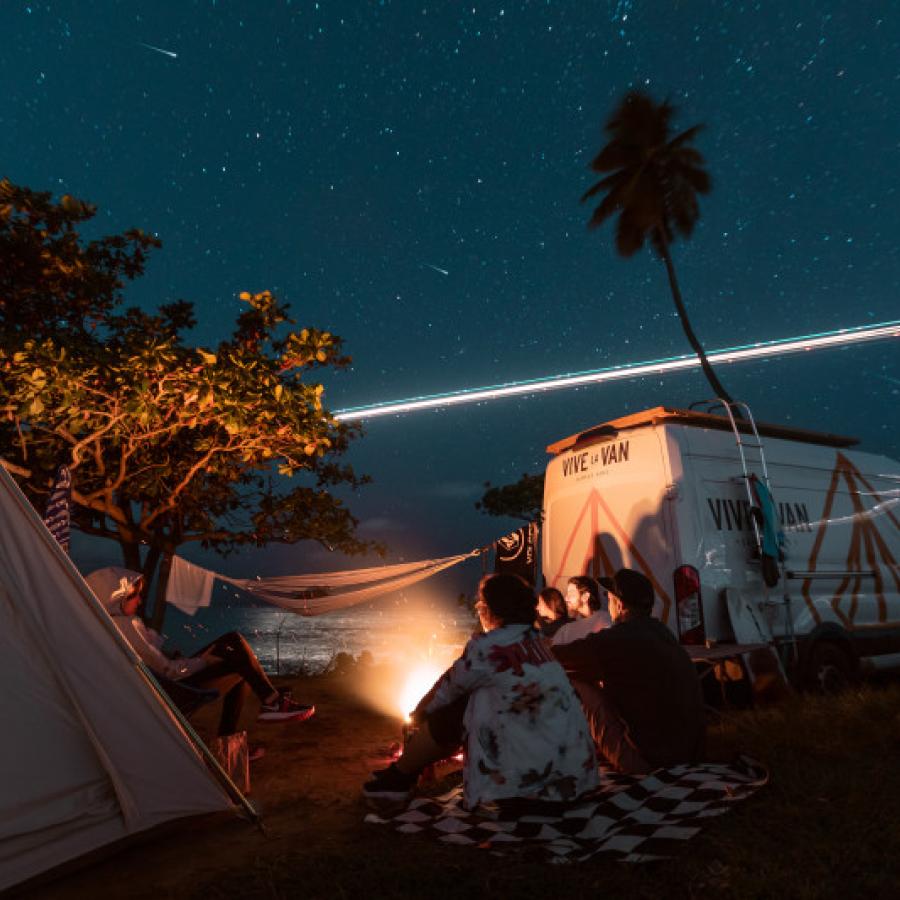 RV Glamping    
Can't settle on one specific spot? RV Glamping has become a growing trend in recent years. It is the perfect way to enjoy the camping experience while seeing the entirety of the big Island. Rent out a luxury RV and treat yourself to a cross-Island tour. Go coast to coast, through the mountains and beyond while enjoying all the amenities of a great glamping site. Book your van experiences with companies like Vive La Van, Puerto Rico Van Trip, or Isla Van PR, and road trip your way around Puerto Rico.   
Get Inspired!
Glamping in Cabo Rojo
Discover our recommendations to make the most of your glamping experience in this southern town of Puerto Rico.
Camping in Isla de Mona
Imagine a trip to an uninhabited island where you can unplug from everyday life and connect to nature and yourself.
View Places Mentioned on a Map
Tags
Outdoors